Finance Options


Clifton Cameras are pleased to offer finance payment options on
any purchase of £299 or more.

General Information Example

Finance is available on all purchases of £299 or more. You can apply online, over the phone or in store - it's quick, easy and you'll get an instant decision. Our online retail finance partner is Pay4Later.
Credit is provided subject to status.

Please note we can only deliver goods to the registered address used in any finance application.

Example Finance Options

Example Finance Option (Classic Credit 19.5% APR)
Cash Price £660.00
Deposit £66.00 (10%)
Amount of credit £594.00
Payable by 12 monthly instalments of £54.45
Typical APR 19.5%
Example Finance Option (Interest Free)
Cash Price £660.00
Deposit £198.00 (30%)
Amount of credit £462.00
Payable by 12 monthly instalments of £38.50
Typical APR 0%

You can apply for credit in several different ways:
Visit our website and select the items you wish to purchase.
On the check out screen, select:



as your payment option.

Or simply visit our store. However you apply, it takes only a couple of minutes and you get an instant decision.

Example Criteria
To apply for finance you must meet the following criteria:

You must be over 18 years of age. You must be a UK resident with at least 3 years continual address history. You must be in full time employment, unless retired or a house person with a spouse in full

time employment.

You must have a UK bank account capable of accepting Direct Debits. The goods must be delivered to your home address.

Benefits Example
Finance is available on all purchases of £299 or more.
Buy the items you want now + accessories, all for a low monthly payment.
Select 6, 12, 24 or 36 month repayment periods depending on the options presented.
Choose a higher-spec model for a few pounds more per month. You can include lenses, accessories or anything else you may require. You can spread the cost of your purchase to minimise your monthly payments.

Choose the fiance that suits you
Using our simple Pay4Later calculator found on finance qualifying product pages, you can choose from a minimum of 10% deposit through to a maximum of 50%
You can also determine the finance period. As you make your selections the calculator will display all the relevant repayment detail.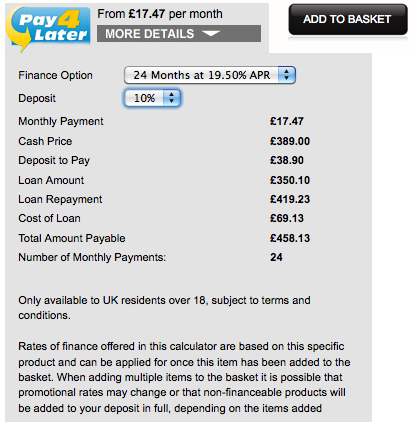 One-stop shopping: no need to go to a bank to secure funding. Keep cash for day-to-day expenses. Fixed repayments - your payments are fixed for the duration of the agreement allowing you to budget more effectively.

Example FAQ
How much can I borrow?
When checking out, just fill out our easy online application form and you can be approved for up to £12,000 to use for the equipment you wish to purchase. Use our calculator to determine how much you can spend based on your monthly payments. The minimum order is £299.

Is a deposit required?
Yes. A minimum 10% deposit is payable by credit or debit card upon acceptance.

How are my monthly payments paid?
All monthly payments are paid by direct debit from your personal bank account. Typically the first payment will be due one month after the date of the finance agreement and subsequent monthly payments will be due every month for the length of your term on that day of the month.

What type of equipment can I purchase?
Hardware, software, equipment, accessories, basically any item we sell. However, please remember that the minimum order is £299.

What length of repayment is available?
You can choose a 6, 12, 24 or 36 month loan repayment period. 6 months is reserved for 0% promotional offers where they apply.

How do I apply?
You can apply on our web site, or in store.

Can I pay my agreement off early?

You have the right to repay all or part of the credit early at any time. Simply contact Moneyway and they will calculate and send you your settlement figure. Your settlement figure and date are calculated in line with the Consumer Credit Act.

Moneyway, One Arleston Way, Solihull, West Midlands B90 4LH.
Email: retailfinance@moneyway.co.uk
Phone: 0845 111 7107

Moneyway is a trading name of Secure Trust Bank PLC. Registered in England and Wales 541132. Registered Office: One Arleston Way, Solihull, B90 4LH. Authorised by the Prudential Regulation Authority and regulated by the Financial Conduct Authority and the Prudential Regulation Authority