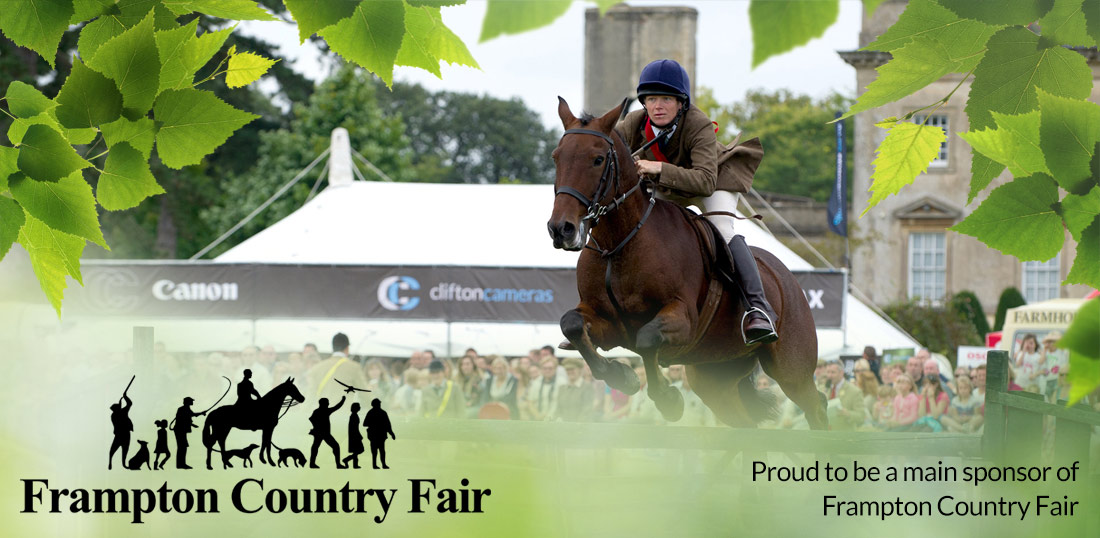 Held in 30 acres of beautiful parkland of Frampton Court Estate, this is one of the last truly traditional country fairs. Join us in celebrating all that is great about the countryside and the people who work and live in it.

Meet the Team!
---
Clifton Cameras has proudly sponsored Frampton Fair for the past 4 years, and we look to bring something different every single year. In 2016, we held out door drone demonstrations and even allowed visitors to fly the incredible Yuneec Typhoon H over the beautiful lakes of Frampton manor house.

You can meet the whole Clifton Cameras team who are on hand to have a chat and to answer your questions about photography, with loads of exclusive offers!

We are lucky to be supported by the biggest names in photography industry. Canon, Nikon, Fujifilm and for the first time Panasonic Lumix and Sony UK will be available to show you their fantastic cameras range.

We also have something for the birding and nature community with our extremely popular 'Nature Hide' which is supported with the best optics in the world with brands like Swarovski, Hawke Optics and more! Our team and brand representatives will be available to demonstrate how to use their incredible equipment.
Vist our nature Hide & use our high quality optics.

Get one to one drone demonstrations.

Amazing on the day offers exclusive to attendies.

Have a chance to win a Yuneec Typhoon H!
---
Huge Name Brands!
Frampton Fair 2017, will be one of the biggest to date, so we have invited some of the biggest manufactures in the world. You can find our currently confirmed manufacture brands below;
On the Day Events
---
The unique thing about Frampton Country Fair is the wide arrange of activities on the day. From plane-aerobatics to terrier racing, all of the arena's have a fun filled events and experiences. Here are a few you can expect:
DRONE SAFETY AND AGRICULTURAL USE

Drones are becoming more and more prevalent in this modern age. New legislation has been put in place so they are used responsibly. Whilst giving us a bird's eye view of the area drones also have a place in the agricultural world - from checking on stock, fencing and crops to following poachers. There will also be the possibility of having a supervised go at flying a drone on the Clifton Cameras stand.

HAWKEYE FALCONRY UK

Hawkeye UK are back to Frampton this year after his excellent debut in 2015, fronted by Alistair Leese, bringing the ancient art of Falconry to the modern age. The breathtaking and far reaching display contains a unique mix of raptors. Watch as the Mexican Harris Hawks love to perform their range of skills and at times two or more are flown together.

AEROBATIC DISPLAY

Simon Johnson, one of the UK's top aerobatic pilots performed the most breathtaking display at last year's Country Fair and is returning to us again this year. Simon will perform in his Extra 330SC, the world's most advanced aerobatic aircraft. Produced by Extra Aircraft of Germany, the Extra 330SC is lighter and more manoeuvrable than any other aircraft of its type, achieving speeds of 250mph whilst subjecting the pilot to forces in excess of +/- 10 g.
INTER-HUNT RELAY HEATS

One of the most exciting Main Ring events, the relay is hugely popular. As usual, teams from across the West Country and South Wales compete against each other and against the clock in order to gain one of the four places in the finals. Seriously competitive high speed galloping and jumping horses along with human powered wheelbarrows. The excitement is electric during the relay so come and watch this thrilling event.

SIMULATED COURSING

Lurchers had the reputation of being poachers' dogs and "untrained killers" but have now become recognised as respected members of the field sports fraternity. Anyone can enter their Lurcher/Longdog for the Simulated Coursing; in fact any breed is welcome.

WATER RETRIEVER RACING

A fun race in the Orangery Pond between some of the more unusual breeds of gun dogs. This is a great opportunity to see a real mix of working gundogs compete against each other.
It's for a Good Cause
---
The purpose of Frampton Country Fair is to support and promote a variety of good causes whilst encouraging a wider understanding of the British Countryside.

POPPY JUMP - BY JUMP 4 HEROES

Parachutists from Jump4Heroes are helping to raise money for the Royal British Legion. In 2015 nearly £2,000 was given by our visitors buying "beer mats" for £1.00 each (or more if you wish). Let's beat that this year!

All you have to do is put your details on the back of a mat and it will be placed into a bucket in the Main Ring. After landing each man will pick some mats from the bucket and the person that bought that mat will win a prize!

ALL the proceeds from the sale of the beer mats will be given to The Royal British Legion Poppy Appeal. Buy a mat throughout the day from cadets and veterans and other volunteers all around the Showground or from the British Legion stand on the Main Ring.