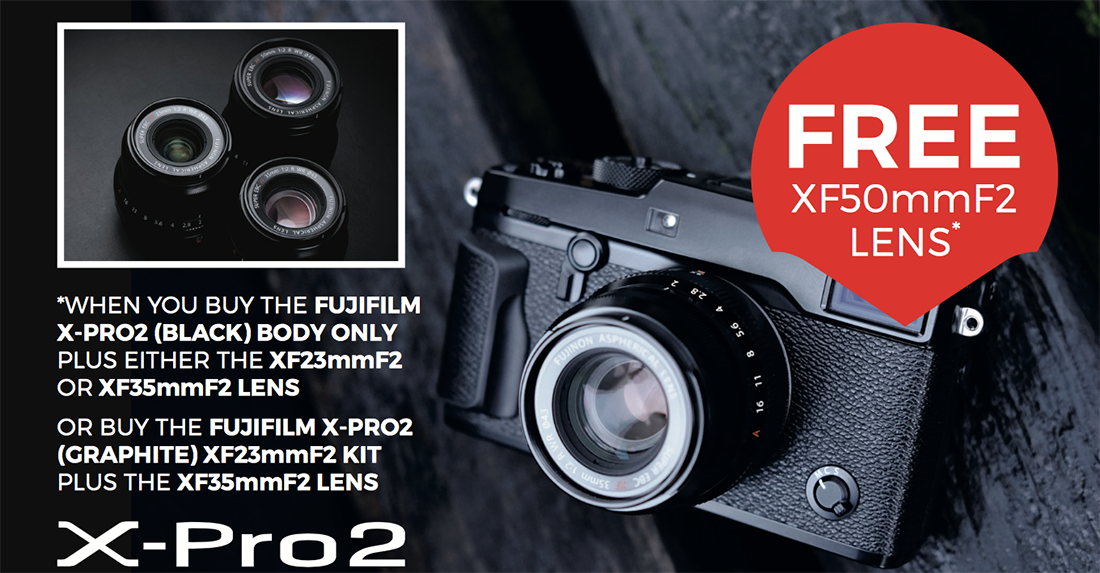 This Summer Fujifilm are offering a FREE Fujifilm X-Pro 2 Leather Half Case - Black & you can Claim a FREE Fujifilm XF 50mm f2 R WR FUJINON Lens, when you purchase one of there limited edition kits!
Your FREE Fujifilm X-Pro 2 Leather Half Case is automatically added to your order.
You can claim your FREE Fujifilm XF50mm f2 R WR Fujinon Lens

> Here
> Click Here for Terms & Conditions
Check out the limited edtion kits below!
Offer Valid From: 24/05/2017
Offer Valid Till: 31/07/2017
---
Customers who purchase a NEW qualifying FUJIFILM Camera and Lens ("Qualifying Products") between 24th May 2017 and 31st July 2017 ("Promotional Period") will be eligible to claim a free FUJIFILM XF50mm f2 lens. Second hand or refurbished FUJIFILM products are excluded from this promotion. The Qualifying Products and Promotional Periods are detailed on the Qualifying Products page. FUJIFILM free XF50mm f2 lens Summer 2017 Promotion
1. Purchases must be made from a qualifying retailer as detailed on the Qualifying Retailers page.
2. The promotion is open to residents of Mainland UK and Republic of Ireland. Any claims for qualifying products purchased outside Mainland UK or Republic of Ireland will be ineligible to participate in this promotion. Only genuine qualifying NEW FUJIFILM products detailed on the Qualifying Products page are valid to participate in this promotion.
3. Online claims must be submitted no sooner than 30 (thirty) and no later than 60 (sixty) days from the date of new qualifying purchase as evidenced on the purchase invoice or receipt. For the avoidance of doubt, the date of purchase counts as day 1 (one) of the claim window. Claims received outside of this period will be rejected.
4. A maximum of 2 free FUJIFILM XF50mm f2 lens claims per person can be accepted during the Promotional Period.
General
6. Retailers must not submit claims on behalf of their customers. Any claims submitted by retailers will
be rejected.
7. Your claim will be invalidated if the Qualifying Products are returned to the retailer for a refund or
exchange.
8. The claim form can be found on the Claim page on this website. In order to submit an online Claim you must enter your personal details and purchase information as detailed below:
a) Proof of Purchase in the form of an invoice or receipt clearly showing the purchase date, retailer and Qualifying Product(s) purchased
b) A picture of the serial number(s) of your Qualifying Product(s) affixed to the original box or product packaging
c) For online purchases the delivery note will also be required, clearly showing the product purchased and the purchase date
9. A confirmation email will be sent to the claimant upon receipt of an online claim submission.
10. Upon successful validation of your claim, you will receive your free FUJIFILM XF50mm f2 lens within 28 (twenty eight) days to your nominated postal address. No alternative to the FUJIFILM XF50mm f2 lens is available.
11. The Promoter will notify the claimant when an incomplete claim is submitted. Notification of omissions will be sent via email. Claimants will be given the opportunity to supply further information to rectify any errors within 7 (seven) calendar days of receipt of the email. Failure to respond within 7 (seven) calendar days of receipt of the email will result in the claim being rejected.
12. FUJIFILM will not be held responsible if e-mails are blocked or sent to "junk" mail folders. Please ensure that you check your "junk" mail folder regularly to ensure that you do not miss our claim status update emails.
13. Incomplete, fraudulent, altered or illegible claims will be disqualified by FUJIFILM. FUJIFILM reserves the right to request the original proof of purchase. If this is requested to be sent via the post, it will be returned to you.
14. If a claim is refused because the Terms and Conditions of the offer have not been met, the Promoter's decision is final. FUJIFILM reserves the right to withdraw, amend or terminate the promotion without notice.
15. Hardware, technical, software, server, website, loss or other failures outside our control that prevents the customer participating in the promotion is not the responsibility of FUJIFILM.
16. FUJIFILM reserves the right to void this promotion at any time and change the terms and conditions without incurring any liability.
17. Email address for correspondence is support@fujifilm-promotions.com; please provide your unique Claim ID supplied during the claim process with any correspondence. Further details can be found on Support page.
18. By participating in the promotion, you agree that any personal data provided by you may be held by the promoter or its agents for the purpose set out in the privacy policy.
19. The terms of the promotion shall be interpreted and applied on the basis of local laws
20. Promoters address: FUJIFILM Electronic Imaging Europe GmbH, Fujistrasse 1, 47533 Kleve, Germany. Please do not send any applications to this address.