Hahnel HW 433 S80 Pro Wireless Remote Control

for Sony Alpha D-SLR Series: DSLR-A100, DSLR-A200, DSLR-A300, DSLR-A350, DSLR-A700, DSLR-A900

Main Features
* Interchangeble camera connector
* More than 30 meter range
* Through wall transmission
* 4 digit selectors to set transmission code
* Auto focusing, shutter release
* Continous shutter release and bulb function
* 433MHz License free frequency in all Europe countries, approved under EEC, DEC (0402)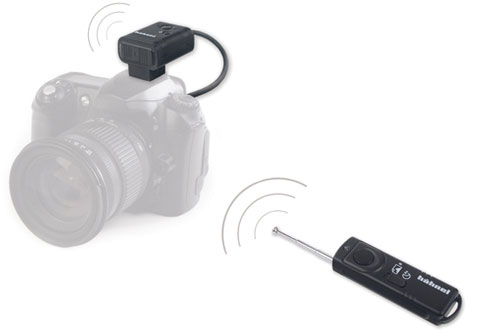 A new innovative UHF Wireless remote control for digital SLRs, with interchangeable
camera connectors for all digital SLRs of one camera brand.
433MHz Frequency is licence free in Europe.
4 digit code selector switch built into the transmitter and receiver, to allow for individual codes to be set, protecting against interference from other sources.
The hähnel Pro Remote Control provides for auto-focusing before shutter release and a lock in function for continuous shutter release and bulb exposure function.