Manfrotto 190 Go M-series Aluminium Tripod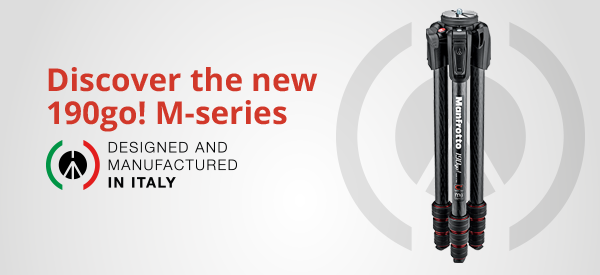 Manfrotto introduces the New 190 Go M-series of tripods. To complete the advanced hobbyist and professional offering with a more compact and easy to transport version of the successful 190 tripods. This new professional tripod family features the M-lock, a new twistlock developed by Manfrotto to ensure extremely fast and precise setup.

M-locks

Manfrotto introduces the M-lock, a new twist lock developed to satisfy all photographers looking for a fast locking mechanism that allow the tripod to be setup in few seconds.

The M-lock ensure:
- Quick legs opening by 90°rotation to disengage
- Maximum grip for precise adjustments
- Handy operations



90° Column

A 90° column mechanism is built in to the top casting. This keeps it safely stored away until needed. Once ready, raise it with a single finger, letting the centre column swing out into the horizontal position. Combine the 90° column with the tripod's four leg angles, and you've got the perfect stability for shooting on uneven ground.
---
Specification:
| | | |
| --- | --- | --- |
| Dimensions: | | |
| | Centimetres | |
| | Max Height - | 152 cm |
| | Max Height (with column down) - | 127 cm |
| | Minimum Height - | 9 cm |
| | Closed Length - | 45 cm |
| | Inches | |
| | Max Height - | 59.84" |
| | Max Height (with column down) - | 50" |
| | Minimum Height - | 3.54" |
| | Closed Length - | 17.72" |
| | | |
| Weight: | | |
| | Killograms - | 1.67 kg |
| | Pounds - | 3.68 lbs |
| | | |
| Payload: | | |
| | Killograms- | 7.00 |
| | Pounds - | 15.43 |
| | | |
| Material: | Aluminium | |