Easily spread the payments with our range of finance solutions.
Choose the finance package that suits you best.
Apply from our checkout
Easy online application
Instant Decision
We process your order

Buy Now - Pay Nothing for 6 Months, means buy now and pay in full before 4/10/2020 (approx.) plus a £29.00 settlement fee and you will be charged absolutely no interest. You will be contacted by V12 Finance before the interest free period ends to explain your options. If you have not paid this sum in full by that date, interest of 19.9% APR representative will be charged from the date we told you your agreement was live. If you have made any partial repayments prior to this, interest will be charged only on the amount of credit that remains unpaid.
Price of Goods: £778.00
Summary
Pay 0% Deposit
Loan Amount £778.00
Total Payable on 4/10/2020 - £778.00 + £29.00 settlement fee
Cost of loan if paid by 4/10/2020 = £0.00
Finance is subject to status. Terms and conditions apply.
NIKON DIGISCOPING, AVAILABLE FROM A PROPER CAMERA SHOP AT AN INTERNET PRICE !!
OFFICIAL UK STOCK, WITH ALL THE NORMAL ACCESSORIES IN THE BOX.

INCLUDES 2 YEAR WARRANTY
WE ARE A NIKON SPECIALIST AND ARE HAPPY TO OFFER ADVICE OR ANSWER YOUR QUESTIONS. PLEASE RING ON 01453 548128
THESE ARE OFFICIAL UK STOCK AND AS WE ARE BINOCULAR SPECIALISTS YOU CAN BE SURE OF EXCELLENT CUSTOMER SERVICE AND FREE TECHNICAL HELP.HAVE YOU SEEN A BETTER UK DEAL?IF YOU HAVE PLEASE RING US ON 01453 548128, WE WILL TRY OUR HARDEST TO COMPETE WITH ANY UK SUPPLIER, A HUMAN BEING AT THE END OF THE PHONE GUARANTEED !!
---
Connect to a Nikon digital camera for outstanding up-close images.
Think back, over the years, to all of the fascinating birds, animals and plants you've had the opportunity to observe. What if you were able to capture such magnificent moments as permanent images to share with your family, friends and associates around the world? Permanent records of birds and other wildlife in their pristine natural habitats. From isolated moments to precious and lasting works of art. With the Nikon Digiscoping System, you can now connect your Nikon Fieldscope or Spotting Scope to a Nikon digital camera to capture incredible closeups of birds, animals and other difficult-to-approach subjects. Fieldscopes and Spotting Scopes alike allow you to connect to Nikon COOLPIX digital cameras for easier-than-ever supertelephoto images. And our Fieldscopes enable you to connect to digital SLR cameras, too, eliminating the need to purchase special interchangeable telephoto lenses. It's a convenient, affordable way to make dazzling supertelephoto digital images a vital part of your life.
---
Nikon Digiscoping attachment FSA L2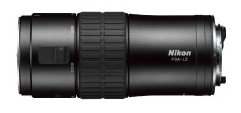 Nikon Digiscoping Diagram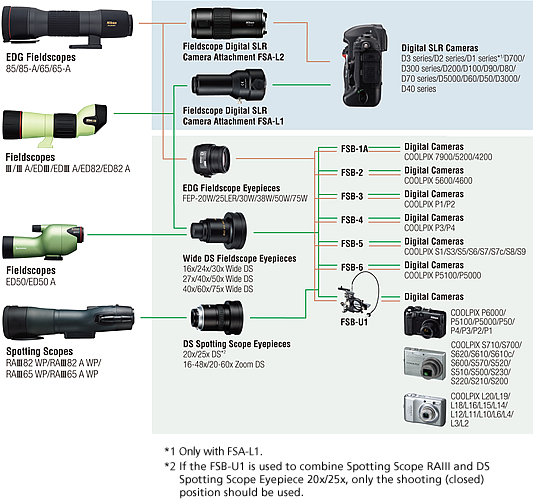 Specification
Dimensions (without cap and screw): �62 x 150mm
Weight: Approx. 435g
3.5x zoom for super telephoto shooting. When attached to EDG Fieldscope 85/85-A, the focal length ranges from 500 to 1,750mm* and when attached to EDG Fieldscope 65/65-A, the focal length ranges from 400 to 1,400mm*.
* FX-format
Available exposure modes: Aperture-Priority Auto and Metered Manual
Available exposure metering: Center-weighted metering
Multilayer coating is applied to all lens elements for brighter optics.
Attaches directly to an EDG Fieldscope and the F mount on a Nikon Digital SLR camera.
�
Note:
Because the optical system characteristics differ from those of ordinary interchangeable lenses, the exposure level may vary depending on the camera model; use exposure compensation if necessary. Exposure compensation may be required when zoom is set at a wider position.
Camera's autofocusing mode cannot be used. Perform focusing using the EDG Fieldscope focusing ring.
�
Compatible Nikon Digital SLR cameras:
D3 series, D2 series, D700, D300 series, D200, D100, D90, D80, D70 series, D5000, D60, D50, D3000, D40 series.
(as of August, 2009)


Compatible Fieldscope models:
EDG Fieldscope 85/85-A
EDG Fieldscope 65/65-A
�
�
�