�
UNIVERSAL SHOE CORD SC-01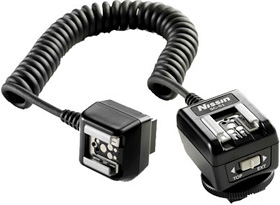 The wired camera flash is another key technique in flash lighting.
When using a camera/flash bracket, or holding the flash off camera, you must have a sure electrical contact to the camera. The length of the cord can be up to 1.5m.
[Nissin's Original Feature]
Multiple contact pints
Nissin SC-01 provides multiple contact pins which work for all flashes designed for Canon, Fujifilm, Nikon, Pentax and Samsung digital SLR cameras. They are compatible not only with the camera manufacturer's original flash but also with third-party flash units designed for those cameras.
Dual hotshoe
Nissin SC-01 has an extra hotshoe at the camera end coupler of the cord.When moving the flash back to the top of camera the coupler doesn't need to be removed from the camera, and the flash can be placed on the coupler.
The usable camera and flash
1. Canon EOS Digital SLR cameras and flash units designed for their TTL flash systems
2. Nikon digital SLR cameras and flash units designed for their TTL flash systems
3. Pentax digital SLR cameras and flash units designed for their TTL flash systems
4. Samsung digital SLR cameras and flash units designed for their TTL flash systems
5. Fujifilm digital SLR cameras and flash units designed for their TTL flash systems
�