Clifton Cameras are excited to be hosting a networking brunch, bringing Gloucestershire creatives together.

Whether it is blogging, vlogging, photography or something different that sets your creativity alight, come and join us for a delicious brunch at one of the county's most spectacular venues.

This month's brunch is sponsored by Olympus UK and will be hosted by Jay McLaughlin, an Olympus ambassador and fashion photographer! Jay will be answering questions and providing useful tips on how to raise your profile and improve your skills whilst showing you through some of his work. You will also have the opportunity to take photos with the Olympus Pen E-PL8. The perfect camera for expresing your creativity.

That's not all:

On the day we will award a £100 Olympus gift voucher for the best image posted and taken on the Olympus Pen E-PL8. We will be announcing the winner before the day is over.

If you are interested in attenting this event, please email us > Here
---
Itinerary
10:45am arrival for an 11:00am start

At 11am you'll be introduced to Olympus Ambassador Jay McLaughlin and he will demonstrate the Olympus Pen E-PL8. Helping you to understand different settings so you can capture the best image possible during brunch.

12:00pm -12:45pm

Brunch will arrive and you will have the opportunity to take macro food shots.

12:45pm - 2:15pm

In the afternoon you'll be able to tour the venue, take in the gardens and digest your brunch. This will give you the opportunity to post you favourite shot for the competition under the guidance of Jay, who will be on hand to answer any questions.

2:15pm - 2:30pm

We will conclude the day with some parting words from us and by announcing the winner of our photo competition!
---
Jay McLaughlin


Based in East London, British fashion and portrait photographer Jay McLaughlin has always had a keen interest in photography. Initially choosing to study graphic design, his interest in photography dominated and as a result heavily influenced the direction of his design portfolio. Eventually pursuing photography outright, within six months he had secured his first magazine cover and within a year he was shooting for national magazines. His work has since been published internationally and has worked with clients such as Harper's Bazaar, TopShop, Olympus, and Vogue.

As well as being a successful photographer, McLaughlin has also conducted photographic seminars and workshops, and been on the judging panels for the Hasselblad Masters and Scottish Fashion Awards.
---
Cowley Manor



Cowley Manor is a 30 bedroom contemporary country house hotel and spa located in the glorious Cotswold countryside surrounded by 55 acres of parkland, woods and meadows. The gardens feature natural springs, lakes and Victorian cascades.

With emphasis on comfort, service and very few rules, Cowley Manor is the ideal place to relax, unwind and indulge in the heart of the British countryside.
---
Macro Food Photography Workshop including a Q & A
---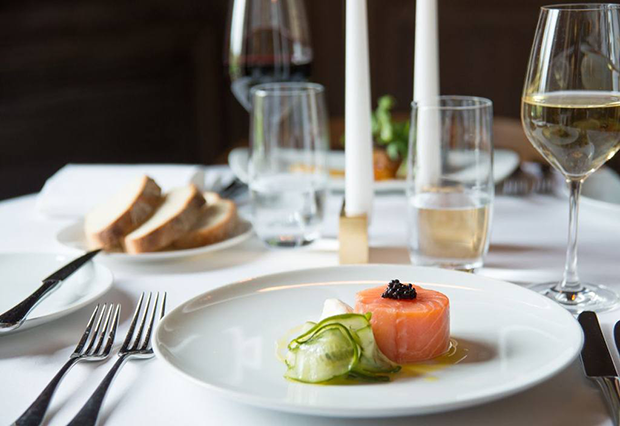 ---
For our first brunch you will be taking macro shots of the delicious food served by Cowley Manor. Each attendee will be loaned an Olympus E-PL8 to use throughout the day. You will be given a FREE Sandisk Extreme SDHC Card 16GB 90MB/s so you may take your images home with you.

You won't be restricted to taking images of the food. You'll have the opportunity to walk around the beautiful grounds and tastefully decorated rooms of Cowley Manor.
Throughout the workshop Jay will be present to answer qustions and provide insight.


We have the following options available for your lunch, you will need to decide by the 6th October to allow us time to pre-order. Our Events Coordinator will contact you for your order once you have booked your place.
Starters

Ham hock terrine, piccalilli, toasted onion bread

Saffron marinated mackerel, crisp vegetables, spiced orange dressing

Chicken liver parfait, onion marmalade, brioche

Herb marinated baked ricotta, rocket salad, foccacia

Mains

Ballotine of chicken, dauphinoise, wild mushrooms

Slow roasted shoulder of pork, apple puree, savoy cabbage, fondant potato

Roasted fillet of loch Duart salmon, Jerusalem artichokes and hazelnuts

Rosemary and black olive polenta, fricassee of wild mushrooms

Desserts

Sticky toffee pudding, Weetabix ice cream

Warm chocolate fondant, white chocolate ice cream

Vanilla crème brulle, hazelnut biscotti

A selection of 3 local cheeses
---
Terms and Conditions for the £100 voucher prize:
The post must be shared on one of the following social media sites: Facebook, Instagram or Twitter
The post must mention Clifton Cameras, Olympus Bloggers Brunches, Olympus Pen E-PL8 and Cowley Manor
The post must be of an image you have taken on the day using an Olympus Pen E-PL8
There is only one prize available, which is a voucher worth up to £100
The voucher can only be spent on Olympus products online or in store at Clifton Cameras
No cash alternative will be given. If a purchase is below £100 a new voucher with the remaining value will be issued
The voucher will expire on January 1st 2018 The winner will be chosen by Clifton Cameras and Jay Mclaughlin at the end of the brunch
If the winner decides not to accept the prize, Clifton Cameras and Jay Mclaughlin reserve the right to chose another winner at random
Event Terms and Conditions
Each attendee will receive a free 16GB Sandisk memory card and a 3 course brunch.
Entrance to the event is restricted to thirteen customers, each of which must email us > here before the 10th October 2017
If you are unable to attend the event, please notify us by sending an email > here to cancel your place.
The event is designed, to enable you to see the Olympus PEN E-PL8 camera. You will be able to discuss the camera with Olympus Ambassadors & Clifton Cameras Ltd
All customers attending on the day will receive a FREE Sandisk Extreme SDHC Card 16GB 90MB/s Class 10 UHS-I, worth up to £12.00 to record images on of your day
Entry to Cowley Manor is valid for Tuesday 17th October 2017 only.
You are welcome to bring your own photographic equipment to this event. Equipment insurance is not included, but is recommended as Clifton Cameras can not accept any liability for loss or damage to your equipment.
All participants agree to have their photographs taken throughout the event, and for these images to be used for any activities in association with the advertising, marketing and promotion of this or future events.
All participants allow Clifton Cameras Ltd to use images, whilst retaining full copyright, the participant has taken on the day. These images may be used in conjunction with activities associated with the advertising, marketing and promotion of this or future events.
These Terms and Conditions are to be interpreted in accordance with English law and any dispute arising out of these Terms or their subject matter is subject to the exclusive jurisdiction of the English Courts.