Save even more by creating your own bundle!
Browse the categories below to reveal specially reduced items to go with this product, then click and add them to create your own unique bundle with discounted price.
PhoneSkope Digiscoping Cases
PhoneSkope! Two words put together that mean you can easily use your Smartphone on a telescope for picture taking, video making or simply viewing. PhoneSkope cases add just a couple of millimeters extra to the size of your Smartphone while at the same time naturally allow you to use all the normal functions of your phone.
PhoneSkope Smartphone cases are used in conjunction with a C-3 Dedicated Adapter or the C-4 Universal or C-4 Mini Universal Adapters for a multitude of eyepieces on quality optics.
Using your quality optical devices including Spotting Scopes, Microscopes, Astronomical Telescopes, Monoculars and even some Binoculars (a tripod is strongly recommended!), you can now use your smartphone's camera to take quality pictures and videos. Or, if with friends, share the image on your phone's screen.
Nowadays, most of us do not go anywhere without our smartphone and so using PhoneSkope on your optical equipment you have an alternative lightweight and very convenient method of capturing images and videos without having to carry a camera.
With PhoneSkope's design it's a simple set up. First, choose your phone case, then either a C-3 dedicated eyepiece adapter to fit your eyepiece, or either the C-4 universal adapter or the new C-4 Mini universal adapterthat will fit numerous eyepieces from 1.2" to 1.8" (C-4 Mini) or 1.7" to 2.335" (C-4) in diameter, enabling you to fit your smartphone to a variety of Spotting Scopes, Microscopes, Astronomical Telescopes, Monoculars and some Binoculars.
Product Features
PhoneSkope phone cases for the iPhone 4/4s, iPhone 5/5s, iPhone 5c, iPhone 6 and iPhone 6plus & Samsung Galaxy S3, S4 and S5 are all-in-one moulded cases. All other PhoneSkope cases listed below comprise a hard plastic case with the PhoneSkope bayonet piece attached.
Simply put your phone into the PhoneSkope case and then attach either a C-3 Dedicated Adapter or either the C-4 universal adapter or the C-4 Mini universal adapter and you will then be ready to begin PhoneSkopeing with your Smartphone.
The images above show the front and back of the all in one case for the Samsung Galaxy S3 and along side it a complete PhoneSkope setup - in this example a Galaxy S2 with Vortex Razor HD eyepiece adapter. (Not to scale).
Complete PhoneSkope Kit for GoPro Hero 3 and 3+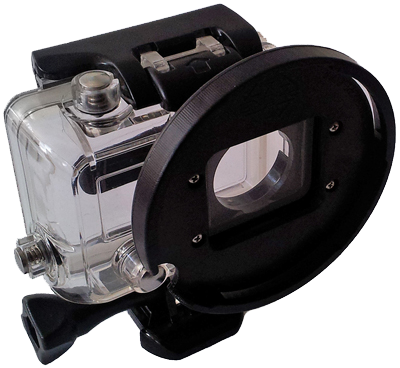 A new addition to the PhoneSkope range is this complete kit comprising a GoPro® compatible underwater housing attached to a PhoneSkope C-2 bayonet adapter so all you need to do is add the required Dedicated C-3 Adapter or Universal C-4 adapter to fit your optic.
Should you already have a GoPro Camera with the original Underwater Housing (with screws on the front of the black area on the front of the case) then all you will need is the C-2 Adapter disc which is available as a separate product.
IMPORTANT NOTE: The new Hero 3+ camera is identical in size to the Hero 3 but the supplied case does not have any provision for the screws required to fit the PhoneSkope adapter to it.