Sigma 18-200mm f3.5-6.3 DC Macro OS HSM
As entry level lenses for digital SLR cameras, standard zoom lenses are capable of many types of photography. With this lens, you can enjoy the variation of different angle-of-views covering from a wide-angle of 18mm (equivalent to 27mm on a 35mm camera) to a telephoto of 200mm (equivalent to 300mm on a 35mm camera), as well as macro.

Moreover, thanks to the OS (Optical Stabilizer) functionality, while pursuing convenience of handheld photography for close-up, indoor and night time photography, SIGMA incorporated the latest technology freely in order to achieve its compact size as an everyday lens. SIGMA proposes a new standard zoom lens.
New standard zoom up to 200mm
SIGMA has always been producing a high performance standard zoom lens, dedicated for digital DSLR cameras, that covers up to 200mm by reflecting the latest technology.
In 2005, SIGMA released 18-200mm F3.5-6.3 DC as a smallest and lightest all-rounder lens in class that covers from wide-angle to telephoto range. SIGMA, in 2007, incorporated OS (Optical Stabilization) functionality, and in 2011, has successfully made the size of the lens even more compact.
Now, this new lens has been redeveloped as the standard zoom lens from SIGMA's new product line, which has higher performance, is even smaller and lighter-weight, and on top of that, includes "the macro feature". As an entry level interchangeable lens, it is capable of many photographic scenes.
Diameter reduced by 4.6mm compared to its predecessor
We pursued a compact size as an ideal everyday lens. From an early stage of development, SIGMA was determined to make the lens size compact, for example, by incorporating double-sided aspherical lens elements and downsizing the motor. As a result, while the predecessor had a diameter of φ75.3mm, this lens has reduced it to φ70.7mm, which has the difference of 4.6mm. It also achieves -11% in volume ratio compared to its predecessor. It is one of the smallest in its class of lenses with more than a 7x zoom ratio, and is more comparable in size to a generic standard zoom lenses.
High rendering performance throughout the entire zoom range
With our Contemporary line, the lens is required to fulfill the maximum potential while achieving a compact and light-weight construction. This lens incorporates SLD (Special Low Dispersion) glass elements that have a high refractive index, and corrects chromatic aberration at the telephoto-end very well. Moreover, aspherical lens elements, including double-sided aspherical lenses, ensure a compact size and excellent correction of distortion. This also helps to produce superior rendering performance throughout the entire zoom range from wide-angle to telephoto and macro photography.
Close-up photography
One of the biggest features of this lens is that it is possible to shoot subjects as close as Macro lenses. This lens features a minimum focusing distance of 39cm and a maximum magnification ratio of 1:3. It offers the versatility for shooting close-ups of fashion accessories, cuisine, flower arrangements and much more without changing the lens. Its working distance is 14.7cm, and it is suitable for shooing images with natural light as it keeps the shadows of camera and lens off of the image. On its lens barrel, it indicates the maximum shooting magnification at each focal length, and it is so convenient for a photographer that the size of the object in the image sensor becomes easily recognizable. Uncompromising in every aspect of lens design, Sigma has even chosen to engrave the product name on the front of the lens to prevent reflections of the letters during close-up photography.
Incorporating new composite TSC
In product development of cameras and lenses, it is crucial to lay out main components, metal parts and polycarbonate, to optimize and ensure each feature. This lens has incorporated TSC (Thermally Stable Composite) that has the same level of thermal shrinkage as aluminum and little elasticity, especially in temperature changes. Since thermal shrinkage is low, it has a high affinity to metal parts that contributes to high precision in product manufacturing. It also results in slimmer mechanical parts, such as the zoom ring and scaling.
Optical Stabilizer
This lens incorporates an OS system which offers superior stabilization, making it possible to compensate for camera shake even in macro range photography where a small blur can be easily identified.
Designed to minimize flare and ghosting
Flare and ghosting were thoroughly measured and monitored from the lens development stage to establish an optical design which is resistant to strong incidental light such as backlight. The Super Multi-Layer Coating reduces flare and ghosting and provides sharp and high contrast images even in backlit conditions. Attaching the matched petal type hood, which is supplied, will provide extra protection from flare and ghosting.
Incorporating Rounded Diaphragm
The 7 blade-rounded diaphragm creates an attractive blur to the out-of-focus areas of the image.
Hyper Sonic Motor
HSM (Hyper Sonic Motor) delivers high AF speed and extremely quiet performance. With the latest AF algorithm, smoother AF is achieved.
Brass made bayonet mount
This lens incorporates a brass made bayonet mount which has both high accuracy and durability. A special treatment to reinforce its strength is applied to the surface giving it greater strength and making it highly resistant to long-term use.
Ease of use
The new product lines incorporate rubber for the attachment part of the provided lens hood. For better usability, the design of the lens cap and AF / MF changeover switch has been improved.
Newly developed "SIGMA USB DOCK" exclusively for new product lines
Based on these new lines, we have developed special software (SIGMA Optimization Pro) that can update the lens firmware and adjust parameters such as focus.

A lens customizable to your needs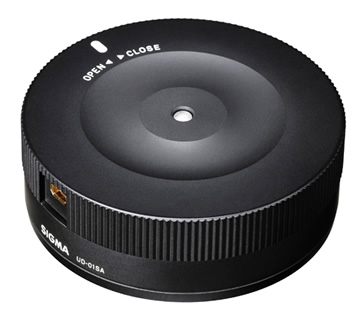 For our new product lines, we have developed exclusive SIGMA Optimization Pro software that allows the user to update the lens firmware and adjust focus position and other parameters. The user will be able to connect the lens to a computer with a special USB DOCK and use easy-to-operate on-screen controls to create personal lens specifications. For Sports lenses, the focus limiter will also be customizable. (This is an additional accessory, available for purchase May/June).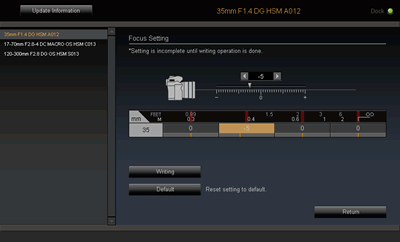 Read the Digital Camera review - Click Here
> View All Sigma 18-200mm f3.5-6.3 DC Macro OS HSM C Type <
> View All Sigma 18 200mm f3.5 6.3 DC Macro OS HSM C Type Variants <
Find related accessories to the Sigma 18-200mm f3.5-6.3 DC Macro OS HSM | C Type - Sigma here. The discount highlighted will be received if you add the items as part of a bundle. Keep an eye out for exclusive deals on photographic equipment and accessories here!

Easily spread the payments with our range of finance solutions.
Choose the finance package that suits you best.
Apply from our checkout
Easy online application
Instant Decision
We process your order

Simply choose your repayment period and choice of initial deposit. Look out for the promotional Interest Free offers.
Price of Goods: £269.00
Summary
Total amount repayable . APR representative. Annual Rate of Interest Fixed.
Finance is subject to status. Terms and conditions apply.