Buying from Clifton Cameras ensures this is 100% Official Canon UK Product backed up with a Sigma UK Warranty. As we are an official Sigma UK partner you can be assured of the highest level of service before and after your purchase. Our staff are trained by Sigma UK and can guide you along every step of the way. If you have any questions relating to this product please feel free to call us on 01453 548128
---

---
Sigma DP2 Quattro Digital Camera
This standard lens (equivalent to 45mm on a 35mm lens) camera offers perspective very close to human vision, allowing photographers to easily replicate the scenes they see with their own eyes.
A standard lens is the foundation of photographic expression. The angle of view is perfect for exploring the use of focus and learning the basics of photography. Since the angle of view is natural and closely matches human vision, it lets photographers easily capture the many worlds they see.
Key Feature of SIGMA dp2 Quattro
Equivalent to 39 megapixel high resolution
The SIGMA dp2 Quattro incorporates a newly developed Foveon X3 direct image sensor which features a pixel ratio of 1:1:4 from the bottom, middle to top layer. While the top layer captures both brightness and color information, the middle and bottom layers capture color information only. During the image data processing stage, the brightness data captured in the top layer is applied to the top, middle, and bottom layers, resulting in brightness and color data for each individual pixel. When measuring with a standard monochrome resolution chart, the dp2 Quattro has high resolution equivalent to approximately 39 megapixels. The Foveon direct image sensor, which uses superior vertical color separation technology, does not require a low-pass filter as there will be no false colors in principle, resulting in high-definition, 3D-like photographs with outstandingly rich color detail.

SIGMA dp2 Quattro : SUPER-HIGH size processed in SPP6

36 megapixel sensor camera
Overexposure Correction
The SIGMA dp2 Quattro incorporates a new overexposure correction function. This function is to minimize blown-out highlights caused by overexposure on JPEG data, based on the gradation information obtained through the arrangement of pixels on the sensor. Moreover, such gradation information can be utilized in expansion of dynamic range by processing RAW data. For example, when sky is blown-out as shown in the pictures below, the color of sky will not change much by applying overexposure correction in SIGMA Photo Pro 6. In such a case, by moving the exposure slider to the minus side, and then with overexposure correction, blue sky can be reproduced. Moreover, by moving X3 Fill Light slider to the plus side to brighten the darkened part enables the reproduction in a state closer to that seen with the eye.
Notice for when photographing a backlit scene
When photographing a strong light source such as sunlight directly, flare and ghosting may occur as shown below. In such a case, by processing the image through SIGMA Photo Pro 6, it is possible to make it less visible. Using the fringe correction function during processing has an even better effect. At that time, it is necessary to use color adjustment function to adjust color as saturation may be lower.
Technology
Foveon direct image sensor The world's only image capture system to use vertical color separation technology
Starting with our very first digital camera, we have featured the Foveon direct image sensor, which offers radically better image quality than any other sensor available. Leveraging the light absorption characteristics of silicon, the sensor comprises three layers of photodiodes, each at a different depth within the silicon and each corresponding to a different RGB color. Since it is the only sensor to use this superior vertical color separation technology, it is also the world's only direct image sensor.

Almost all other image sensors are mosaic sensors, which use an array of RGB color filters in a single horizontal plane to capture color information. Each pixel is assigned only one of the three colors and cannot capture all three colors at once. In contrast, the Foveon direct image sensor captures color vertically, recording hue, value, and chroma accurately and completely for each pixel.

In the Foveon direct image sensor, there are no color filters which would cause a loss of information transmitted by light. Moreover, there is no low-pass filter needed to correct the interference caused by a color filter array. Finally, unlike the data from other sensors, which requires artificial interpolation to "fill in" missing colors, the data from the Foveon direct image sensor is complete for every single pixel and requires no interpolation. The unique technological principle of this sensor produces consistently outstanding image quality.

Newly developed Foveon X3 Quattro direct image sensor Now featuring 39 megapixel-equivalent ultrahigh resolution
Capturing the information transmitted by light vertically instead of horizontally, the full-color image capture system of the Foveon direct image sensor is the only one of its kind in the world. This system makes possible the sensor's full-bodied image quality, which is characterized by rich tone and gradation and texture that one can almost touch.

The newly developed Foveon X3 Quattro is the latest generation of this unique sensor. While retaining the distinctive characteristics of its predecessors, it offers an even higher level of image quality. Resolution is 30% higher, and its noise characteristics are further enhanced.

The new sensor structure features a ratio 1:1:4 for the number of red, green, and blue megapixels, respectively. The top layer captures luminance and color information, while the bottom two layers capture color information only. This unique structure prevents the deterioration of the signal-to-noise ratio that is typically associated with an ultrahigh megapixel count. At the same time, it makes possible high-speed data processing required for faithful color replication. Able to maintain the same exacting standard of image quality while increasing resolution and enhancing noise characteristics, this 1:1:4 solution was the inspiration for the name of the current generation of Foveon sensor: "Quattro."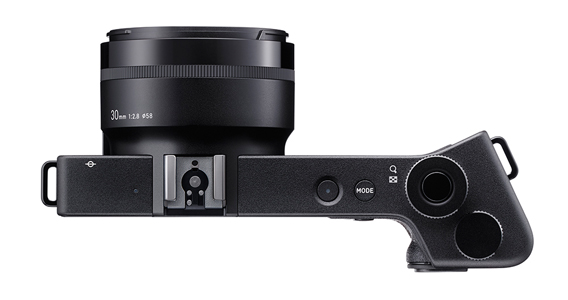 Newly developed TRUE III image processing engine Optimized for processing Foveon X3 Quattro direct image sensor data
The new dp series cameras feature the new TRUE (Three-layer Responsive Ultimate Engine) III, an image processing engine we developed especially for the new-generation Foveon X3 Quattro direct image sensor. This image processing engine has evolved in pace with our Foveon direct image sensor and incorporates all of the image processing expertise we have developed over the years. Offering 14-bit processing, it is the ideal engine for turning the sensor's rich and complex image data into finished photographs. The ultimate result is high-definition, 3D-like photographs with outstandingly rich color detail.
Dedicated high-performance lens Standard camera offering photographic expression similar to human vision (45mm on 35mm lens equivalent)
Extremely sharp and stable in performance, this camera gives you the power to capture even tiny subjects with high precision. Its image plane characteristics are also outstanding, featuring a consistently crisp focus and a smooth, natural gradation to the out-of-focus areas of the image. Building on the well-received approach we took with the previous-generation DP2 Merrill camera, we've placed a priority on transmitting light wave information directly to the image sensor and optimized the dedicated high-performance lens so as to minimize every type of optical aberration. In fact, based on our rigorous examination of lens options to match the new Foveon X3 Quattro direct image sensor, we've retained the same lens specification as in the DP2 Merrill. With the new dp Quattro, you will continue to enjoy the highest level of optical performance in your photography every day.
Specification
Focal Length

30mm

35mm Equivalent Focal Length

Approx.45mm

Lens F number

F2.8~F16

Number of Diaphragm Blades

9 Blades

Lens Construction

8 Elements in 6 Groups

Shooting Range

28cm~∞, LIMIT Mode (It is possible to choose Macro, Portrait and Scenery.)

Maximum Magnification Shooting

1:7.6

Dimensions

161.4mm/6.4"(W), 67mm/2.6"(H), 81.6mm/3.2"(D)

Weight

410g/14.5oz (without battery and memory card)

Image Sensor

Foveon X3 Direct Image Sensor (CMOS)

Image Sensor Size

23.5×15.7mm

Color Photo Detectors

Effective Pixels: Approx.29MP

T (Top):5,424×3,616 / M (Middle):2,712×1,808 / B (Bottom):2,712×1,808

Total Pixels: Approx.33MP

Storage Media

SD Card, SDHC Card, SDXC Card

File Format

Lossless compression RAW data (14-bit), JPEG (Exif2.3), RAW+JPEG

JPEG Image Quality

FINEã€ï¿½NORMALã€ï¿½BASIC

Aspect Ratio

21:9, 16:9, 3:2, 4:3, 1:1

Number of Recording Pixels

RAW

| | | |
| --- | --- | --- |
| | HIGH | T:5,424×3,616 / M:2,712×1,808 / B:2,712×1,808 |
| | LOW | T:2,704×1,808 / M:2,704×1,808 / B:2,704×1,808 |

JPEG

[21:9]

SUPER-HIGH

7,680×3,296

HIGH

5,424×2,328

LOW

2,704×1,160

[16:9]

SUPER-HIGH

7,680×4,320

HIGH

5,424×3,048

LOW

2,704×1,520

[3:2]

SUPER-HIGH

7,680×5,120

HIGH

5,424×3,616

LOW

2,704×1,808

[4:3]

SUPER-HIGH

6,816×5,120

HIGH

4,816×3,616

LOW

2,400×1,808

[1:1]

SUPER-HIGH

5,120×5,120

HIGH

3,616×3,616

LOW

1,808×1,808

ISO Sensitivity

ISO100~ISO6400 (1/3 steps for appropriate sensitivity), AUTO: High limit, low limit setting is possible between ISO100~ISO6400. When using with flash, it changes depending on the low limit setting.

White Balance

10 types (Auto, Auto (Lighting Source Priority), Daylight, Shade, Overcast, Incandescent, Fluorescent, Color Temperature, Flash, Custom)

Color Mode

11 types (Standard, Vivid, Neutral, Portrait, Landscape, Cinema, Sunset Red, Forest Green, FOV Classic Blue, FOV Classic Yellow, Monochrome)

Auto Focus Type

Contrast Detection Type

AF Point

9 points select mode, Free move mode (It is possible to change the size of Focus Frame to Spot, Regular and Large.) Face Detection AF mode

Focus Lock

Shutter release halfway-down position (AF lock can be done by AE lock button from menu setting)

Manual Focus

Focus Ring Type

Metering Systems

Evaluative Metering, Center-Weighted Average Metering, Spot Metering

Exposure Control System

(P) Program AE (Program Shift is possible), (S) Shutter Speed Priority AE, (A) Aperture Priority AE, (M) Manual

Exposure Compensation

±3EV (1/3 stop increments)

AE Lock

AE lock button

Auto Bracketing

Appropriate, under, over; 1/3EV steps up to ±3EV for appropriate exposure

Shutter Speed

1/2000* - 30sec. (*Depending on the aperture value, shutter speed changes)

Drive Modes

Single, Continuous, Self Timer (2sec. /10sec.) Interval timer

LCD Monitor Type

TFT color LCD monitor

Monitor Size

3.0 inches

LCD Pixels

Approx. 920,000 Pixels

LCD Monitor Language

English/ Japanese/ German/ French/ Spanish/Italian/ Chinese (Simplified)/

Chinese (Traditional)/ Korean/ Russian/ Nederlands/ Polski/ Português/

Dansk/ Svenska/ Norsk/ Suomi

Battery Life

Approx. 200 (+25℃)

Accessories

Lens Cap (on the camera) / Hot shoe cover (on the camera) / Strap / Li-ion Battery BP-51 (2 pieces) / Battery Charger BC-51 / Battery Charger Cable / USB Cable / Instruction Manual
Find related accessories to the Sigma DP2 Quattro Digital Camera here. The discount highlighted will be received if you add the items as part of a bundle. Keep an eye out for exclusive deals on photographic equipment and accessories here!

Easily spread the payments with our range of finance solutions.
Choose the finance package that suits you best.
Apply from our checkout
Easy online application
Instant Decision
We process your order

Simply choose your repayment period and choice of initial deposit. Look out for the promotional Interest Free offers.
Price of Goods: £749.00
Summary
Total amount repayable . APR representative. Annual Rate of Interest Fixed.
Finance is subject to status. Terms and conditions apply.