Sony Full Frame Event At Eastington Park - 28/06/2017
On June 28th we are hosting a unique experience with the all-new Sony Alpha A9 and including all of Sony's established full frame camera range. You will have 3 sessions to get hands-on access to all the cameras with esteemed Sony ambassadors and Bird photographer Justin Carr.
This will all take place at the beautiful Eastington Park in Gloucestershire, which is host to 8 acres of gardens with views across the Cotswold countryside and impressive ballrooms and a feature staircase.
The event will also be supported by Elinchrom, Gitzo, Manfrotto, Lee Filters and Lexar Professional Memory. Giving you the opportunity to find out more about their product line up and how it could benefit your photography.
All this is available for just £20 with spaces limited to 40 people.
You will receive a FREE Lexar 32GB 1000x Pro SDHC UHS-II worth £45 when you arrive at the event!

*T&Cs apply, please see below.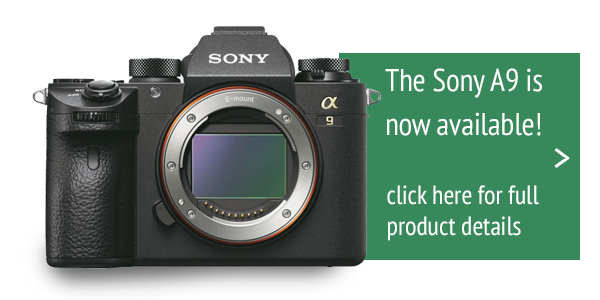 Event Itinerary
9:30am - 9:55am - Time of Arrival
Teas and Coffees on arrival.

10:00am - 10:40am - Welcome and Introduction to the Sony full frame systems
Introduction to the Sony ambassadors and the different Sony full frame cameras available to use throughout the day.

10:45am - 11:45am - 1st Hands-on Session
You will be allocated your group for the day and be taken by the Pro to start your first hands-on session:


Group 1 - Martial Arts with Andrew Tombling
Group 2 - Falconry with Ben Long & Justin Carr
Group 3 - SFX Artist - Studio Session

11:45am - 12:00pm - Tea Break
Reconvene in the house for tea, coffee and pastries.

12:00pm - 1:00pm - 2nd Hands-on session
Your allocated group will be taken by the Pro to start your second hands-on session:


Group 1 - SFX Artist - Studio Session
Group 2 - Martial Arts with Andrew Tombling
Group 3 - Falconry with Ben Long & Justin Carr

1:00pm - 2:00pm - Lunch Break
Reconvene in the house for a finger buffet lunch.
2:00pm - 3:00pm - 3rd Hands-on session
Your allocated group will be taken by the Pro to start your third hands-on session:


Group 1 - Falconry with Ben Long & Justin Carr
Group 2 - SFX Artist - Studio Session
Group 3 - Martial Arts with Andrew Tombling

3:00pm – 4:00pm – Afternoon Tea with Q&A Session
Although you will be able to ask the ambassadors questions during the sessions and breaks, we have dedicated a Q&A session for any outstanding questions you have from your experience through out the day.

Event Photographer




Justin Carr Bio


"A little bit about me. First and foremost I am a birder. I have been birding since I was 12, inspired by a teacher and I started with the birds at school in Doncaster. My grandma bought me my first binoculars. She said she hoped it wasn't a passing phase! Soon after getting my precious binoculars I saw my first Barn Owl and I was totally hooked.

At 14 I started to take bird photographs, moving on to digiscoping 15 years ago as I wanted more of a challenge. I started with a camcorder connected to my scope by the means of a homemade wooden adapter (in the days before proper adapters). I managed to get pretty good results and have had some of my footage published by Birdguides on their bird ID guides. From there I progressed to stills using a Sony p200 compact camera before switching to the Panasonic G series range which I still use now."

Justin will be instructing on the Bird of Prey groups to ensure you get the best shots. He will also be able to answer any questions regarding technique, whilst using Sony equipment.

| | |
| --- | --- |
| | |

Photographic Activities

Martial Arts with Andrew Tombling

Andrew Tombling is a Senior Area Instructor, County Development Officer and also a TAGB Competition Area Manager for the martial art of Tae Kwon-do. With a 7th degree black belt grading and is currently trainning for his 8th degree black belt.

Andrew is also the Chief Instructor of 'Your Tae Kwon-Do' based in Chippenham, Cirencester, Frome, Malmesbury & Melksham. These classes are lead by Master Andrew Tombling & Jackie Tombling, 5th Dan Senior Instructor.

Collectively these instructors have taken 100's of students through their journey up to and beyond Black Belt, with many of Master Tomblings students achieving Master grades themselves.

On the day Andrew will be accompanied by his daughter Briegan Tombling, who is a 2nd Degree Black Belt and currently a regional and national champion. Creating unqiue and fast pace techniques for you to capture with the Sony full frame cameras. This activity will allow you to see how amazing the Sony A9 shutter speed really is.

For more information on Andrew Tomblings Classes > Click Here
---

Falconry with Ben Long

Ben Long has been professionally involved in the sport for over 35 years, both as a falconer and also as a renowned maker of falconry equipment (known as "furniture"). He is also involved in training Pointer dogs for falconry and field trials.

Ben is based at Hardwicke near Gloucester, where he is director of The Falconry School, which chiefly provides tuition for those wishing to take up the sport, or existing falconers who want to further their knowledge. The Falconry school also hold Experience Days for visitors who want a fun falconry day, corporate entertainment, avian pest deterrent services and, of course, displays.

On the day, Ben will be displaying his beautiful birds and you'll have the chance to put the Sony cameras AF system to the test, whilst attempting to capture that perfect image.

For more information on Ben Long Falconry

> Click Here
---



Studio Session with Special Effects Artist - Michaela Rhodes

Michaela Rhodes is a local qualified cosmetic makeup artist who specialises in Special Effects makeup. Based in Gloucestershire, Michaela's passion for makeup started from a young age and her passion grew when she signed up to get a qualification, which gave her the knowledge to start her journey of SFX makeup.

Photography makeup, bridal, skin care and hair styling are just a few of her wide range of skills which make her a rising talent in the area for studio sessions.

Whether it's making masks, wounds or turning you into one of the undead, Michaela, loves creating pieces of art to the most minute detail, and is not afraid to try out new ideas.

In this activity you will be able to capture the detailed makeup Michaela creates, allowing you to see the quality that Sony full frame cameras can produce.

For more information on Michaela's SFX > Click here

Venue - Eastington Park, Gloucestershire

Eastington Park was built in 1815 by a local clothier and mill owner called Henry Hicks. Mr Hicks purchased the estate in 1806 from the Stephens Family, after the original building, Eastington Manor, was demolished in 1778.

This venue offers an idyllic tree lined driveway and 8 acres of beautiful gardens, with views across the Cotswold countryside, for you to photograph.

Eastington Park is very conveniently located less than 5 minutes from Junction 13 of the M5. Take the A419 to Stroud. Take the 3rd exit at the Starbucks and Shell petrol station roundabout signed posted to Eastington. The entrance to the property is on your left shortly after you cross the canal and approximately 200 yards from the roundabout.

Also on the day find amazing support from these fantastic brands;

Terms & Conditions
Entrance to the event is restricted to forty customers, each of which must have purchased a ticket here before the 26th of June 2017
If you are unable to attend the event, please notify us by sending an email to olivia@cliftoncameras.co.uk to cancel your place. We will issue a refund for as long as we receive 7-days notice prior to the event date.
The event is designed, to enable you to see the full range of Sony full frame cameras. You will be able to discuss the camera with Sony Ambassadors & Clifton Cameras Ltd.
The following activities will be put on throughout the day, to give you the chance to use the Sony full frame cameras to the best of their ability: Falconry, Martial Arts, Special effects make up in a studio set up.
The event will also give you access to representatives from Manfrotto, Gitzo, & Elinchrom
All people attending the day will receive a FREE Professional Memory Card, worth up to £45.00 to record images on of your day.
You will also receive a number of special offers, exclusive to attendees, from other manufactures at the event.
Tickets and entry to Eastington Park are valid for Wednesday 28th June, 2017 only.
Whilst at Eastington Park, you will be provided with teas and coffees on arrival along with a selection of pastries. A finger buffet style lunch. Should you have any food allergies please let Olivia Wike know by emailing her at olivia@cliftoncameras.co.uk
You are welcome to bring your own photographic equipment to this event. Equipment insurance is not included, but is recommended, as Clifton Cameras cannot accept any liability for loss or damage to your equipment.
All participants agree to have their photographs taken throughout the event, and for these images to be used for any activities in association with the advertising, marketing and promotion of this or future events.
All participants allow Clifton Cameras Ltd to use images, whilst retaining full copyright, the participant has taken on the day. These images may be used in conjunction with activities associated with the advertising, marketing and promotion of this or future events.
These Terms and Conditions are to be interpreted in accordance with English law and any dispute arising out of these Terms or their subject matter is subject to the exclusive jurisdiction of the English Courts.