Sony Alpha A6000 Digital Camera with 16-50mm Power Zoom Lens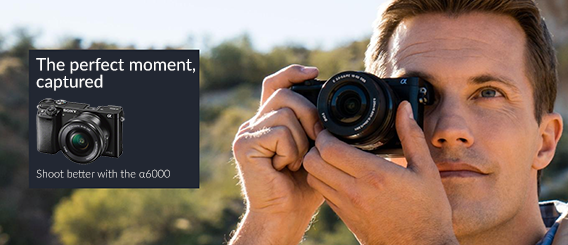 Shoot in 0.06 seconds: the world's fastest autofocus

The perfect moment, captured

The α6000's Fast Hybrid AF combines the strengths of both phase- and contrast-detection autofocus. 179 phase detection points (covering almost the entire image) and high-speed contrast-detection function.

Sony launches a new age of autofocus

4D FOCUS enables superior autofocus performance in four dimensions: wide autofocus coverage (2D height and width), fast autofocus speed (3D depth) and enhanced predictive tracking (4D time).
Your camera, your color
Capture the moment as never before. α6000's autofocus is faster than a DSLR so you never miss a shot. And with new colors to choose from, your photos aren't the only way to express yourself.
Quality starts with the sensor
More area for more detailed images
The α6000 outclasses many cameras in its category. Its APS-C size sensor offers 1.6 times the area of 4/3 sensors, and 13 times that of the 1/2.3 sensors of typical compact digital cameras, resulting in an outstanding level of quality in every image.

Sharper details, faster AF
BIONZ X™ Processor
With three times the processing speed of earlier models, the new BIONZ X™ is able to accurately capture textures, reduce blurry details and even suppress visual noise to ensure sharp images. These advantages apply equally to still images or video.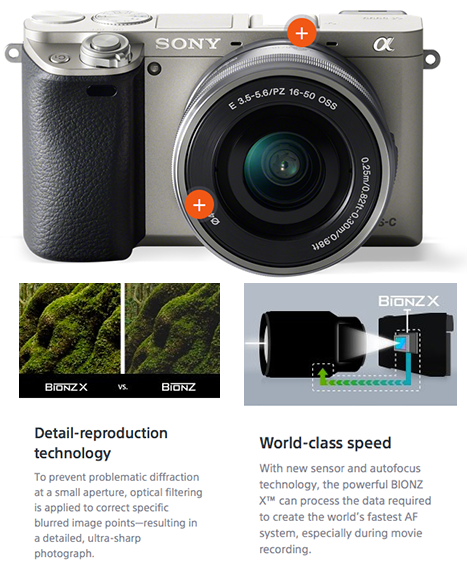 Exmor™ CMOS sensor

The new 24.3 MP APS HD sensor features optimised light gathering (through angled micro-lenses) and improved light sensitivity.

Advanced processor

The BIONZ X™ image processor ensures images of the highest quality, and provides the muscle needed for ultra-fast AF.

Amazing shots in low light

The extremely high ISO range lets you shoot natural, nuanced photos in dim light or indoors without a flash.
Introducing the world's fastest autofocus
At 0.06 seconds, capture flying water drops and fleeting smiles.
The world's fastest autofocus makes the α6000 one of the most versatile interchangeable-lens camera available; at a mere 0.06 seconds, you're assured of getting the perfect shot in any situation from family events to sports to nature.
Never miss the perfect shot

Fast Hybrid AF

The advanced Fast Hybrid AF enables more scenes to be focused via phase-detection only (reducing reliance on the contrast-detection mode), delivering the world's fastest AF available to capture your subject at the exact moment you intend.
Wider frame coverage

Ultra-precise 179 AF points for greater coverage.

More autofocus points mean a better chance of capturing a perfectly sharp image, and with a class-leading 179 AF points, the α6000 provides extensive frame coverage and continuous, precise location of your subject—no matter where in the frame they may be.
Split-second and ultra-sharp

11 fps continuous shooting with AF tracking

Capturing an impressive 11 photos a second wouldn't mean much if they were blurry. That's where the α6000 excels; you get a very high frames-per-second (fps) rate while the superior AF tracking ensures your selected subject is crisp and clear.
Video phase detection

Smooth AF enhances your movies

The α6000's impressive AF capabilities are not just limited to still photos. It uses the same phase-detection priority to ensure fast focusing and smooth tracking to give a professional polish to your most demanding video projects.
Stop the action, not the thrills

Freeze your subject at an amazing 11 fps for dramatic shots that capture the exact moment or expression you're looking for.
Shoot cinematically

With Full 1080 HD at 60p or 24p, you can make the aesthetic choice to capture film-like motion in your videos.
AF features for any scene

Eye AF, Lock-on AF and more let you delegate that aspect to the camera, freeing you to concentrate on the content of the scene.
More camera. Less to carry.
Expert features, customisable buttons and manual controls—in a compact, lightweight design.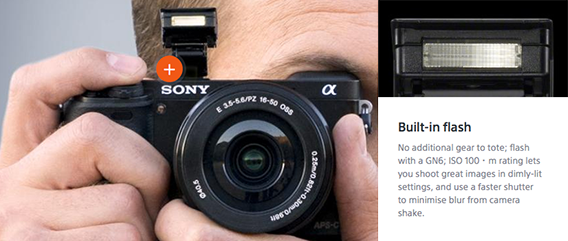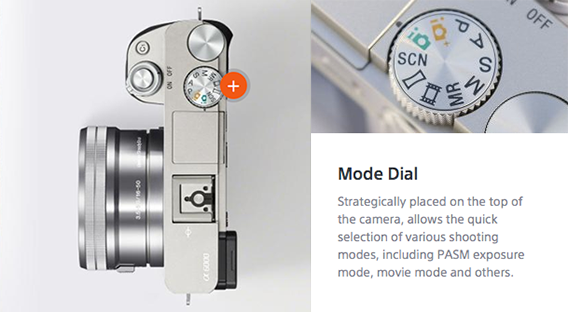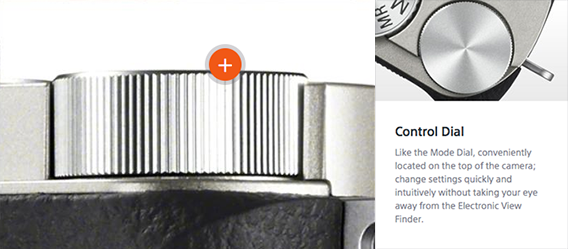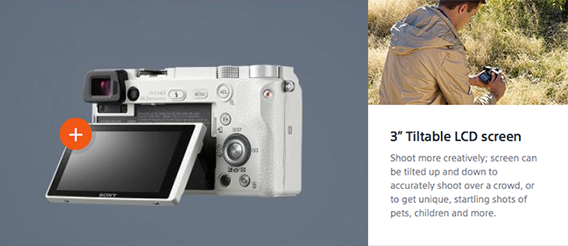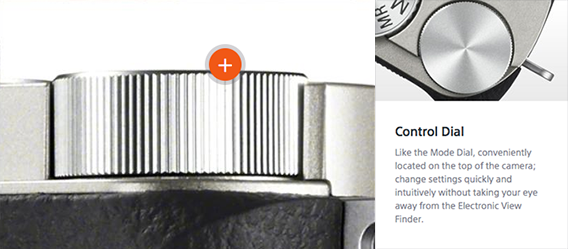 Convenient companion
The α6000 is smaller and lighter than comparable DSLRs
The best camera is the one you have with you. With its compact size and light weight, the α6000 compares favourably to bulkier, heavier DSLRs. Yet with the creativity of interchangeable lenses, manual controls and more, you sacrifice nothing.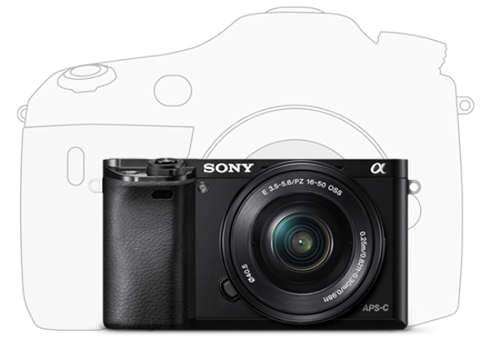 Smarter viewfinder for better photos
The OLED Tru-Finder™ EVF is another α6000 expert-level tool, with real-time data for planning and previewing shots. Exposure Control compensates for bright/dim scenes, Focus Zoom enlarges a chosen detail and Display Mode reveals histograms and more.
Lenses: the ultimate creative tool
Experiment with interchangeable E-mount lenses and beyond.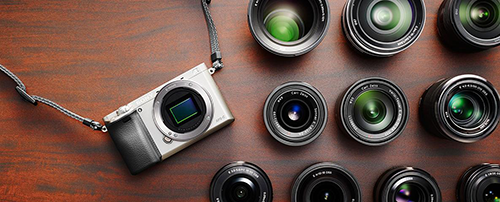 Snap, tap and share.

Wi-Fi and NFC connectivity make it simple to show, and share, your genius. Transfer of photos or videos to NFC-compatible televisions as well as Android smartphones or tablets.
PlayMemories Camera Apps

Sony's apps make your camera smarter, effortlessly.

Add upgrades and new capabilities to your camera as your photographic skills expand.
Direct Upload

Post that fantastic shot—right now—to your favourite social media site; you can even attach a comment.
Smart Remote Control

Get perfect selfies, group shots or unusual angles when you control your camera with a smartphone.
Other Features
Improved Lock-on AF
Now more accurate than ever, due to advances in phase-detection AF, Lock-on AF enhances tracking of moving subjects by adjusting target frame size to match subject
characteristics and ensuring usage
of the optimal
AF point at all
times.
Eye AF
Even when capturing a subject partially turned away from the camera with a shallow depth of field, the face is sharply focused thanks to extremely accurate Eye AF. A green frame appears over the prioritized eye when focus has been achieved.
Swift, intuitive operation
Controls are refined for intuitive DSLR-style operation while viewing scenes through the viewfinder. The mode dial enables quick selection of shooting modes with your thumb, while the control dial and control wheel make it easy to set various parameters.
Product Specifications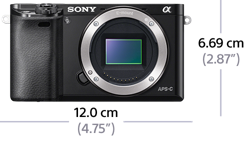 Software

Operating System Compatibility : supported, Windows Image Mastering API(IMAPI) Ver.2.0 or later is required to use the function for creating discs.) Windows Vista® SP2 (Starter Edition is not supported) Windows® 7 SP1; Windows® 8; Mac OS X (10.6-10.8)
Supplied Software : Supplied Software: PlayMemories Home, Image Data Converter Version 4

Camera

Lens Mount : Sony E-mount
Camera Type : Mirrorless Camera
Lens Compatibility : Sony E-mount, (Sony A-mount, Minolta/Konica Minolta Maxxum lenses confirmed via optional LA-EA adaptor)

Color

Drive System

Continuous Shooting Speed : Continuous mode: 11fps (hi), 6fps (mid), 2.5fps (low) with AF
Flash Sync Speed : 1/160 sec.
Shutter Speeds : Still images: 1/4000 to 30 sec., Bulb Movies: 1/4000 to 1/4 (in 1/3 step), up to 1/60 in AUTO mode, up to 1/30 in Auto Slow Shutter mode
Self-timer : 2-sec. or 10-sec. delay
Shutter Type : Electronically-controlled, vertical-traverse, focal-plane shutter
Drive Mode : Single Shot, Continuous shooting (Hi/Mid/Lo selectable), Self-timer (10/2 sec delay selectable), Self-timer (Cont.) (with 10 sec delay 3/5 exposures selectable), Bracket: Cont. / Single/ WB / DRO

Exposure System

D-Range Optimizer : Off, Dynamic Range Optimizer (Auto/Level (1-5)), Auto High Dynamic Range (Auto Exposure Difference, Exposure Difference Level (1-6 EV, 1.0 EV step))
Auto Exposure Lock : Yes with AE lock button (AE also locked when shuter button is halfway: Auto/On/Off selectable)
Exposure Compensation : Still images: ±5.0 EV(1/3EV, 1/2EV steps selectable) Movies: ±2.0 EV(1/3EV steps selectable)
Picture Effect(s) : 13 modes: Posterization (Color, B/W), Pop Color, Retro Photo, Partial Color (R, G, B, Y), High Contrast Monochrome, Toy Camera, Soft High-key, Soft Focus, HDR Painting, Rich-tone Monochrome, Miniature, Watercolor, Illustration
Exposure Settings : iAUTO, Superior Auto, Programmed AE (P), Aperture priority (A), Shutter priority (S), Manual (M), Memoru Recal (MR), Sweep Panorama, Scene Selection, Movie
Scene Mode(s) : Portrait, Landscape, Macro, Sports Action, Sunset, Night Portrait, Night View, Hand-held Twilight, Anti Motion Blur
Metering Modes : Multi-segment, Center-weighted, Spot
Metering Sensitivity : EV 0 to 20 EV (at ISO100 equivalent, with F2.8 lens attached)
Metering : Advanced 1200-zone evaluative metering
ISO : Stills: ISO 100-25,600 selectable in 1/3 EV steps, Still Auto: ISO 100-25,000 selectable upper and lower limit, Movies: ISO 100-12,800 selectable in 1 EV steps, Movie Auto ISO 200-12,800 selectable upper and lower limit
Noise Reduction : Long exposure NR: On/Off, available at shutter speeds longer than 1 sec., High ISO NR: Normal/Low/Off selectable, Multi-frame NR: Auto/ISO 100 to 51200
Creative Style : Standard, Vivid, Neutral, Clear, Deep, Light, Portrait, Landscape, Sunset, Night Scene, Autumn leaves, Black & White, Sepia, Style Box(1-6), (Contrast (-3 to +3 steps), Saturation (-3 to +3 steps), Sharpness (-3 to +3 steps))
Color Temperature : 2500 to 9900K & Color Filter (G7 to M7: 15-steps, A7 to B7: 15-steps)
White Balance Mode : Auto WB, Daylight, Shade, Cloudy, Incandescent, Fluorescent (Warm White, Cool White, Day White, Daylight), Flash, Color Temperature (2500 to 9900K) & Color Temp. Filter (G7 to M7: 15-steps, A7 to B7: 15-steps), Custom, Underwater Auto
Exposure Bracketing : Cont. Bracket: x3 or x5 image in 1/3 EV, 1/2 EV, 2/3 EV, 1.0 EV, 2.0 EV, 3.0 EV increments, Single Bracket: x3 or x5 image in 1/3 EV, 1/2 EV, 2/3 EV, 1.0 EV, 2.0 EV, 3.0 EV increments, White Balance Bracket: Low (LO), high (HI) DRO Balance Bracket: Low (LO), high (HI)

Flash

Flash Bracketing : 1/3, 1/2, 2/3, 1.0, 2.0, 3.0 EV steps, 3/5 frames (1.0/2.0/3.0 EV : only 3 frames) selectable
Flash Metering System : Pre-flash TTL
Flash Compensation : ±3.0 EV (switchable between 1/3 and 1/2 EV steps)
Recycling Time : Approx. 4 sec
Flash Modes : Flash off, Auto flash, Fill-flash, Slow Sync., Rear Sync., Red-eye reduction (On/Off)
Guide Number : 6 (in meters at ISO 100)
Flash Coverage : 16mm (focal length printed on lens body)
Flash Type : Built-in, Pop-up

Focus Control

Focus Features : Lock-on AF, Eye AF, Predictive control, Focus lock, AF illuminator (with Built-in LED type) Approx. range; 0.3- approx. 3.0m (with E PZ 16-50mm F3.5-5.6 OSS lens attached)
AF Illuminator : Built-in LED, Range: approx. 3' 4" - 9' 9" (0.3m-3.0m)
Focus Sensitivity : EV0 to EV20 (ISO100 equivalent with F2.8 lens attached)
Focus Area : Wide (179 points phase-detection AF, 25 points contrast-detection AF), Zone, Center-weighted, Flexible Spot (Small, Medium, Large)
Focus Points : 179 points (phase-detection AF) 25 points (contrast-detection AF)
AF Modes : AF-A (Automatic AF), AF-S (Single-shot AF), AF-C ( Continuous AF), DMF (Direct Manual Focus), Manual Focus
Focus System : Fast Hybrid AF(phase-detection AF/contrast-detection AF)

Imaging Sensor

Pixel Gross : Approx. 24.7 megapixels
Focal Length Conversion Factor : 1.5x
Color Filter System : RGB primary color
Effective Picture Resolution : Approx. 24.3 megapixels
Anti Dust : Charge protection coating on Optical Filter and ultrasonic vibration mechanism
Imaging Sensor : Exmor™ APS HD CMOS sensor (23.5 X 15.6mm)
Processor : BIONZ X™ image processor

Interface

NFC : Yes (NFC Forum Type 3 Tag compatible, One-touch remote, One-touch sharing)
HDMI Terminal : HDMI® micro connector (Type-D)
DC IN : Yes via optional AC-PW20AM (sold separately)
Memory Card Slot : Dual compatibility slot: Memory Stick PRO Duo™/Pro-HG Duo™/PRO-HG HX Duo™ media - SD, SDHC and SDXC memory card
HD Output : HDMI micro connector (Type-D) BRAVIA Sync (link menu) PhotoTV HD 4K Still Image playback via HDMI to compatible 4K TV
Wi-Fi : Yes(Wi-Fi Compatible, IEEE 802.11b/g/n(2.4GHz band) )
Accessory Shoe : MI (Multi-interface shoe), Standard ISO 518:2006 design with multi-pin configuration for additional accessories
A/V Remote Terminal : Yes, via optional RM-DSLR2 wired Multi-terminal remote
Tripod Mount : Yes (1/4" diameter, 20 threads per inch)
Remote Commander : Yes, via optional RM-VPR1
USB Port(s) : USB 2.0 Hi-speed (mass-storage, MTP)

LCD Display

Peaking : Yes (Level setting: High/Mid/Low/Off, Color: White/Red/Yellow)
Real-time image adjustment display : Yes (On/Off)
LCD Type : 3.0" TFT LCD (921,600 dots)
Coverage : 100%
Angle Adjustment : Tilt up by approx. 90 degrees, down by approx. 45 degrees
Histogram : Yes (On/Off)
Live View : Continuous Live View
Brightness Control : Auto, Manual (5 steps between -2 and +2), Sunny Weather mode
Grid Display : Yes (Rule of Thirds, Square 4x6, Diagonal & Square 4x4, Off)
Customization : Graphic Display, Display All Info, No Disp. Info, Histogram, For viewfinder
Zebra : Yes (levels 70, ,75, 80, 85, 90, 95, 10, 100+, off)

Optics/Lens

Mount Material : Metal
Optical Zoom : Approx. 3x
Direct Manual Focus : Yes
Low Noise During Movie Capture : Yes
Lens Stabilization : Optical SteadyShot
Macro Mode : Yes
Minimum Focus Distance : 9-13/16'' (.25m) (W) - 11-13/16'' (0.3m) (T)
AF for Movie Capture : Fast Hybrid AF
Magnification : 0.215x
Lens Groups-Elements : 8 groups, 9 elements (4 aspheric surfaces)
Lens Type : Sony E-mount
Lens Weight : 4.1 oz (116 g.)
Dimensions (Max. Diameter x Length) : 2-5/8" x 1-13/16 (64.7 x 29.9mm)
Aperture (Max.) : f/3.5 - 5.6
Aperture (Min.) : f/22 - F32
Maximum Magnification : 0.215x
Aspheric Elements : 1 ED element, 3 aspheric elements
Aperture Blade : 7 Blades
Digital Zoom : Approx. 4x
Lens Mount Type : Sony E-mount lenses
EV Compensation : Still images: +/-3.0 EV (1/3EV steps selectable) Movies: +/-2.0 EV (1/3EV steps selectable)
Filter Diameter : 40.5mm
Focal Length (35mm equivalent) : 24mm - 77mm
Exterior Finish : Black (NEX-5T/B)
Angle of View : 83°-32°

Power

Battery Type : InfoLITHIUM® NP-FW50 (7.2V)
External Power : AC Adaptor AC-PW20
Number of Still Images : Approx. 310 shots (Viewfinder), Approx. 360 shots (LCD monitor) (CIPA standard)
Battery Capacity : 1080 mAh
Power Consumption (in View Finder Operation) : Approx. 2.8W (still images, with E PZ 16-50mm F3.5-5.6 OSS lens)

Power consumption

Power Consumption (in LCD Screen Operation) : Approx. 2.4W (still images, with E PZ 16-50mm F3.5-5.6 OSS lens)

Recording

Panorama Still Image Size : Wide: Horizontal 23M (12,416 x 1,856), Wide: Vertical 12M (5,536 x 2,160), Standard: Horizontal 15M (8,192 x 1,856), Standard: Vertical 8.4M (3,872 x 2,160)
Audio Format : Dolby Digital (AC-3) / MP4: MPEG-4 AAC-LC, 2ch
Video Format : AVCHD Ver. 2.0 / MP4 (MPEG-4 AVC (H.264))
Video Mode : AVCHD: PS - 1920x1080/60p @28Mbps FX - 1920x1080/60i @24Mbps FH - 1920x1080/60i @17Mbps FX - 1920x1080/24p @24Mbps FH - 1920x1080/24p @17Mbps MP4: HD - 1440x1080/30fps @12Mbps, VGA - 640x480/30fps @3Mbps
Color Space : Still: sRGB standard (with sYCC gamut), Adobe RGB Movie: xvYCC standard (x.v.Color™ when connected via HDMI cable) Compatible with TRILUMINOS™ color
Still Image Size 16:9 : L: 6000 x 3376 (20M) M: 4240 x 2400 (10M) S: 3008 x 1688 (5.1M)
Still Image Size 3:2 : L: 6000 x 4000 (24M) M: 4240 x 2832 (12M) S: 3008 x 2000 (6.0M)
Still Image Mode : RAW, RAW & JPEG, JPEG Fine, JPEG Standard
Media Type : SD, SDHC and SDXC memory card Memory Stick PRO Duo™/Pro-HG Duo™ media
Still Image Max Effective Resolution : 24.3M pixels (approx.)
Still Image File Format : JPEG (DCF Ver. 2.0, Exif Ver.2.3, MPF Baseline compliant), RAW (Sony ARW 2.3 format)

Service and Warranty Information

Limited Warranty Term : 1 Year Parts & Labor

Viewfinder

Type : 0.39" (1.0 cm) OLED electronic viewfinder (color), 1,440,000 dots
Field of View : 100% (approx. 33° vewing angle)
Magnification : Approx. 1.07x (35mm camera equivalent: Approx. 0.70x) with 50mm lens at infinity, -1m-1 diopter
Diopter Adjustment : -4.0 to +3.0m-1

Weights and Measurements

Dimensions (Approx.) : Approx. 4-3/4" x 2-7/8" x 1-13/16" (120mm x 67mm x 45mm)
Weight (Approx.) : Approx. 10.1 oz (285 g) (body only) Approx. 12.1 oz (344 g) (with battery and memory stick)
> View All Sony Alpha A6000 Digital Camera with 16 50mm Power Zoom Lens Variants <
Find related accessories to the Sony Alpha A6000 Digital Camera with 16-50mm Power Zoom Lens - Silver here. The discount highlighted will be received if you add the items as part of a bundle. Keep an eye out for exclusive deals on photographic equipment and accessories here!
Zeiss Touit F2.8 50mm E-Mount - Sony
Normal Price £779.00
Zeiss Touit F1.8 32mm E-Mount - Sony
Normal Price £299.97
Zeiss Touit F2.8 12mm E-Mount - Sony
Normal Price £749.00
Hahnel Captur Module Pro
Normal Price £94.00
Hahnel Captur Timer Module
Normal Price £39.00
Hahnel Captur Remote Control & Flash Trigger
Normal Price £59.00

Easily spread the payments with our range of finance solutions.
Choose the finance package that suits you best.
Apply from our checkout
Easy online application
Instant Decision
We process your order

Simply choose your repayment period and choice of initial deposit. Look out for the promotional Interest Free offers.
Price of Goods: £465.00
Summary
Total amount repayable . APR representative. Annual Rate of Interest Fixed.
Finance is subject to status. Terms and conditions apply.