Save even more by creating your own bundle!
Browse the categories below to reveal specially reduced items to go with this product, then click and add them to create your own unique bundle with discounted price.
---

As a Tamron Super Stockist, we are committed to carrying the product range and offering knowledgeable service based on training from Tamron. As a Super Stockist, we are happy to offer you a 5-year warranty on your Tamron lens purchase. If you need advice on any aspect of Tamron please call us on 01453 548128
---
DOWNLOAD THE INTERACTIVE TAMRON BUYER'S GUIDE HERE

---
Tamron 18-270mm F3.5-6.3 Di II VC PZD
Tamron introduces a new mega travel zoom with a focal range of 18-270mm. Tamron still holds the world record in the focal length range for SLR lenses1. The lens features a newly developed Piezo ultrasonic motor, which ensures a silent, precise and extraordinary fast autofocus. Furthermore the unique ( VC) vibration technology was improved to allow for a more compact design. The lens convinces with its high level of usability, featuring a focal length range which covers just about every photographic situation. Its compactness and light-weight construction make it the ideal travel companion. The lens not only covers everything from wide-angle for landscape to tele for close-up photography, but also offers light-macro capability at a maximum magnification ratio of 1:3,8 throughout the focal length range, to magnify the small things in life.
Product features at a glance
15X Zoom - largest focal length range in the world
Compact and light-weight, easy to always carry with you
Silent and very fast Piezo-ultrasonic motor
VC (Vibration Compensation) image stabilizer
Maximum magnification ratio 1:3.8 at a minimum focus distance of 0.49m
Di II lens - optimized for use with APS-C format digital sensor
Maximum aperture: F/3.5-6.3
Maximum magnification ratio: 1:3.8 (at 270mm, Minimum Focus Distance 49cm)
Filter diameter: 62mm
Length from lens mount: 88mm (overall: 96.4mm), Diameter: 74.4mm
Weight: 450g (Nikon fit version)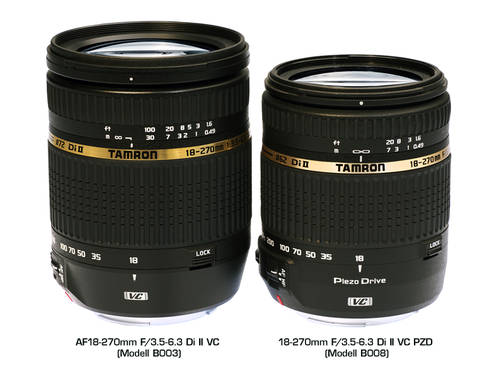 Main Characteristics in detail
★PZD (PIEZO Drive)
Ultrasonic motors are divided into two categories depending on how the energy that moves the drive is generated: travelling wave motors and standing wave motors. Travelling wave motors include the circular arc ultrasonic motor used in the recently launched 70-300mm F/4-5.6 VC USD. The 18-270mm F/3.5-6.3 Di II PZD employs a newer technology, the PZD (PIEZO Drive), which functions according to the standing wave principle.
A standing wave ultrasonic motor utilizes high-frequency voltage to extend and turn the piezoelectric (piezoceramic) element, thus moving the entire element in a standing wave movement. The metal tip is the contact point of the element to the rotor and moves in an elliptic motion from the swivelling motion of the moving element. The friction from this motion subsequently turns the rotor. Standing wave ultrasonic motors have the distinct advantage of being faster, quieter and more precise and compact than their travelling wave counterparts.
★VC (Vibration Compensation)
Tamron's VC mechanism employs a three-coil system, whereby three driving coils activate the shake-compensating VC lens group electromagnetically via three steel balls. The VC lens element is simply held in place by contact with the steel balls, resulting in smooth movement with little friction. This delivers a stable viewfinder image with excellent tracking performance and eliminates the blur from handheld shots for cleaner, crisper shots.
★New VC mechanism (moving coil method)
Tamron's original VC image stabilization mechanism utilizes a moving magnet system with heavy magnets. In the new VC unit the positions of the magnets and the coils are reversed, consequently, the VC optical lens element is attached to the coil. The new VC mechanism employs a moving coil mechanism with lightweight coils, which reduces the load on the drive system. The lighter, more compact newly improved VC unit contributes to the lens's overall light-weight and compact size.