Save even more by creating your own bundle!
Browse the categories below to reveal specially reduced items to go with this product, then click and add them to create your own unique bundle with discounted price.

---
Digital Holster 30TM V2.0
Designed for digital SLR cameras, each Digital Holster features two vertical lengths to accommodate different sizes of lenses and hoods, both reversed and in position ready to shoot.
camera cases
"Pop Down" expands capacity for two different vertical heights.
camera cases
Holds lenses with hood REVERSED or IN POSITION ready to shoot.
camera cases
Form fitting shape means that it is NOT BULKY.
camera cases

Side pocket for memory cards and batteries.
camera cases
Attaches to our Pro Speed BeltTM, or any dress belt.
camera cases
Includes Shoulder Strap
camera cases
Includes seam-sealed raincover.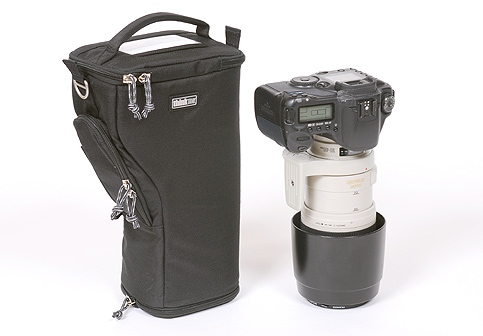 Digital Holster 30 V2.0- That's tall!
Designed for digital SLRs, such as the Canon 5D, 10D, 20D, and 30D, and the Nikon D70, D80, and D200. This is the only top loading bag for an SLR being sold that can hold a 70-200 2.8 with the hood either in position or ready to shoot. An industry first!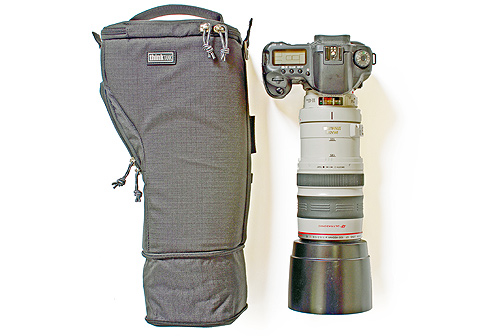 Digital Holster 30 V2.0 - That's really tall!
This will hold either Canon or Nikon lenses, like a 70 - 200 2.8 or a 300 4 with the lens hood either reversed or in position ready to shoot. If a 70 - 200 2.8 is your favourite lens, this could be your favourite bag.
Digital Holster 30 V2.0 - Top View
Here's a top view with a Canon camera inside. As you can see, there is extra room allowed for a tripod quick release plate on the bottom of the camera.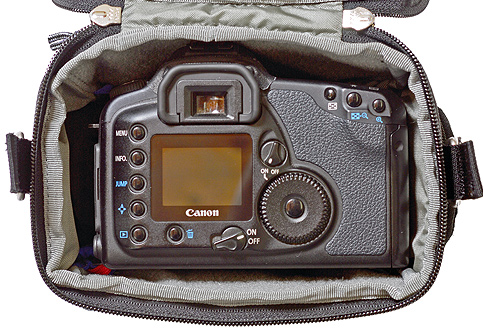 Business Card Holder
Underneath the handle is a business card holder for ownership identification. You can also insert extra cards to give to clients and friends.
YKK Zips and Metal Hardware3
We only use the highest grade YKK zipper, sliders, and metal hardware. The cord on the sliders is designed to be "silent."
Shoulder Strap
A mid-weight, no-slip shoulder strap is provided to carry the bag while preventing it from sliding off of your shoulder.
Side Pocket - Batteries
Inside of the side pocket is an elastic pocket - perfect for carrying one or two extra batteries.
"Rotate or Lock"
The back of the bag incorporates our "Rotate or Lock" mechanism, which allows you either to rotate the entire bag on our Pro Speed Belt or to lock it into position with the plastic tab.
"Rotate or Lock" Flap
Although the bag is designed to work with our Pro Speed BeltTM, it can also be attached to a regular belt with the hook and loop attachment system.
Pro Modulus Speed Belt
Digital Holsters work best with our Pro Modulus SpeedbeltTM.
"Pop Down" Expansion Feature
A horizontal zipper is located on the very bottom of the bag. When unzipped, it expands, allowing for longer lenses or lenses with the lens hood in position ready to shoot.
Inner Pocket
The inside lid has a clear zipper pocket with blue trim and red lace on the zipper slider for easy identification of your accessories, like lens caps, lip balm, aspirin, and memory cards.
Two Stage Raincover
Because the Digital Holsters adjust to two different vertical lengths, the seam-sealed rain cover can also be adjusted to two different lengths.
Inner Divider
An inner divider can be used to carry and keep separate two shorter lenses.
LCD Padded Cover
We provide a soft, fleece-lined hinged flap to cover up your LCD and protect it from both your camera strap and the contents inside of the top inner pocket.
On the Pro Speed Belt
When wearing the Digital Holster on our Pro Speed Belt make sure to rotate the bag regularly along the belt during the day to shift the weight and achieve maximum comfort. You can also use the shoulder strap to help distribute the weight.
Technical Specifications:
ID: 7.25" W x 5" H x 11.25–14.25" D (18.4 x 12.7 x 28.6–36.2 cm)
ED: 8" W x 5.5" H x 13–16" D (20.3 x 14 x 33–40.6 cm)
Weight: 1.2 lbs (0.6 kg)
Exterior - All fabric exterior treated with DWR while fabric underside is coated with PU for superior water resistance, YKK® RC Fuse (abrasion resistant) zippers, 600D polyester, 420D high-density nylon, Ultra Stretch front pocket, 3-ply bonded nylon thread
Interior - 210D silver-toned nylon, high-density extruded nylon, PU backed velex liner, 2x PU coated nylon 210T seam-sealed taffeta rain cover, high-density closed cell foam, 3-ply bonded nylon thread