---
Remote Control 20
Protective raincovers for cameras set up to be triggered remotely with a Pocket WizardTM or hard-wired setup, such as for sports or nature photography.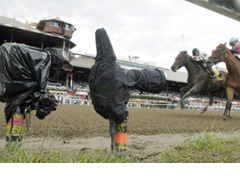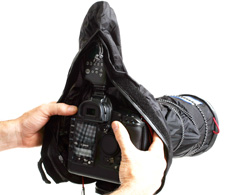 Product testing at the races.
Easy access to
the back of the camera.
Features:
Attaches while the camera is mounted.
Easy access to the back of the camera.
Bungee cord to secure the cover.
Business card holder for identification.
Front waterproof "cap".
The Remote Control 20 comes with an extension piece that allows it to work with up to a 600 mm lens.
Seam-sealed waterproof construction.
Small and lightweight, it folds up into its own pouch.
Perfect for Horse Races, Track & Field, Baseball, Football, Basketball, Nature Photography, and more.
Remote Control 20:
Fits SLRs with lenses from a 300 2.8 - 600 mm.