Save even more by creating your own bundle!
Browse the categories below to reveal specially reduced items to go with this product, then click and add them to create your own unique bundle with discounted price.

Easily spread the payments with our range of finance solutions.
Choose the finance package that suits you best.
Apply from our checkout
Easy online application
Instant Decision
We process your order

Buy Now - Pay Nothing for 6 Months, means Buy now and pay in full before 20/4/2020 (approx.) plus a £29.00 settlement fee and you will be charged absolutely no interest. Should the balance not be paid in full by 20/4/2020 (approx.) you will automatically enter into a loan agreement with 42 equal payments with a representative APR of 19.9%. If you settle earlier than 42 months you will only pay the interest accrued over the number of months you have been paying the loan.
Price of Goods: £479.00
Summary
Pay 0% Deposit
Loan Amount £479.00
Total Payable on 20/4/2020 - £479.00 + £29.00 settlement fee
Cost of loan if paid by 20/4/2020 = £0.00
Finance is subject to status. Terms and conditions apply.
Tokina 11-16mm F2.8 AT-X 116 PRO DX II Lens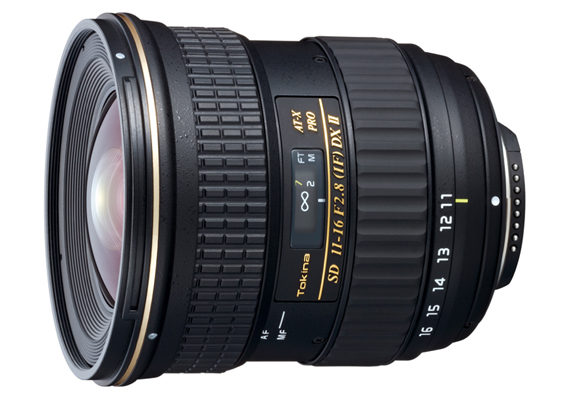 The New Tokina AT-X 116 PRO DX-II is an update to the widely popular and award winning AT-X 116 PRO DX, 11-16 F/2.8 lens.

The main update to this lens is in the Nikon mount, the AT-X 116 PRO DX-II has an internal silent focusing motor to allow the lens to AF on Nikon bodies that do not have an AF drive gear and motor.

There have also been some adjustments made to the coating for slightly improved optical performance.

This compact ultra wide-angle zoom has a bright constant F/2.8 aperture make viewing and auto focus possible in lower light situations but still maintaining a reasonable size and weight.

Two Super-Low Dispersion glass elements and two aspheric glass allow the proprietary optical design to achieve excellent contrast and sharpness as well as controlling chromatic aberration.

Tokina's exclusive One-touch Focus Clutch Mechanism allows the photographer to switch between AF and MF simply by snapping the focus ring forward for AF and back toward the lens mount for manual focusing. The lens is also designed to stand up to the rigors of daily use by photographers in a wide variety of shooting conditions and environments.

Other than the optical coating change there are no changes to the Canon mount. The AT-X 116 PRO DX-II for Canon uses the same AF motor and AF drive system as the the previous model.
Aspherical Optics
A standard lens is made up of a combination of spherical lens elements. Individual "lenses" within the lens are commonly referred to as "elements". A spherical element has an even curve to the surface of the glass. However, there can be problems with such elements; light entering the centre of the lens and light entering at the edge may not be perfectly focused at the same point. This is called spherical aberration. More advanced computer-assisted optical designs are creating lenses with more spherical elements. More spherical elements within a lens means a greater risk of spherical aberration having a negative impact on optical quality.
Wide-angle zoom lenses and wide-angle lenses with large apertures are especially at risk for spherical aberration.
To eliminate spherical aberration, Tokina employs aspherical all-glass elements in many of its optical designs to correct this problem. The aspherical shaped surface of the lens element focuses light rays entering both the centre and edge of the element correctly at the film plane for an accurately focused image. In addition to correcting spherical aberration, these elements fully correct light quantity and distortion at the edge of the image and provide excellent results when used in combination with a floating element design.
Through a close collaboration with Hoya Corporation, the world's largest optical glass manufacturer, Tokina has succeeded in producing high-quality precision moulded all glass elements with a greater aspherical shape than any other lens manufacturer. This technique is unparalleled in its technological sophistication and precision.
SD Super Low Dispersion
When standard optical glass is used in telephoto lenses, a phenomenon called chromatic aberration can occur. Chromatic aberration is the inherent tendency for glass to disperse (separate) a ray of light into the colors of the rainbow. The rainbow effect created by a glass prism is the most dramatic demonstration of chromatic aberration. In lenses, it is much less pronounced, but still creates slightly out of focus colors, akin to an "optical noise" that has a negative impact on the quality of the picture. To eliminate chromatic aberration, Tokina employs expensive, special glass material having super- low dispersion (SD) properties.
Lenses in the Tokina line-up with the SD mark incorporate these Super-Low Dispersion glass elements, minimizing the secondary spectrum or optical noise caused by chromatic aberration.
Multi-Coating
Reflections off the surface of lens elements are the enemy to any photographer and to every lens manufacturer. They are reduced or eliminated by bonding multiple layers of a transparent anti-reflection chemical to the surface of the glass. Tokina has developed and perfected a unique coating technique for all of its optics so that they will maintain faithful color reproduction and render clean, sharp images.
Internal Focus System
The two most used methods of focusing a lens are either the complete straight forward movement of lens elements (used mainly with single focal length lenses) or the rotation of the entire lens barrel group (used mainly with zoom lenses). The internal focusing system used by Tokina move each element group within the lens, but does not change the overall length of the lens. This is especially useful with telephoto designs.
The internal focusing system has a number of advantages including:
Faster focusing
Improved handling due to fewer movements near the center of gravity
More compact lens designs
Superior use of filters because the barrel with the filter thread does not rotate.
IFS (Internal Focus System)
By movement of the forward elements within the stationary main barrel: AT-X 235 AF PRO, AT-X 287 AF PRO SV, AT-X 280 AF PRO, AT-X 828 AF PRO
One Touch Focus Clutch Mechanism
A refinement of the focus clutch mechanism has been incorporated in the AT-X 280 AF PRO Nikon and Canon mount, so that now the lens focus ring can be snapped back to the manual focus position at any time, from any position. This improvement means it is not necessary to change the AF/MF switch (on the body with Nikon or the lens with Canon) every time the lens is changed from auto focus to manual focus mode.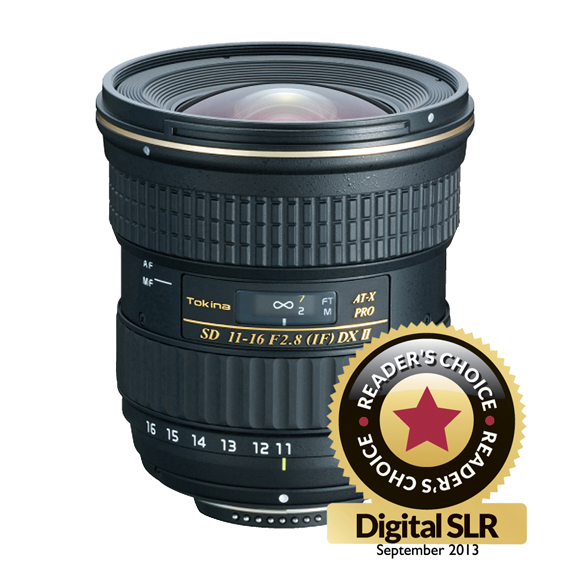 Specifications

Focal Length
11 - 16mm
Maximum Aperture
f/2.8
Minimum Aperture
f/22
Construction E/G
13 Elements in 11 Groups
Coatings
Multi-layer
Angle of View
104 - 84°
Minimum Focus Distance
1.0 ft (0.3 m)
Macro Ratio
1:11.6
Focusing Mode
Internal Focusing
Zoom Mode
Rotary Zoon
Aperture Blades
9
Filter Size
77mm
Lens Width
3.3 in (84mm)
Lens Length
3.5 in (89.2mm)
Weight
1.2 lbs (550g)
Accessories
Flower design Bayonet lens hood (BH77B)
Lens Hood
BH-77B
Mounts
Canon APS-C, Nikon APS-C
Notes
* The lens is designed for Digital cameras with APS-C sized CMOS and CCD sensors, not designed for cameras with Full Frame sensors. ** Please note, the Tokina AT-X 116 PRO DX lens itself is not waterproof or water resistant. *** Will not AF when used on Nikon D40, D5000/5100, D3000/3100 or any other Nikon digital SLR body that does not have a built-in auto-focus drive gear.
Warranty
2 Year Limited Warranty