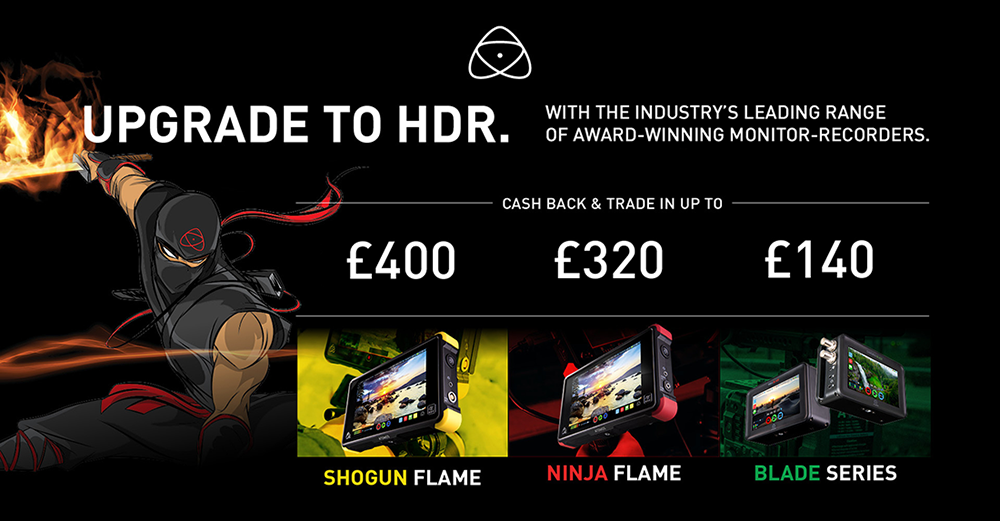 Take your video to the next level with professional tools from Atomos. Customers purchasing a new Flame or Blade series product can claim up to £240 cashback directly from Atomos and up to a further £160 cashback for customers who trade in their old Atomos products. See below for a list of eligible products and Terms and Conditions. Alternatievly click here.
>Click here to claim your cashback!

Offer valid from: 15th November 2016
Offer valid till: 31st January 2017
Last day to claim: Within 30 days of purchase date and no later than Midnight on February 28th 2017, whichever is sooner.
Atomos Shogun Flame SDI/HDMI 7.1Inch AtomHDR 1500nit Field Monitor 4K/HD 10-bit RAW/ProRes/DNx Recorder

Atomos Ninja Blade 10-bit HDMI Field Recorder and HD Monitor
Terms & Conditions
1. The 'Blade & Flame Series Cash-back' Promotion (hereafter referred to as the "Promotion") is promoted by Atomos Global PTY, whose registered address is 29 Nott St, Port Melbourne, 3207, Australia (the "Promoter")
ELIGIBILITY
2. The Promotion is applicable to purchasers from the EMEA (excluding Turkey), USA and Canada aged 18 years or over.
3. Promotion Dates: 15th November 2016 to 31st January 2017.
Last day to claim: Within 30 days of purchase date and no later than Midnight on February 28th 2017, whichever is sooner.
Last day to ship Trade In product: After approval from an Atomos representative, trade-in product must be shipped no later than Midnight on February 28, 2017.
If a product is on backorder you must show you ordered the qualifying product during the promotional period and you were not able to receive the product due to backorder status. Do not send purchase orders as proof of purchase. You must provide a screen shot showing that the order was placed during the promotional time period from the distributors system (or partners). You can apply for an exception once the product has been received. Each claim will be evaluated to ensure all other terms and conditions have been meet.
4. All incomplete claims will be automatically rejected, and must be completed and resubmitted to be processed. A claim is considered incomplete if it matches one or more of the following criteria: missing any information requested on the claim form, missing serial numbers, missing proof of purchase documents, invoice with invalid purchase date, invalid trade-in product and/or traded in product that are not shipped within the 30 day limit.
5. In order to qualify for the Promotion, participants must purchase a new (not second hand) qualifying product from an authorized Atomos reseller during the promotion period. Claims relating to products purchased before or after the promotion period will be deemed invalid.
6. Resellers may not submit claims on behalf of themselves. The Reseller must pass the full cash back amount to the customer first. This must be clearly indicated on the invoice that the credit has been given up front. Atomos will be auditing claims to ensure authenticity.
7. Existing Atomos Customers can apply for a Cash Back Top up by trading in their existing hardware. The trade in value is based on the applicable Atomos model being purchased, the Atomos model you plan to trade in and the condition of the unit. This is summarized in the table below. Please be sure to follow the trade in procedures - do not send in any units until instructed to by your local Atomos office. Follow the process on the Atomos website and your local Atomos support center will advise if you have been successful with your trade in claim (first 500 trade ins only - limit of 1 trade-in claim per customer), the amount you will receive and shipping instructions for sending in the unit
Samurai Blade Ninja Blade

Ninja2 Ninja Star Samurai
8. The customer is responsible to ship the trade-in product to Atomos upon request from an Atomos representative.
9. The Trade-in is for the main unit only. Please do not ship accessories including batteries.
10. By accepting the trade-in agreement, the Participant warrants that the Trade-in Product has been owned by the Participant for at least 6 months and been used by the Participant. The Participant also warrants that (i) it holds legal title to the Trade-in Product(s), free of any liens or security interests; and (ii) it has the legal right to transfer the Trade-in Product(s) to Atomos free of any restrictions or encumbrances. The Participant shall indemnify Atomos from all claims or losses sustained as a result of any breach of this warranty. Trade-in agreements that contain false statements cannot be processed. Atomos reserves the right to delay payment and/or review all requests that require investigation due to suspicious activity. Atomos reserves the right to audit all claims to ensure that the terms and conditions of the Program have been met and to request additional information regarding any and all claims and supporting documents. In the event of false, erroneous claims submitted by the Participant, or overpayment's made by Atomos, and subject to Atomos serving not less than 30 days prior written notice, the Participant shall repay or reimburse Atomos for any such false, erroneous claims, or overpayment's, and the Participant shall hold Atomos harmless and indemnify Atomos from any liability, claims, damages and tax liabilities arising in such circumstances. Atomos is not responsible or liable for any technical, hardware, software, server, website, or other failures or damage of any kind to the extent that this prevents or otherwise obstructs the Participant from participating in the Program. To the full extent permitted by applicable law, Atomos shall not be liable for any loss, damage or injury of any nature caused to Participants pursuant to this Program. Atomos reserves the right to amend the terms and conditions of this Program at any time without notice. Atomos may cancel this Program where required to do so for legal or commercial reasons arising from applicable laws.
11. This Promotion is open to participating Atomos Authorized resellers only; please check with your chosen reseller / retailer that they are participating in this Promotion prior to purchasing a product to avoid any disappointment. Purchases from eBay (whether listed new or used) are specifically excluded from this promotion.
12. All Qualifying Products must be new and genuine Atomos products. Purchases of second hand, refurbished or reconditioned products or products which are counterfeit or infringe the intellectual property rights of Atomos in any way will not qualify for this Promotion.
CLAIM PROCESS
13. To claim this promotion for your purchase, please go to www.atomos.com/offers/hdr-upgrade and follow the instructions for both cash back and trade-in top up depending on your country of purchase by the Claim Deadline. Applications made after this date will not be eligible for the Promotion. When prompted to include your purchase receipt please ensure it includes the model number purchased and the date of purchase.
14. Claims are not valid in respect of Qualifying Products that are returned to the retailer and the participant receives a full refund, in which case the Promoter will be entitled to the return of any Cash-back paid. PLEASE NOTE: Cash-back will be paid within 28 days after the claim deadline date. In any event, the last date for registration will be the Claim Deadline.
15. In order to process the claim, users must have a valid PayPal account. No other payment options are available.
16. The Promoter will not process a claim if the participant cannot provide both an image of the product barcode and a copy of the purchase receipt. If, for any reason, the participant has not retained the product box, the Promoter will accept an image of the serial number found on the Qualifying Product.
17. Participants who are unable to upload the supporting documentation to verify their claim, may send their printed claim form along with a photocopy of the full purchase receipt (we are unable to return these so please do not send the original) and an image of the product barcode to their local Atomos office (https://www.atomos.com/contact-us), to be received on or before 28th February 2017. Printed Claim forms received after this date will not be eligible for this Promotion.
18. The Promoter will not be held responsible or liable for any technical, hardware, software, server, website or other failures or damage of any kind, to the extent that this prevents the participant from or otherwise obstructs the participant to enter in the Promotion. Claims made by fax, telephone or email will not be accepted. Illegible, incomplete or altered claim forms will be deemed void, as will claim forms not completed in accordance with these terms and conditions.
19. Upon submission of your online registration, your claim will be verified. Participants will be sent an automated email to confirm the receipt of their Promotion claim and the next steps of the claim process.
PRIVACY & DATA PROTECTION
20. Atomos and their contractors will use submitted data, solely for the purpose of this Promotion and in accordance with data protection legislation. Please see Atomos's Privacy Policy for further information http://www.Atomos.com/privacy-policy.html
GENERAL CONDITIONS
21. The Promoter reserves the right to verify the eligibility of all claims to protect itself against fraudulent, invalid or repetitive claims including, without limitation, to require the participant to prove that it did not return the product within the period of 28 days from the date of delivery. Claims for returned products, bad faith or fraudulent entries or claims that otherwise do not meet these terms and conditions, will be invalidated.
22. The Cash-back offered under this Promotion are non-exchangeable, non-transferable and there is no cash, credit or product alternative available.
23. The Promoter reserves the right to amend these terms and conditions at any time and to amend or withdraw this promotion at any time.
24. Only one claim per Qualifying Product purchased can be made.
25. This Promotion is not available in conjunction with any other offer or promotion and is valid while stocks last. The Cash back and Trade in top up promotions can not be used in conjunction with any other Atomos promotion.
26. By claiming this Cash-back, applicants will be deemed to have read and accepted these terms and conditions.
27. The Promotion excludes Demo units, Educational units, Prizes, Give aways and RMA replacement items.