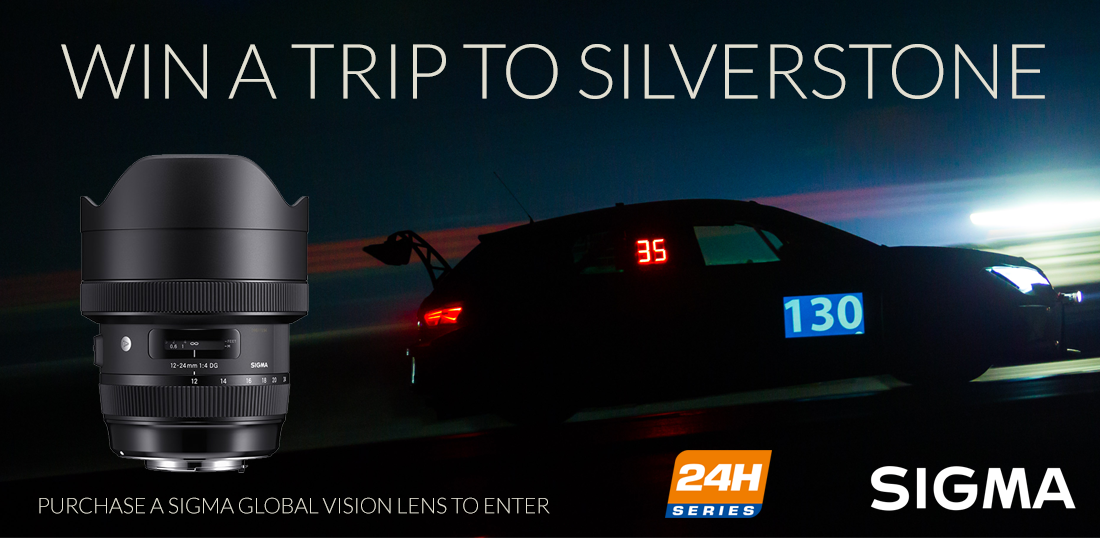 WIN A PHOTOGRAPHY TRIP TO SILVERSTONE

We've teamed up with Sigma Imaging to offer an access-all-areas trip to the Silverstone 24 Hour Series!
Exclusively available from Clifton Cameras and hosted by award-winning professional photographer Nick Dungan, learn how to expand your photography skills with an access all areas pass, at the 2017 Silverstone 24 Hour Series race.
The trip is worth £1,399 and includes:
Safety traiing day at Donington Park Circuit, where safety and track experience / evaluation will get you fully set to maximise your time during the race.
Superb accomodation for 4 nights, including breakfast.
3 full days at Silverstone Circuit with unprecedented trackside access. Includes daily hotel tranfers.
Group and one-to-one tuturial sessions with Nick Dungan to really get the most out of your motorsport images
How to enter
Simply order a qualifying Sigma Lens from us (listed below) between 6th March and Midnight, 24th March 2017 and you will automatically be entered into our prize draw. We'll randomly pick one winner from our draw on Monday 27th March 2017.
SIGMA QUALIFYING LENSES:
20mm f1.4 DG HSM |. 24mm f1.4 DG HSM | 30mm f1.4 DC HSM | 35mm f1.4 DG HSM | 50mm f1.4 DG HSM
12-24mm f4 DG HSM | 500mm f4 DG OS HSM Sports | 85mm f1.4 DG HSM Art | 17-70mm f2.8-4 DC Macro OS HSM
18-35mm F1.8 DC HSM | 18-200mm f3.5-6.3 DC Macro OS HSM | 18-300mm F3.5-6.3 DC MACRO OS HSM
24-35mm F2 DG HSM ART | 24-105mm F4 DG OS HSM | 50-100mm f1.8 DC HSM | 120-300mm F2.8 EX DG APO OS
150-600mm F5-6.3 DG OS HSM Contemporary | 150-600mm F5-6.3 DG OS HSM Sports
See below for full terms and conditions.


Itinerary - Silverstone 24 Hour Series 2017


Thursday 30th March - Silverstone - UK
Full day safety training including track experience and safety evaluation. Here you'll learn the required safety elements to allow you to work track-side at Silverstone. You will also be checking in to the 4 Star Campanile Hotel in Northampton

Friday 31st March to Sunday 2nd April - Silverstone Circuit - Race Days
During Friday and Saturday AM practice sessions, Nick will give group and one-on-one lessons in technique whist you work your way around the track. Shoot from the pit-lane, get up close to the drivers, technical crews and cars. The 24 hour race starts Saturday Mid-day, you'll get images from the grid as well as other great track-side locations. Capture the sunset and the race cars continue on through the night.

Monday 3rd April - End of your racing weekend
After a beautiful nights sleep after an exclusive action filled weekend, sadly this it the day you'll leave the hotel with fulfilled experience that most motorsport photographers dream of, and the images to match!


Capture stunning motor-sport images with un-precedented access to the grid, pit-lane, dirvers cars and technical teams.
Nick Dungan is an award-winning freelance photographer, based in the South East of England. Nick has seven years of experience shooting national and international events, including the British Touring Car Championship, British Superbikes and the DTM (Deutsche Tourenwagen Masters) for a variety of clients and media publications. He has also photographed internationally respected events like the 24 Hours of Nurburgring in Germany and the 24 Hours of Dubai in the United Arab Emirates

In 2012 Nick was awarded the MSA Young Photographer of the Year Award, which recognises the United Kingdom's most promising up and coming photographers in regional motorsport. Nick's submission was described as an 'impressive portfolio of work that demonstrated outstanding technical ability and artistic merit'.

2015 saw Nick join Adrenal Media as one of the Official Photographers for both WEC and the European Lemans Series.

For 2016/17 - Nick continues to improve his keen eye for detail, expanding his portfolio to include – alongside his WEC & ELMS commitments – Formula 1 and the Porsche Carrera Cup. A passion for motor racing also sees Nick travel far and wide to further his experience and skills.





Silverstone Grand Prix Circuit

The end of the Second World War had left Britain with no major race track but an abundance of airfields. One of these surplus airfields was located outside the village of Silverstone and being roughly in the middle of England was seen as an ideal location to bring back international motor racing to Britain. By 1948 The Royal Automobile Club (RAC) had arranged a one year lease with the Air Ministry in the spirit of optimism and possibility which characterised the time. An ex-farmer, James Wilson Brown, was employed by the RAC and given just two months to turn the site from a wartime airfield and farm into a race track for the first RAC International Grand Prix.
On the 2nd October 1948 an estimated 100,000 people flocked to see Luigi Villoresi beat a field of 22 others in his Maserati. Hay bales and ropes protected the piggery and crops in the middle of the circuit, and canvas barriers stopped drivers from being distracted by cars coming the other way. Silverstone racing history had begun.
Dutch agency Creventic, promoters and organisers of the 24H TCE SERIES powered by Hankook, will be organising the 24-hour race at the legendary British circuit of Silverstone in 2017. "Being able to run the organisation of the Hankook 24H SILVERSTONE, in the country that is playing such an important role in motor racing and at the circuit that rightfully calls itself the home of British motor racing, is a great honour and pleasure for us, The Hankook 24H SILVERSTONE will once again be a prestigious highlight of the 24H TCE SERIES powered by Hankook calendar."
Includes safety training and access all areas during race day.

Experience the beauty of Silverstone.

4 Nights accomodation at Campanile Northampton.
Dining Lounge - Campanile Hotel.


Campanile Hotel - Northampton


The Hotel is an ideal location for both Business and Leisure travellers. The 87 bedroom hotel opened in 2008 and offers guests a wide range of facilities including the A la Catre restaurant serving seasonal menus as well as a lounge menu for those seeking a light meal.

A highlight of the Campanile Hotel Northampton is definitely its contemporary restaurant featuring delicious and healthy buffets that have been inspired by 3-Michelin starred chef, Pierre Gagnaire. The internationally-renowned chef has been working with Campanile's own team of chefs to develop a new range of generous, fresh buffets offering seasonal food in a congenial atmosphere.

Campanile Hotel Northampton also provides WIFI, Free parking, a 24 Hour Reception, Fully Air-conditioned rooms with Wall mounted LCD TVs giving you access to Free View Channels.





Capture stunning motor-sport images with un-precedented access to the grid, pit-lane, drivers cars and technical teams.


Feedback - Dubai 24 Hour Series January 2017

Our first 24 Hour Series event took place in January 2017 at the Dubai Autodrome. Here's some feedback from those that attended:


"I thought the event was well organised. Nick's input went far beyond any other workshop I have been on. His knowledge of Motorsport photography made our lives easier, and his information on the various shooting scenarios was spot on. I have shot Superbikes, MoToGP and F1 for years. so I didn't think I would learn anything, but just went for the extra access that I am denied in the UK. How wrong I was!! I learnt an awful lot from Nick to think out of the box, and get out of the normal compositions. His input into the event was invaluable. It is without doubt the best workshop I have been on, and I have some great images to prove it. Thank You!!!" - Keith Adcock



"Nick and the team form Clifton Cameras struck a brilliant balance of organisation and friendly informality. Nick was there to provide as much direction or instruction as you needed, but very much at your own request and pacing. I never felt like I was being pressured to meet a timeline for the day. Nick was very accommodating in allowing us all to approach each day the way we wanted. But, was always there to help you when required. Excellent. Thank you all." - Ian Austin

The trip was absolutely fantastic, could not have been better. Nick was an excellent host and tutor, I have learnt many new techniques. The added bonus of the 500mm lens loaned from Canon was the icing on the cake. The whole experience including the pre-trip brief at Donington Park was faultless and well planned. Access all areas was great and safe due to the previous safety brief at Donington. I have answered all of the above questions honestly, I cannot emphasis how much I enjoyed this trip. As ever, dealing with Clifton Cameras has been a pleasure - John Redman

Working alongside Nick Dungan at the Dubai 2017 Autodrome.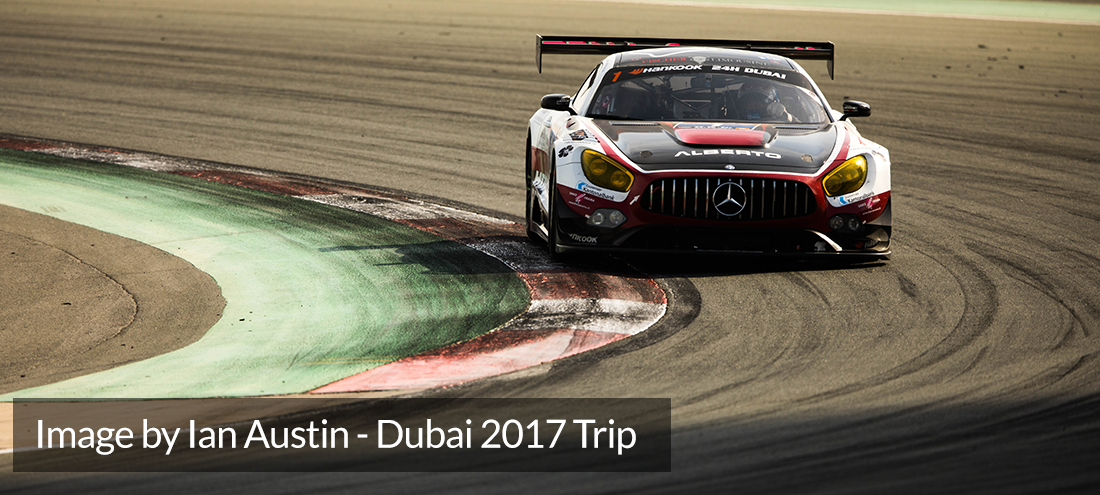 " I'm really excited to be working with Clifton Cameras on this project, Dubai was such a success and I'm really looking forward to hosting more events throughout the year.

There's definitely an adrenalin reward from shooting motorsport. The noise, crowds and petroleum-smell are a sensory fix alone, being able to get close to the action and capture it is simply incredible.

With access to areas usually reserved for press and media, I'm looking forward to working with you to help you get the most out of your pictures. The agenda I've planned is pretty packed so I can't guarantee a holiday, but if you're after a unique experience and want to improve your sports photography, then I know you will have a great time!"

Nick Dungan.




Watch the Dubai 2017 event video.

Coming Events

Terms & Conditions
Entrants must be over 18 years old and reside within the UK
Transport within the UK (to Silverstone Circuit) is the responsibility of each winner and at their cost..
Accommodation at the Campanile Hotel Northampton for four nights, including breakfast and taxes are included in the prize. Evening meals, lunches, drinks and snacks are not included in the prize.
Travel and equipment insurance is not included but is recommended as Clifton Cameras cannot accept any liability for loss damage or injury to you, your vehicle or equipment.
Safety training will be provided, however each participant that takes part in this event does so at their own risk, we will give a safety briefing at the start of each session but it is up to the participant to decide whether they are confident enough or physically able to take part in each session. If you have any questions please contact us directly.
The competition period runs between 6th March and Midnight, 24th March 2017
Upon placing an order for a qualifying Sigma lens - Clifton Cameras will contact each customer to confirm they are over 18 and wish to be entered into the prize draw. Once this has been verified we will enter that customer with one entry to the prize draw.
Customers who order more than one qualifying Sigma lens will be issued with one entry per lens ordered.
Only confirmed customers that have paid in full will be entered into the final draw. Should any entrant cancel their order with Clifton Cameras before or after the prize draw, their entry or prize will be deemed null and void. In the instance where cancellation of an order occurs after a prize has been issued, that prize will be re-drawn and issued to another randomly picked entrant.
The prize draw is not open to employees of Clifton Cameras or Sigma UK
Silverstone safety day (Thursday 30th March) is a required part of the event. As this forms essential safety training, any prize winner who does not attend will forfeit any issued prize.
Prizes are not transferable and are only available to the person named in the original sales order. In the event that the prize is unavailable due to circumstances beyond our control, Clifton Cameras reserve the right to offer an alternative prize of equal or greater value.
This competition has ONE prize only. The prize is for one person to attend our Silverstone Motorsports Trip hosted by Nick Dungan as described above. No alternative prizes can be offered.
ONE winner will be randomly selected from qualifying entrants on Monday 27th March. The winner will be contacted by phone or email to notify the prize award.
Prize winners who are unable to attend will forfeit their prize. The prize may be awarded to other participants at the absolute and sole discretion of Clifton Cameras