Yuneec Typhoon Wizard Controller
It's never been this easy to get amazing aerial footage
One hand, total control

The ultra-lightweight and compact Typhoon Wizard allows users to pilot their Typhoon multicopter with the use of only one hand, making it even easier to capture life's memories from a bird's-eye view.
Functionalities like starting motors, changing flight modes, flying manually, Watch Me and Follow Me, Return Home and even the new revolutionary point-to-fly functionality is right in the palm of your hand.

Smart directional controls

Changing the angle of the Typhoon Wizard is equivalent to using the left or right joystick of a regular ST10 remote controller.
- Point up (from 40 to 90 Degrees) and use the flight control arrws to take off and land or control your altitude.
- Point front (from 0 to 40 Degrees) and use the flight control arrows to give directional instructions.

New height tracking feature

The Typhoon Wizard extends the "Follow Me" and "Watch Me" features from a 2 dimensional to a 3 dimensional flight path matching the changes in altitude.
This allows the user to accomplish extreme close and accurate filming, even when climbing or skiing down a slope.
All new point-to-fly interaction
With Point-to-Fly we have created the most intuitive way to change your flying camera perspective at antime while performing activities such as riding a bike, skiing, surfing or running.
Simply point anywhere in the sky and change the postion of the aircraft while using Watch Me or Follow Me and get into a completely new level of Personal Aerial Videography.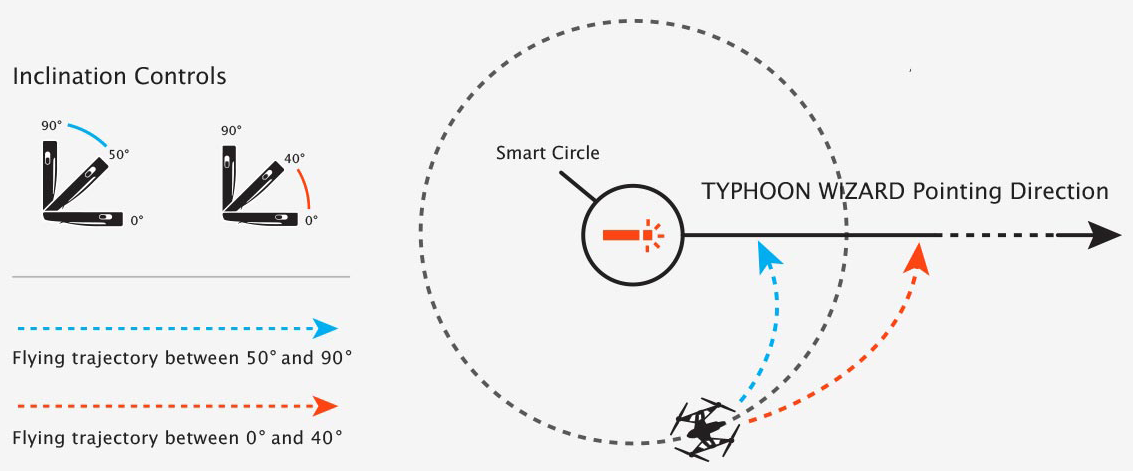 Watch Me and Follow Me made Easy

Smooth professional flying footage has never been as easy as using the Typhoon Wizard in Watch Me and Follow Me modes.
Establish the Typhoon's postion and automatically get amazing video of your action on the go, using a compacy intuitive devise that you can wear anytime.

Water resistant

Don't let the elements stop you from capturing amazing moments. The Typhoon Wizard is water resistant and can be used in any environment, even in humid conditions.
Whether you are surfing, kayaking or skiing, place the Wizard in it's included waterproof bag and enjoy your sport while the flying camera tells your story.
Specifications
Overview




Dimensions: 5.47 X 1.46 X 0.98 in (139 X 37 X 25 mm)
Weight (with LiPo Battery): 2.52 oz ( 71.5 g )
Compatible Aircraft: TYPHOON Q500 / Q500+ / Q500 4K / Black / G
Compatible Camera: CGO2GB / CGO2+ / CGO3
Water Resistant: Yes
Battery Life: Approx 3.5 hours
Built-In LiPo Battery Voltage / Capacity: 3.7V/500mAh
Tutorials