Insta360 One R Action Camera - 1-Inch Edition
Insta360 ONE R 1-Inch Edition is an adaptive action cam that gives creators the right tool for every job. Its rugged interchangeable-lens design allows 360° capture, (Twin Edition) standard 4k (4K Edition) or 5.3K capture on the 1-Inch Edition, all with a single device. Versatility, precision and power. No compromises.
No matter which variation of the Insta360 One R you choose, they're all backed up with the ONE R app — an AIpowerhouse that brings mobile video editing into the 2020s with breakthrough technologies designed to help you create great edits fast.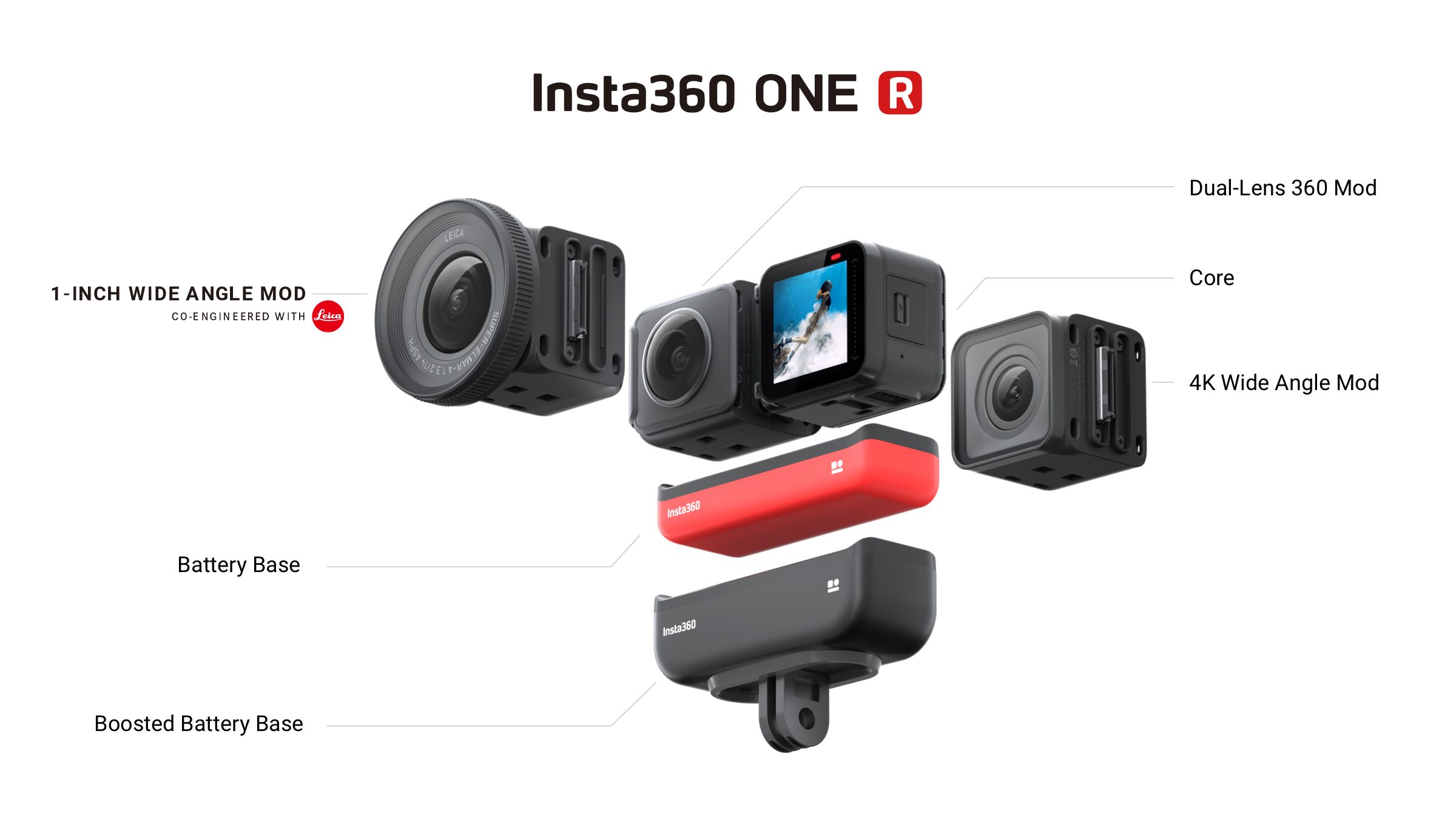 It gets even better with the Insta360 ONE R App
The Insta360 ONE R app is an evolution and revolution in mobile editing. No matter the build you choose, the app allows you to create edits that'll blow minds. Whether you're vlogging with the4K Wide Angle Build, or getting mind-bending angles with the 360 builds, you can weave it all together in the app — getting as much or as little help as you like from ONE R's AI-powered smart editing features. You can click the links throughout to see the early dev footage of the features in action.
What makes the Insta360 ONE R any different from other action cameras?
Better visuals,better stabilization
We've upgraded our signature FlowState Stabilization for the ONE R no matter the build you opt for. It's now ​even better in the dark​and it works better for bullet-time shots. No gimbal needed.
Alongside upgraded stabilization, we've levelled up the visuals for ONE R. With ​H.265 encoding and fully upgraded image processing, visuals on ONE R are crisper than ever. While you're exporting, try toggling on "Color Plus" -- colours will jump to life.
Invisible Selfie Stick
When you have created the 360 Build the ONE R makes the selfie stick accessory completely invisible. Perfect for that floating camera look.
Auto Frame & Auto TimeShift
Auto Frame automatically frames your 360 content with AI image recognition and incredible tracking technology. It drastically speeds up your editing time, allowing you to pick from pre-framed shots. Whether you're totally new to 360, or a seasoned vet, Auto Frame is a game-changer for editing 360 content. To try it, while viewing your 360 videos, just tap Auto Frame in the bottom left and the app will get to work. From there, you can trim and export the clips you like.

Beyond Auto Frame, you can also create an automatic reframed hyperlapse with an ​AutoTimeshift​. To try this for yourself, head into "Stories" in the app, tap the selection in the top left and choose "TimeShift" from the list. Then, select a 360 video of your choice and let the app analyze the content for you (results will be best with a 5.7K 30fps video of a few minutes in length walking outside in a varied environment; mount on the selfie stick). You can choose the landmarks you'd like to include from a menu or let the app decide for you.
Deep Track & Point to Track
Deep Track is our new AI-powered tracking algorithm. In the app, just long-press a subject in your 360 videos to start tracking. You can use Deep Track in real-time when you're filming a scene --turning ONE R into your personal cameraman that follows a subject of your choice. To do this when recording, just point the arrow icon on top of the Mounting Frame at your subject and say "Mark That". You'll hear ONE R chirp if it's locked on to your target. Even if an object breaks ONE R's line of sight, Deep Track will pick your subject right back up again when it comes back into the frame. Try tracking your dog or a buddy when you're out and about. It's like magic.
Shoot in tough lighting
ONE R can handle tough lighting conditions. If you're taking photos in the dark, try Night Shot mode. Capturing a sunset or landscape? Try turning on ​HDR video​. ONE R also supports AutoExposure Bracketing to ensure well-lit, true to life content.
Bluetooth functionality
Control your ONE R with Bluetooth accessories like the Apple Watch or GPS Smart Remote.
Lens protection
When using the Dual-Lens 360 Mod, you can use Lens Guards — hardened lens protectors to clip right on to the Mounting Bracket so you don't have to worry about scratches. With the 4K WideAngle Mod and 1-Inch Wide Angle Mod, built-in lens protectors keep your camera safe.
Find related accessories to the Insta360 One R Action Camera - 1-Inch Edition here. The discount highlighted will be received if you add the items as part of a bundle. Keep an eye out for exclusive deals on photographic equipment and accessories here!

Easily spread the payments with our range of finance solutions.
Choose the finance package that suits you best.
Apply from our checkout
Easy online application
Instant Decision
We process your order

Simply choose your repayment period and choice of initial deposit. Look out for the promotional Interest Free offers.
Price of Goods: £509.00
Summary
Total amount repayable . APR representative. Annual Rate of Interest Fixed.
Finance is subject to status. Terms and conditions apply.