Lowepro Pro Trekker BP Camera Backpacks & Roller Bags

---
Lowepro has taken the AW II series and given it a revamp. The result is a series of more versatile, useful and higher performing camera backpacks and roller bags. Purpose-built for pro photographers and enthusiasts alike.
To keep photographers at the heart of the concept, the design team worked closely with professional photographer Chris McLennan. Together they have produced a carry on a compatible, adventure-ready range of bags that will transport your photo and video equipment with ease and security.
---
Why buy the Lowepro Pro Trekker BP 350 AW II Camera Backpack?

The Lowepro Pro Trekker BP 350 AW II is the smallest camera backpack in this line. It is an ideal camera bag for photographers with Pro Mirrorless Cameras or Standard DSLR. It is a perfect size for carry-on (check with your airline providers). The bag is also a great fit for anyone with a shorter torso who may struggle to find a good fitting bag.

The MaxFit™dividers system allows you to customise the bag to your needs. Snugly and safely fix your lenses and camera in place to give you peace of mind while globetrotting.

For easy handling when travelling, the harness will stow away making it great for carry-on when flying. Two sturdy, ergonomic handles on the top and side make for convenient carrying when the harness is put away. A removable waist belt for heavier loads can be secured by velcro.
---
How much space does the Pro Trekker BP 350 AW II have?
The bag will comfortably carry 1 Pro DSLR camera with attached lens (up to a 70-200mm f2.8 lens). There is then room for up to 5 extra lenses or speedlights. The bag provides a dedicated carrying solution for your professional tripod. 2 quick-release accessory straps mean you can securely fix a tripod or other bulky gear in place with ease using a specially designed Sliplock™ Cup to secure it from dropping out the bottom.
A CradleFit™ sleeve will hold onto your 15'' laptop, 10'' tablet or Wacom type tablet. There is then space for your smartphone, various accessories and more.
Optionally, the bag could instead be used for a small professional drone and controls (like the DJI Mavic). It's also a great solution for carrying a small Professional Gimbal and other video equipment.
A useful removable organiser pouch is great for batteries, memory cards and other small accessories and gear. Also, a zippable side pocket will expand to carry a water bottle.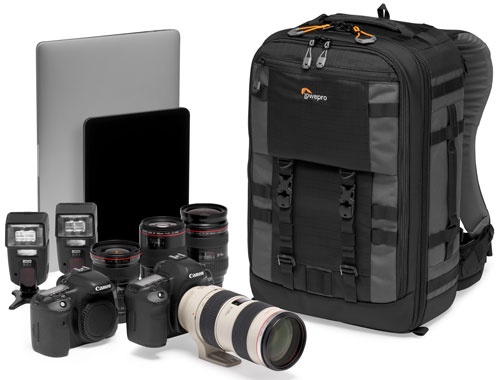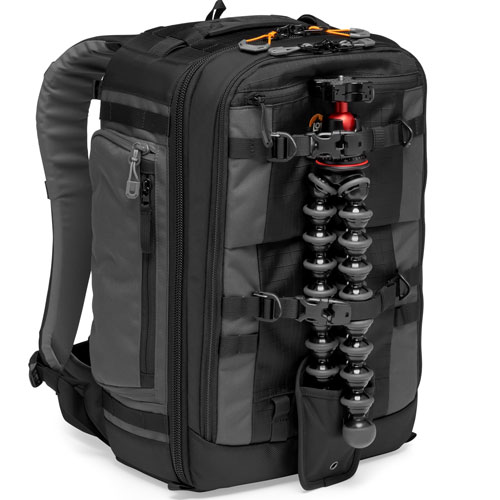 ---
BP 350 AW II Specifications
Exterior Dimensions 320 x 250 x 480 mm
Interior Dimensions 280 x 150 x 420 mm
Weight 2.39 kg