Vanguard VEO Flex Shoulder Bags and Backpacks
The range of Vanguard VEO Flex Shoulder Bags and Backpacks come in a range of sizes to suit all. Flex is in the name, these compact bags are flexible and transform with the rolltop design, for lots of extra room. Formed of high-quality materials, these stylish rolltop bags are durable and offer a lot of space, packed within a compact design.
The bags are designed to house CSC/Mirrorless/Hybrid cameras with attached and extra lenses. With customisable padded sections, they ensure the bag secures the camera snuggly and safely. Browse the full range of VEO Flex bags here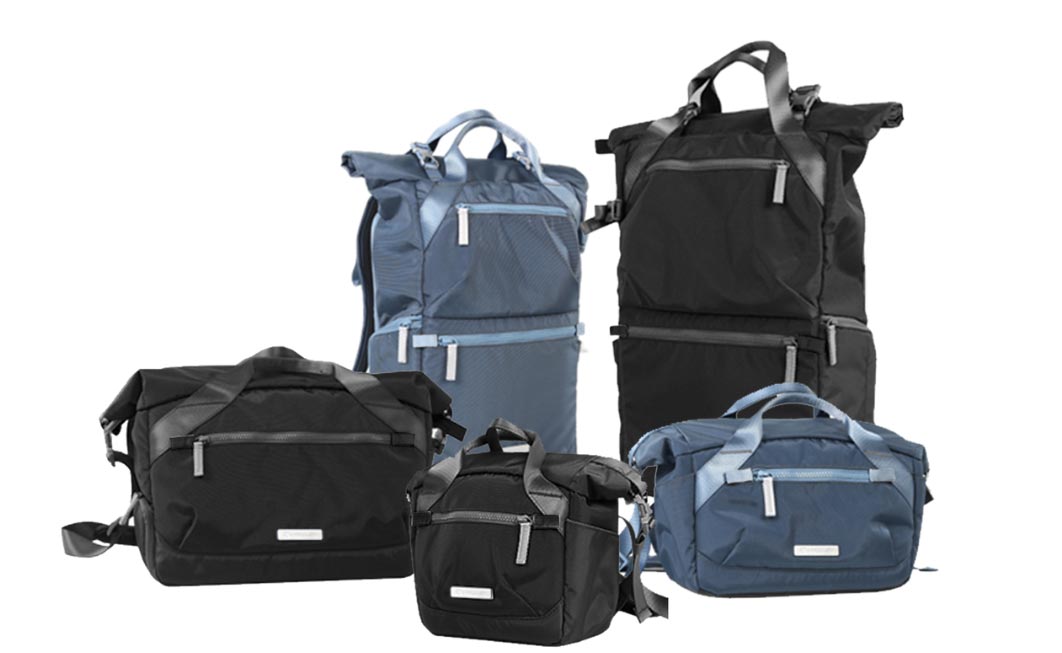 ---
Why buy the Vanguard VEO Flex 43M Backpack?
The Vanguard VEO Flex 43M is a compact backpack with a rolltop. It is a perfect camera bag for carrying your Mirrorless, CSC or Hybrid Camera with a lens attached.
There is also room for an extra 2-3 lenses, flash and other accessories. It has dedicated space for a VEO 2 GO Tripod and up to 9.7inch tablet. It can also be adapted to alternatively carry a small drone or a small gimbal.
Available in two colours Black and Blue
---
What are the key features of the VEO Flex 43 M?
Expandable Capacity – roll-top space gives flexible storage
Highly Accessible - wide opening makes it easy to grab your gear
Superb protection - rugged padding all over
High security - full zipper with "roll and buckle up" system
Easy rummaging - light in colour interior makes it easy to rummage
Business-focused - holds a 9.7" tablet
Stay organised - spacious pockets for your essential kit
Weather protection - full-coverage rain cover
---
Spacious, organised and adaptable photography backpack
The VEO Flex 43M has been designed to give you easy, fast access to your gear. The main compartment is spacious and features quick side access for your equipment and camera. The bag will double its capacity with a simple but clever roll-top design. A 'Roll and Buckle' feature makes the bag practical, yet very secure from any prying hands.
The interior of the bag is formed of removable and adjustable dividers. This means you can adjust them with ease to snugly fit your gear, giving full customisation and security. It also allows you to transform the camera backpack into a superb day pack when you're off the clock.
Its large side pocket is great for carrying a tripod or monopod or a bottle of water. A rear access pocket gives dedicated space and access to your tablet and other valuable gear.
---
Rugged comfort
Vanguard uses only high-quality materials on their bags and backpacks. The FLEX 43M has been built to last while offering a comfortable and stylish backpack. The bag is padded throughout to protect your kit, while a fully waterproof cover is easy to pull out when the rain begins. Comfort is found in the padded adjustable harnesses.
---
Vanguard VEO Flex 43M Dimensions
Internal dimensions: 24.5 x 11 x 43 cm
Exterior dimension: 36 x 17 x 45 cm
Weight: 1.02kg