Vanguard VEO Flex Shoulder Bags and Backpacks
The range of Vanguard VEO Flex Shoulder Bags and Backpacks come in a range of sizes to suit all. Flex is in the name, these compact bags are flexible and transform with the rolltop design, for lots of extra room. Formed of high-quality materials, these stylish rolltop bags are durable and offer a lot of space, packed within a compact design. The bags are designed to house CSC/Mirrorless/Hybrid cameras with attached and extra lenses. With customisable padded sections, they ensure the bag secures the camera snuggly and safely. Check out the full range here.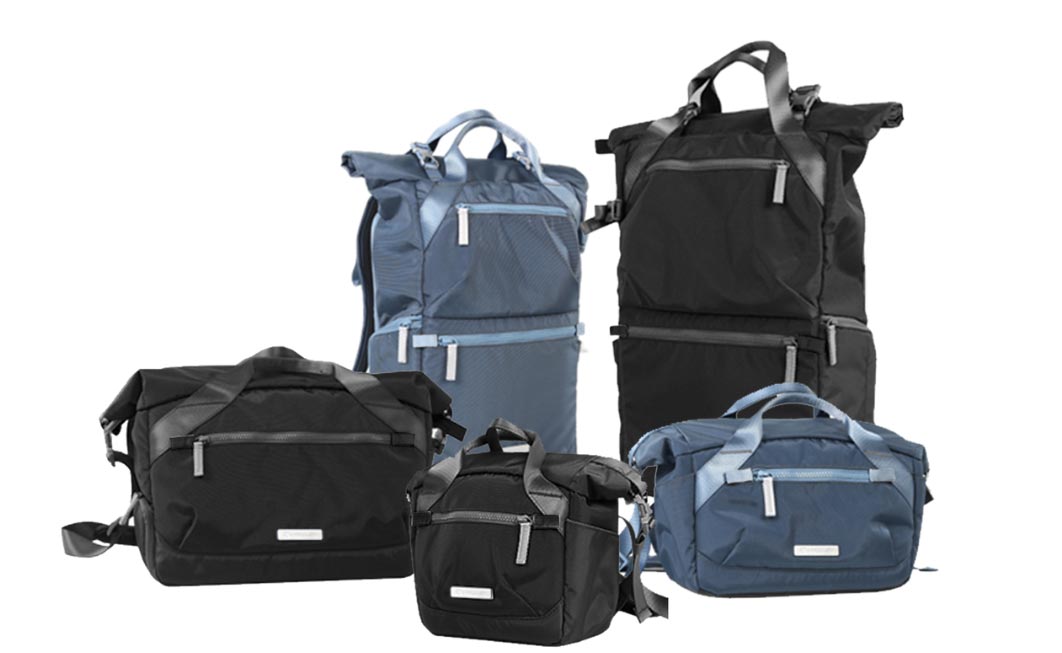 ---
Why buy the Vanguard VEO Flex 47M Backpack?
The Vanguard VEO Flex is a compact rolltop camera backpack. This camera bag will carry up to 2 Mirrorless, CSC or Hybrid Cameras with lenses attached. There is also room for up to 3 extra lenses, a flash and some accessories. Alternatively, it will adapt to hold a small drone, a gimbal and similar video equipment.
Available in two colours: Black and Blue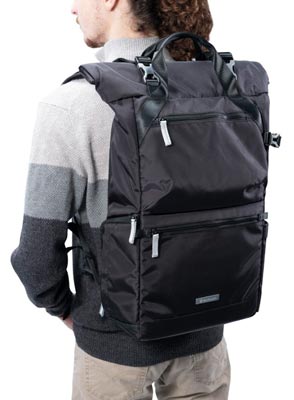 ---
What are the key features of the VEO Flex 47M?
Expandable capacity – the bag is compact yet the rolltop gives double space
Tripod Connection - Easily connect a VEO 2 GO Tripod
Easy Access – side and rear openings
Excellent protection - well-positioned padding all over
High security - full zipper and a "roll and buckle up" closing keep prying hands out
Easy to navigate - a light-coloured interior gives high visibility
Laptop space - carries a 15inch Slim Laptop
Easy to organise - dedicated pockets and removable dividers
Weatherproofing - with a full-coverage rain cover
---
Spacious, organised and adaptable photography backpack
The layout of this camera backpack allows quick and easy access as well as superb management and customisation. Quick side access allows you to fetch your camera out in a flash, perfect for impromptu opportunities. The main compartment can expand and contract. This allows you to double its size with its secure 'roll and buckle up' function.
The bag comes with removable dividers. These are great for adjusting to hold your gear snugly and tightly. When you're off the clock - remove all the dividers and the bag doubles up as a daypack. This makes its great camera backpack for travelling photographers on any adventure.
A large side pocket allows you to carry a tripod or monopod. It is also great for a water bottle. Secure rear access means you can easily set the bag up as well as reach your tablet/laptop pocket with ease. 2 front zipper pockets allow you to easily grab everything you need.
---
Comfortable and durable design
Crafted from high-quality materials, the bag has been designed to give maximum comfort and resistance to the elements. A padded adjustable harness will allow you to carry heavier loads with ease. While a full-coverage rain cover can be pulled out in seconds, protecting your equipment from poor weather.
---
Vanguard VEO Flex 47M Dimensions
Internal dimensions: 27.5 x 12 x 47 cm
Exterior dimension: 38 x 18 x 48.5 cm
Weight: 1.16kg