Save even more by creating your own bundle!
Browse the categories below to reveal specially reduced items to go with this product, then click and add them to create your own unique bundle with discounted price.
Hahnel Captur Remote Control & Flash Trigger
The Captur range will take your photography skills on to the next level and open your eyes to a whole new world of creativity.
Combining two products in one –
Wireless Remote Shutter Release & Remote Flash Trigger
Wireless Remote Shutter Release for DSLR cameras
Wireless Remote Control for DSLR flashgun
Autofocus & Shutter Release with Continuous shooting & Bulb Mode
Up to 100m range
Additional receivers available to trigger multiple flashguns or cameras
Interchangeable Camera connector cables
DCM – Digital Channel Matching
Powered by AA batteries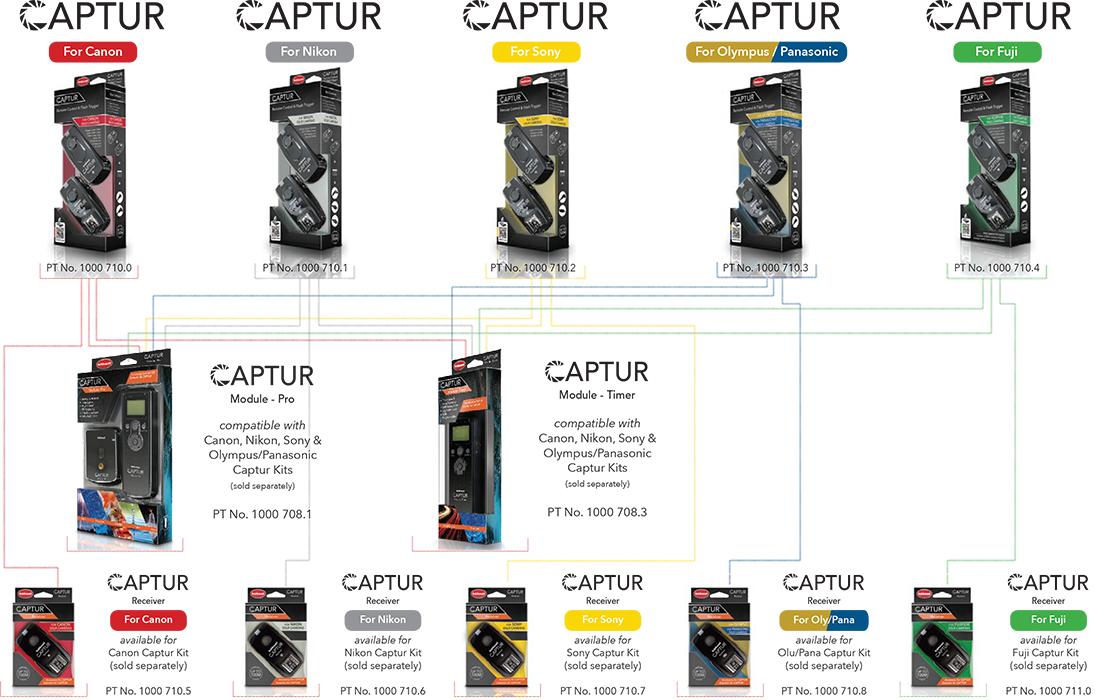 ---
FAQ:
Question: "Can I use the Captur as a wireless remote to start and stop my video filming?"
Answer: "Yes, on many D-SLR cameras in the menu you are able to re-assign the shutter button to use as a start/stop button for video. If you can do this then you can use the Captur as a wireless remote to start/stop your video filming."
---
Compatibilty
Captur for Canon DSLR
Canon: EOS 1200D/ EOS 1100D/ EOS 1000D/ EOS 650D/ EOS 600D/ EOS 550D/ EOS 500D/ EOS 450D/ EOS 400D/ EOS 350D/ EOS 300D/ EOS 100D/ EOS 70/ EOS 60D/ EOS 50D/ EOS 40D/ EOS 30D/ EOS 20D/ EOS 20DS/ EOS 10D/ EOS 7D/ EOS 6D/ EOS 5D/ EOS 5D Mark III/ EOS 5D Mark II / EOS 1D/ EOS 1DX/ EOS 1DC/ EOS 1DS Mark II/ EOS 1DS Mark III/ EOS 1DS Mark IV/ Rebel T1i/ Rebel T2i/ SX50HS/ G10/ G11/ G12/ G15/ G16/ SX50/
Pentax: K-5 II/ K-5 Iis/ K-5/ K-7/ K-10/ K-20/ K-50/ K-100/ K-200/ K-500
Samsung: GX10/ GX20
Captur for Nikon DSLR
P7700/ P7800/ D7100/ D7000/ D5300/ D5200/ D5100/ D5000/ D3300/ D3100/ D3200/ D610/ D600/ D700/ D800/ D800E/ D300/ D300s/ D200/ D100 (when attached to Nikon MB-D100 battery grip)/ D3X/ D3S/ D4/ D2X/ D2XS/ D2H/ D2HS/ D1 / D1X/ D1H/ D80/ D70s/ D90/ Df
Captur for Sony DSLR
A77/ A350/ A100/ A200/ A300/ A450/ A500 / A550/ A700/ A850/ A900/ A560/ A580/ A33/ A55/ A35 / A37/ A57/ A65/ A99/ A7s/ A58/ A77 II/ A3000/ A5000/ A6000/ HX400/ RX100II/ RX100III
Captur for Olympus/Panasonic DSLR
Olympus: Stylus 1/ E-620/ E-600/ E-550/ E-520/ E-510/ E-450/ E-420/ E-410/ E-400/ E-P5/ EP-1/ EP-2/ EP-3/ E-PL5/ E-PL2/ E-PM1/ E-PM2/ OM-D E-M10/ OM-D E-M5/ SP-590UZ/ SP-570UZ/ SP-565UZ/ SP-560UZ/ SP-550UZ/ SP-510UZ/ XZ-1 / XZ-2
Panasonic: FZ200/ FZ150/ FZ100/ FZ60/ FZ50/ FZ30/ FZ20 / G10/ G6/ G5/ G3/ G2/ G1 / GF1/ GH1/ GH2/ GH3/ GH4/ L10/ L1/ LC1/ DMC-GH4
> View All Hahnel Captur Remote Control Flash Trigger Variants <