Hahnel Captur Remote Control & Flash Trigger
The Captur range will take your photography skills on to the next level and open your eyes to a whole new world of creativity.
Combining two products in one –
Wireless Remote Shutter Release & Remote Flash Trigger
Wireless Remote Shutter Release for DSLR cameras
Wireless Remote Control for DSLR flashgun
Autofocus & Shutter Release with Continuous shooting & Bulb Mode
Up to 100m range
Additional receivers available to trigger multiple flashguns or cameras
Interchangeable Camera connector cables
DCM – Digital Channel Matching
Powered by AA batteries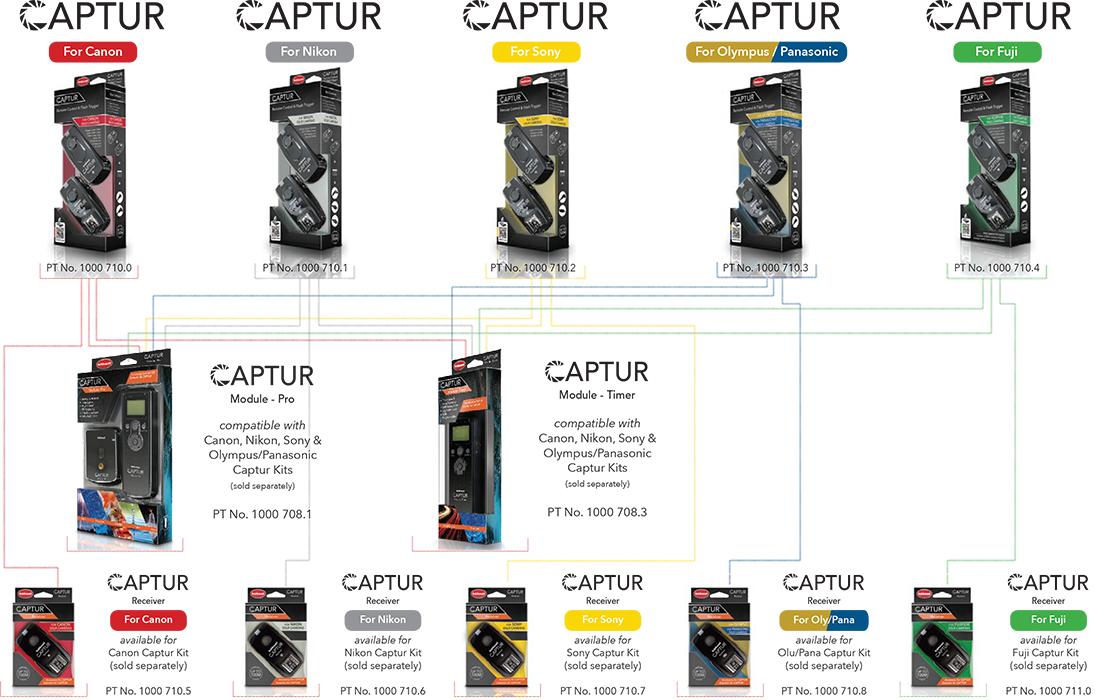 ---
FAQ:
Question: "Can I use the Captur as a wireless remote to start and stop my video filming?"
Answer: "Yes, on many D-SLR cameras in the menu you are able to re-assign the shutter button to use as a start/stop button for video. If you can do this then you can use the Captur as a wireless remote to start/stop your video filming."
---
Compatibilty
Captur for Canon DSLR
Canon: EOS 1200D/ EOS 1100D/ EOS 1000D/ EOS 650D/ EOS 600D/ EOS 550D/ EOS 500D/ EOS 450D/ EOS 400D/ EOS 350D/ EOS 300D/ EOS 100D/ EOS 70/ EOS 60D/ EOS 50D/ EOS 40D/ EOS 30D/ EOS 20D/ EOS 20DS/ EOS 10D/ EOS 7D/ EOS 6D/ EOS 5D/ EOS 5D Mark III/ EOS 5D Mark II / EOS 1D/ EOS 1DX/ EOS 1DC/ EOS 1DS Mark II/ EOS 1DS Mark III/ EOS 1DS Mark IV/ Rebel T1i/ Rebel T2i/ SX50HS/ G10/ G11/ G12/ G15/ G16/ SX50/
Pentax: K-5 II/ K-5 Iis/ K-5/ K-7/ K-10/ K-20/ K-50/ K-100/ K-200/ K-500
Samsung: GX10/ GX20
Captur for Nikon DSLR
P7700/ P7800/ D7100/ D7000/ D5300/ D5200/ D5100/ D5000/ D3300/ D3100/ D3200/ D610/ D600/ D700/ D800/ D800E/ D300/ D300s/ D200/ D100 (when attached to Nikon MB-D100 battery grip)/ D3X/ D3S/ D4/ D2X/ D2XS/ D2H/ D2HS/ D1 / D1X/ D1H/ D80/ D70s/ D90/ Df
Captur for Sony DSLR
A77/ A350/ A100/ A200/ A300/ A450/ A500 / A550/ A700/ A850/ A900/ A560/ A580/ A33/ A55/ A35 / A37/ A57/ A65/ A99/ A7s/ A58/ A77 II/ A3000/ A5000/ A6000/ HX400/ RX100II/ RX100III
Captur for Olympus/Panasonic DSLR
Olympus: Stylus 1/ E-620/ E-600/ E-550/ E-520/ E-510/ E-450/ E-420/ E-410/ E-400/ E-P5/ EP-1/ EP-2/ EP-3/ E-PL5/ E-PL2/ E-PM1/ E-PM2/ OM-D E-M10/ OM-D E-M5/ SP-590UZ/ SP-570UZ/ SP-565UZ/ SP-560UZ/ SP-550UZ/ SP-510UZ/ XZ-1 / XZ-2
Panasonic: FZ200/ FZ150/ FZ100/ FZ60/ FZ50/ FZ30/ FZ20 / G10/ G6/ G5/ G3/ G2/ G1 / GF1/ Gh2/ GH2/ GH3/ GH4/ L10/ L1/ LC1/ DMC-GH4
> View All Hahnel Captur Remote Control Flash Trigger Variants <
Find related accessories to the Hahnel Captur Remote Control & Flash Trigger - Olympus/Panasonic here. The discount highlighted will be received if you add the items as part of a bundle. Keep an eye out for exclusive deals on photographic equipment and accessories here!
Hahnel Captur Additional Receivers
Normal Price £35.00