Save even more by creating your own bundle!
Browse the categories below to reveal specially reduced items to go with this product, then click and add them to create your own unique bundle with discounted price.

Easily spread the payments with our range of finance solutions.
Choose the finance package that suits you best.
Apply from our checkout
Easy online application
Instant Decision
We process your order

Buy Now - Pay Nothing for 6 Months, means buy now and pay in full before 14/1/2021 (approx.) plus a £45.00 settlement fee and you will be charged absolutely no interest. You will be contacted by V12 Finance before the interest free period ends to explain your options. If you have not paid this sum in full by that date, interest of 19.9% APR representative will be charged from the date we told you your agreement was live. If you have made any partial repayments prior to this, interest will be charged only on the amount of credit that remains unpaid.
Price of Goods: £2,500.00
Summary
Pay 0% Deposit
Loan Amount £2,500.00
Total Payable on 14/1/2021 - £2,500.00 + £45.00 settlement fee
Cost of loan if paid by 14/1/2021 = £0.00
Finance is subject to status. Terms and conditions apply.
Leica Super-Elmar-M 21mm f/3.4 ASPH Lens

The new Leica Super-Elmar-M 21mm f/3.4 ASPH. is a worthy successor to the now legendary Leica Super-Angulon-M 21 mm f/3.4. Just like its popular forerunner, the new super-wide-angle lens is characterized by superb imaging performance and amazingly compact construction. Even at maximum aperture, the lens delivers outstanding rendition of details and optimum contrast up to its closest focusing distance. The lens is supplied complete with a metal, screw-mounted lens hood to prevent flare effects and ensure perfect image sharpness. Thanks to its wide angle of view, the Leica Super-Elmar-M 21mm f/3.4 ASPH. is particularly suitable for architectural and landscape photography. At the same time, this focal length is also ideal for dynamic photojournalistic photography. The sophisticated optical design and construction of the lens comprises eight elements - including one with two aspherical surfaces and another four with anomalous partial dispersion - and plays a decisive role in reducing distortion and vignetting to an absolute minimum. With the new Super-Elmar-M, M photographers now have a compact and versatile high-performance lens for the broad spectrum of photographic situations covered by super-wide-angle photography.
Technical specifications
Angle of view (diagonal, horizontal, vertical)

For 35mm format (24 x 36mm): 91°, 80°, 59°

For Leica M8 models (18 x 27mm): 74°, 64°, 46°

(Focal length equivalent: approx. 28mm)

Optical design

Number of lenses/groups: 8/7

Aspherical surfaces: 2

Position of entrance pupil: 15.6 mm (to the apex of the first lens surface)

Distance settings

Working range: 0.7 m to ∞

Scales: Combined metre/feet graduation

Smallest object field: 706 x 1059mm (35mm format)
530 x 795mm (for M8)

Largest reproduction ratio: 1:29.4

Aperture

Settings / function: click-stops and half-stop detents

Smallest aperture: 16

Bayonet mount

Leica M quick-change bayonet with 6-bit bar-coding for digital Leica M models

Filter mount / lens hood

Non-rotating with inner threading for E46 screw-in filters, outer threading with stop for mounting the lens hood (supplied with the lens)

Dimensions

Length to bayonet flange: approx. 43/55mm (with/without lens hood)

Largest diameter: approx. 53mm

Weight

Approx. 279g

Accessories included

Metal lens hood, front cap for lens hood, rear cap, leather case, instruction manua

Leica's lens manufacturing is designed to deliver high performance lenses that ensure the best possible picture in any given situation. To achieve this goal, in-depth knowledge of the properties of hundreds of types of glass, the effectiveness of complex coatings, precision manufacturing, and customised fine-tuning, is imperative.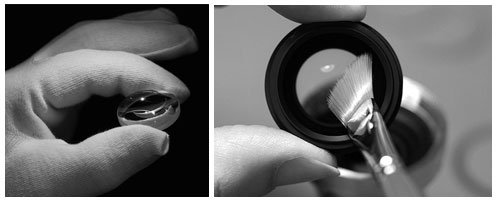 It takes decades of experience to produce perfect image quality. This however is nothing less than the basic requirement when our objective is to supply photographers with equipment capable of achieving pictures of unsurpassed crisp quality, colour brilliance, fullness of detail and richness of contrast.