LEICA, AVAILABLE FROM AN OFFICIAL LEICA SPECIALIST CENTRE AT AN INTERNET PRICE !!
OFFICIAL UK STOCK, WITH ALL THE NORMAL ACCESSORIES IN THE BOX.
WE ARE A LEICA SPECIALIST AND ARE happy to offer advice or answer your questions. please ring on 01453 548128.
THESE ARE OFFICIAL UK STOCK AND AS WE ARE CAMERA SPECIALISTS YOU CAN BE SURE OF EXCELLENT CUSTOMER SERVICE AND FREE TECHNICAL HELP. HAVE YOU SEEN A BETTER UK DEAL? IF YOU HAVE PLEASE RING US ON 01453 548128, WE WILL TRY OUR HARDEST TO COMPETE WITH ANY UK SUPPLIER.
---
Leica Viewfinder Magnifier M 1.4x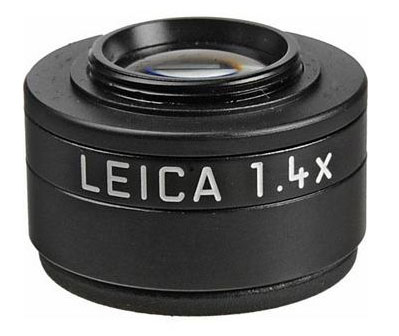 The Leica Viewfinder Magnifier M 1.4x is a small and practical accessory for all Leica M rangefinder cameras. By enlarging the viewfinder image by two fifths, image composition is more practical and easier when using lenses with focal lengths of 75mm and upwards. At the same time, it also improves focusing accuracy by expanding the effective measuring base, especially when shooting at telephoto focal lengths.
The 1.4x viewfinder magnifier turns into magnification of 1x with most M-series cameras, and 0.95x with M8 models. This combination allows for comfortable viewing of the subject with both eyes. It is especially useful for the M line since the different viewfinder models offer different magnification ratios.
Made of black anodized aluminium, the viewing magnifier is screwed into the camera eyepiece. It also has a thread for correction lenses to compensate for vision defects.
The small accessory is secured with a chain and connected to the camera eyelet with spring catches. The viewing magnifier can be kept in its leather case with snap fastener and attached to the camera strap when not in use. The magnifier is thereby protected and is easily accessible whenever required.