Save even more by creating your own bundle!
Browse the categories below to reveal specially reduced items to go with this product, then click and add them to create your own unique bundle with discounted price.

Easily spread the payments with our range of finance solutions.
Choose the finance package that suits you best.
Apply from our checkout
Easy online application
Instant Decision
We process your order

Buy Now - Pay Nothing for 6 Months, means buy now and pay in full before 8/1/2021 (approx.) plus a £45.00 settlement fee and you will be charged absolutely no interest. You will be contacted by V12 Finance before the interest free period ends to explain your options. If you have not paid this sum in full by that date, interest of 19.9% APR representative will be charged from the date we told you your agreement was live. If you have made any partial repayments prior to this, interest will be charged only on the amount of credit that remains unpaid.
Price of Goods: £289.00
Summary
Pay 0% Deposit
Loan Amount £289.00
Total Payable on 8/1/2021 - £289.00 + £45.00 settlement fee
Cost of loan if paid by 8/1/2021 = £0.00
Finance is subject to status. Terms and conditions apply.

Manfrotto MT190CXPRO4 Carbon Fibre Tripod
The 190CXPRO4 is a compact, lightweight and rigid 3-section tripod with carbon fibre leg tubes, a host of advanced features and excellent build quality.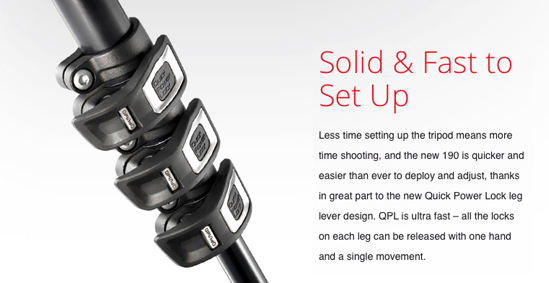 The key feature of the 190CXPRO4 is its 90° centre column mechanism, which allows the column to be extended vertically as normal, or horizontally to open up a wide range of framing and shooting possibilities; this makes the 190CXPRO4 an extremely versatile tripod, suitable for a wide range of photography and video applications. The horizontal column mechanism is housed within the tripod's top casting for compactness, but it is easily and quickly extended whenever you need it. Switching between vertical and horizontal column orientation requires no disassembly, and can even be done with a camera attached.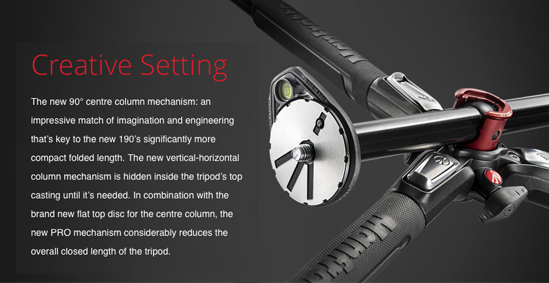 The 4-section legs of the 190CXPRO4 tripod make it extremely compact: together with the height saving of the new horizontal column mechanism, 4-section legs help to reduce the closed length of this tripod by 16cm compared to preceding 190 models - a boon for any travelling photographer. The legs are also fast to extend and adjust, thanks to the Quick Power Lock levers that
block and unblock each leg section. The special design of the QPL levers allows a more comfortable and stronger single-handed grip of the leg locks. From folded, the sections of each leg of the tripod can be released in a single movement. The QPL lever
design also offers more powerful locking of each section, meaning the tripod is more stable and rigid than with traditional lever designs. Intuitive and ergonomic leg angle selectors allow each leg to be independently and solidly set to any of the preset angles, again allowing considerable positioning freedom.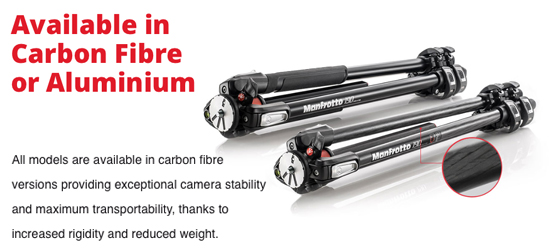 A bubble level is built in to the top of the centre column for precise framing. The bubble level rotates freely around the centre column, so it can be positioned wherever it's easiest for you to see it while adjusting the tripod, and without it either being obscured by the mounted head and camera, or getting in the way of head or camera controls.

The top casting of the 190CXPRO4 has an Easy Link connector for supporting a photo or video accessory (such as an LED light, flash, reflector, or other piece of equipment) on an extending arm or bracket, and making the tripod into a practical mobile studio.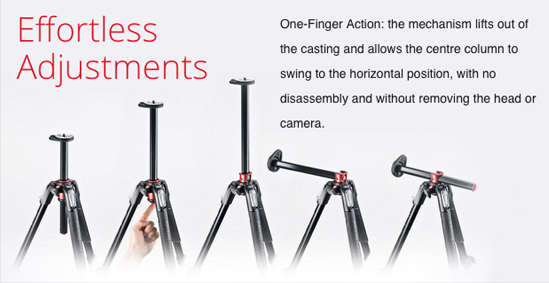 The 190CXPRO3 is made in Italy by Manfrotto.


Specifications

attaches by 3/8 attachment type

centre column rapid

Color black

column cross section three-faceted

column tube diameter 25mm

leg angles 25°.46°.66°.88°

leg cross section round

legs tube diameter 24.8 . 20.4 . 16 . 11.6 mm

material carbon fiber tubing + magnesium castings

patent pat. pending

section centre column 1 number

closed length 52.5 cm

leg sections 4 number

maximum height 160.0 cm

maximum height (with centre column down) 135.0 cm

minimum height 8.0 cm

safety payload 7 kg

weight 1.65 kg