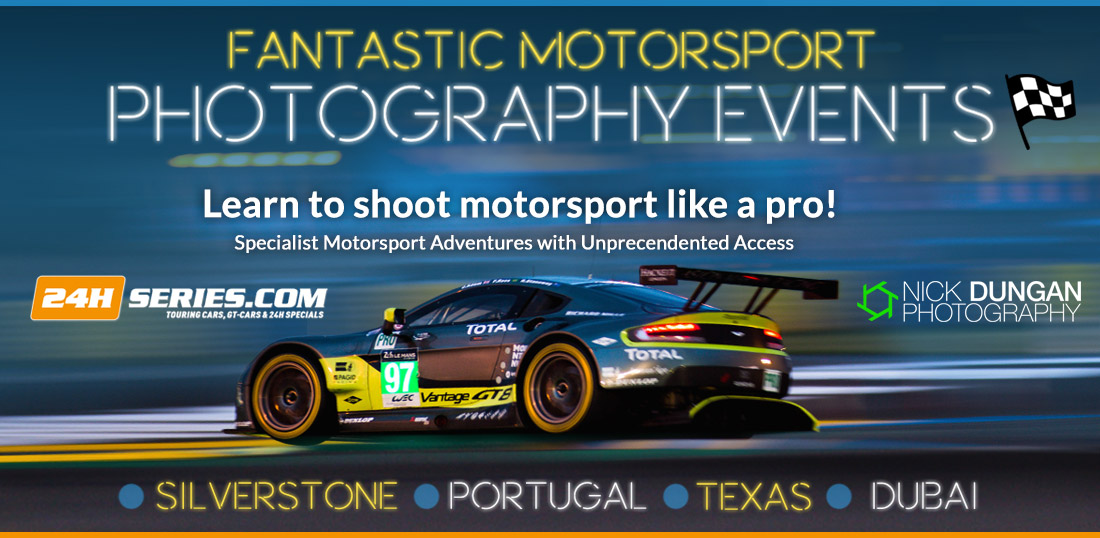 Fantastic motorsport-photography adventure...
Don't miss our incredible motorsport photography events, exclusively available from Clifton Cameras. Hosted by award-winning professional photographer Nick Dungan, learn how to expand your photography skills with an access all areas passes, team access and photography workshops at the 24 Hour Series events.
We have only six places available on each, once-in-a-lifetime-opportunity event. You will get to work closely with Nick throughout the event, capturing images trackside, from the pit-lane to the podium. This fully accredited workshop will allow you and your camera, unprecedented access to the racing, the cars and the drivers!


Nick Dungan is an award-winning freelance photographer, based in the South East of England. Nick has seven years of experience shooting national and international events, including the British Touring Car Championship, British Superbikes and the DTM (Deutsche Tourenwagen Masters) for a variety of clients and media publications. He has also photographed internationally respected events like the 24 Hours of Nurburgring in Germany and the 24 Hours of Dubai in the United Arab Emirates

In 2012 Nick was awarded the MSA Young Photographer of the Year Award, which recognises the United Kingdom's most promising up and coming photographers in regional motorsport. Nick's submission was described as an 'impressive portfolio of work that demonstrated outstanding technical ability and artistic merit'.

2015 saw Nick join Adrenal Media as one of the Official Photographers for both WEC and the European Lemans Series.

For 2016/17 - Nick continues to improve his keen eye for detail, expanding his portfolio to include – alongside his WEC & ELMS commitments – Formula 1 and the Porsche Carrera Cup. A passion for motor racing also sees Nick travel far and wide to further his experience and skills.





Capture stunning motor-sport images with un-precedented access to the grid, pit-lane, drivers cars and technical teams.


Feedback - Dubai 24 Hour Series January 2017

Our first 24 Hour Series event took place in January 2017 at the Dubai Autodrome. Here's some feedback from those that attended:


"I thought the event was well organised. Nick's input went far beyond any other workshop I have been on. His knowledge of Motorsport photography made our lives easier, and his information on the various shooting scenarios was spot on. I have shot Superbikes, MoToGP and F1 for years. so I didn't think I would learn anything, but just went for the extra access that I am denied in the UK. How wrong I was!! I learnt an awful lot from Nick to think out of the box, and get out of the normal compositions. His input into the event was invaluable. It is without doubt the best workshop I have been on, and I have some great images to prove it. Thank You!!!" - Keith Adcock



"Nick and the team form Clifton Cameras struck a brilliant balance of organisation and friendly informality. Nick was there to provide as much direction or instruction as you needed, but very much at your own request and pacing. I never felt like I was being pressured to meet a timeline for the day. Nick was very accommodating in allowing us all to approach each day the way we wanted. But, was always there to help you when required. Excellent. Thank you all." - Ian Austin

The trip was absolutely fantastic, could not have been better. Nick was an excellent host and tutor, I have learnt many new techniques. The added bonus of the 500mm lens loaned from Canon was the icing on the cake. The whole experience including the pre-trip brief at Donington Park was faultless and well planned. Access all areas was great and safe due to the previous safety brief at Donington. I have answered all of the above questions honestly, I cannot emphasis how much I enjoyed this trip. As ever, dealing with Clifton Cameras has been a pleasure - John Redman

Working alongside Nick Dungan at the Dubai 2017 Autodrome.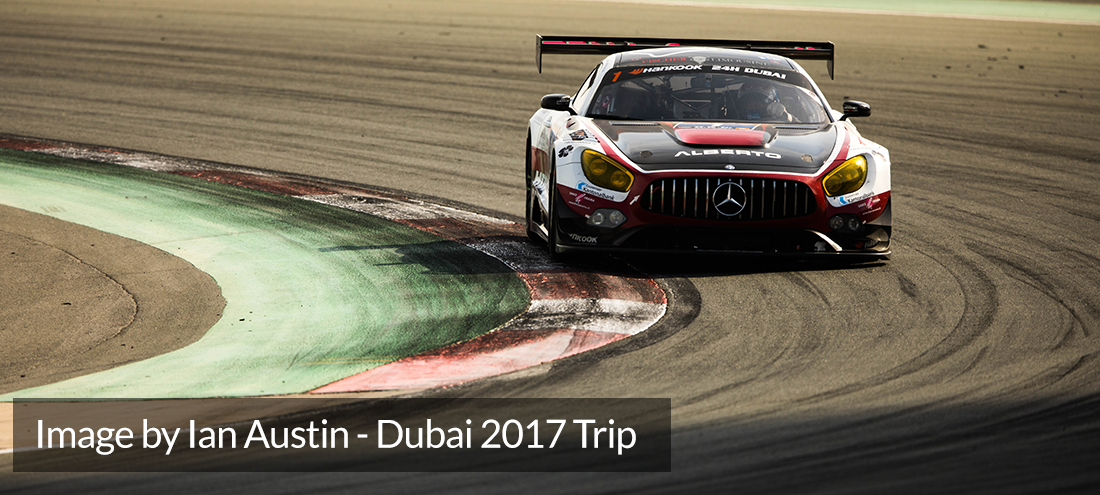 " I'm really excited to be working with Clifton Cameras on this project, Dubai was such a success and I'm really looking forward to hosting more events throughout the year.

There's definitely an adrenalin reward from shooting motorsport. The noise, crowds and petroleum-smell are a sensory fix alone, being able to get close to the action and capture it is simply incredible.

With access to areas usually reserved for press and media, I'm looking forward to working with you to help you get the most out of your pictures. The agenda I've planned is pretty packed so I can't guarantee a holiday, but if you're after a unique experience and want to improve your sports photography, then I know you will have a great time!"

Nick Dungan.




Watch the Dubai 2017 event video.


Terms & Conditions
Upon making a paid booking we will contact you to obtain all necessary information required for flight bookings, hotel registration and safety registration for attendance.
Once flights have been booked and confirmed we are unable to offer a refund or cancellation of your booking.
We reserve the right to cancel this event if there is insufficient demand. Tickets are not transferable, cannot be exchanged, transferred, or resold.
Transport within the UK (to Donington Park, to and from London Airports) is the responsibility of each participant and at their cost.
All transport in each event location, that relates to the provision of the event only, including airport transfers is included in the booking.
Accommodation at the event hotels, including breakfast and taxes are included in the booking. Evening meals, lunches, drinks and snacks are not included in the
booking.
Travel and equipment insurance is not included but is recommended as Clifton Cameras cannot accept any liability for loss damage or injury to you, your vehicle or equipment.
Safety training will be provided, however each participant that takes part in this event does so at their own risk, we will give a safety briefing at the start of each session but it is up to the participant to decide whether they are confident enough or physically able to take part in each session. If you have any questions please contact us directly.