Olympus 12mm f2.0 ZUIKO Digital ED Micro 4/3 lens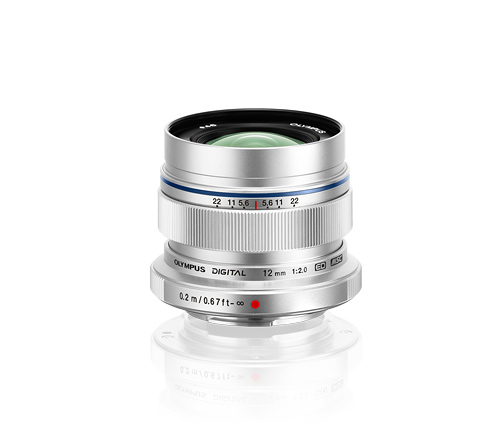 Snapshot focus mechanism
Versatile wide-angle fixed focal lens
High-specification design with metal housing
Ideal for capturing quality landscapes
Superior image quality performance
New advanced multi coating
High-speed AF with MSC technology
Attractively packaged in a high-grade, sleek metallic body, this is the ideal lens for taking enviable wide-angle photos in a wide range of settings. Besides its suitability for shooting landscapes with optical clarity and precision, it can also be put to superb use in low light situations, as well as places where flashes or tripods are either not allowed or not practical. Despite its compact size, it delivers sophisticated image quality and a maximum aperture of 1:2.0. Any fan of snapshot photography will also love this lens. It features a snapshot mechanism, which is activated simply by pulling the focusing ring back, with distance and depth of field indicators that allow users to focus without looking at the camera screen. Another beneficial innovation is the ZERO (ZUIKO Extra-low Reflection Optical) coating, which halves distracting and unwanted reflections in shots compared to conventional coating.
Specification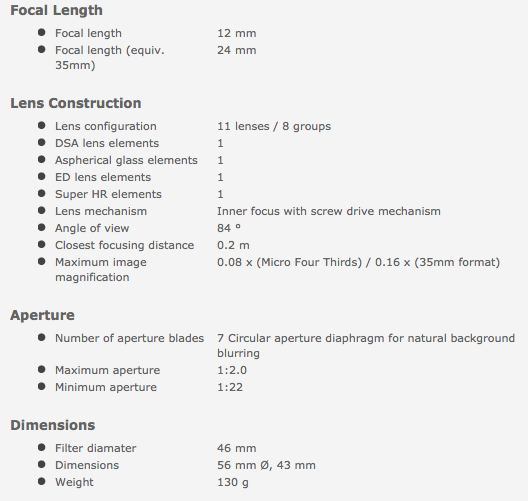 > View All Olympus 12mm f2.0 ZUIKO Digital ED Micro Four Thirds lens Variants <
Find related accessories to the Olympus 12mm f2.0 ZUIKO Digital ED Micro Four Thirds lens - Silver here. The discount highlighted will be received if you add the items as part of a bundle. Keep an eye out for exclusive deals on photographic equipment and accessories here!
VisibleDust Magic Cleaner Cloth
Normal Price £7.50
Lenspen Brush Original
Normal Price £12.00