Easily spread the payments with our range of finance solutions.
Choose the finance package that suits you best.
Apply from our checkout
Easy online application
Instant Decision
We process your order

Simply choose your repayment period and choice of initial deposit. Look out for the promotional Interest Free offers.
Price of Goods: £1,379.00
Summary
Total amount repayable . APR representative. Annual Rate of Interest Fixed.
Finance is subject to status. Terms and conditions apply.
Sekonic C-700R Spectromaster
THE WORLD'S FIRST COLOR TOUCH SPECTROMETER THAT MEASURES EVERY LIGHT PLUS WIRELESS FLASH

The Sekonic C-700R Spectromaster has made the gap between still, and motion image capture has narrowed considerably, and so has lighting and the ability
to control it. Now both still and motion shooters are faced with the choices and challenges of conventional and emerging light sources. With the many sophisticated and versatile camera's available today, a new generation of image capture talent has entered the field. New camera and lighting technology has lead the way to media content that has never before been possible. New challenges, especially in lighting and specifically in color consistency have hindered the creative flow of many studio and on-locations productions. Reproducing colors as they appear in the image has always been the essential goal and dream in photography and cinematography since its inception. Using color filters and yesterdays color measuring instruments, imaging shooters around the world managed to control color in their images.
Today's digital shooters remain unchanged in their desire to control color precisely, while the diversity of lighting sources is ever-changing. With the popularity of LED lighting, the need for a color meter that can measure it and all light sources has become critical to ensure accurate color fidelity.
The NEW Sekonic SpectroMaster C-700R series is the first spectrometer that measures every light source (LED, HMI, Flourescent and the natural light spectrum). In addition, with its CMOS linear sensor, the SpectroMaster C-700 makes it possible to measure in 1 (nm) increments, capturing spikes in light source output, especially fluorescent and LED lighting, providing unmatched color measurement accuracy.
Ultimate Colour Control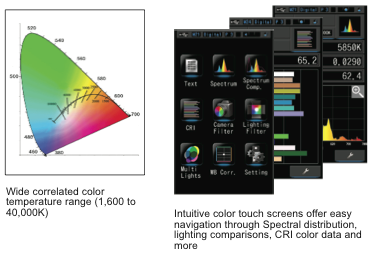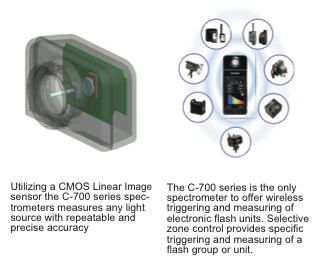 Precise measurement of LED, HMI Fluorescent, Tungsten and the natural light spectrum
The C-700R incorporates a CMOS linear sensor, that measures and evaluates the true color temperature of a light source from 380 to 780 nanometers (nm) in 1 nm output wavelength increments. What makes the C-700R truly unique and exceptional is its ability to not only measure conventional light sources but also emerging light source technology. Its exclusive ability to measure in 1 (nm) increments captures spikes in light source output, especially fluorescent and LED sources, providing unmatched color measurement accuracy. The C-700R series conforms to the requirements for Class A of JIS C 1609-1:2006 (illuminance meter part 1).
Flash measurement
The C-700R series measures electronic flash and displays color data for accurate white balance, camera and light source filtration and spectral color precision. Color tempera- ture reads are displayed in Kelvin and illuminance readings in lux or lux sec. Electronic flash units are triggered and measured by PC cord, cordless mode or with the C-700R built-in PocketWizard wireless triggering system.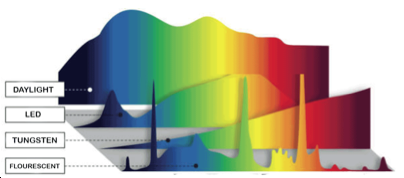 Wide Measuring Range Of Colour Temperature
A wide correlated color temperature range (1,600 to 40,000K) offers the flexibility and accuracy to measure any light source in any demanding studio or on-location production.
Various Displays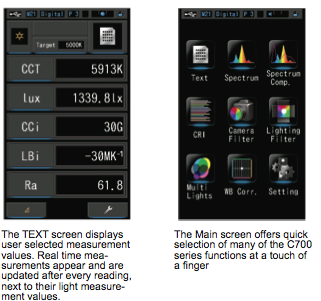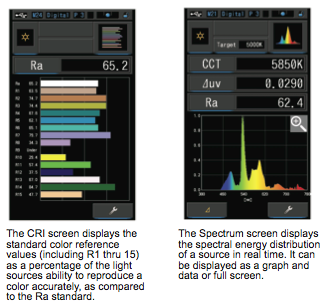 Conforms to requirements for Class A of JIS C 1609-1: 2006 "Illuminance meters Part 1: General measuring instruments*"1

Spectral Wavelength Range

* Ambient light (1 to 200,000lx=0.09 to 18,600fc)

* Flash Light (20 to 20,480lx/s)

Accuracy *4, 5 (Standard Illuminant A)

Illuminance: ±1%+1 digit of displayed value

CCT: ±4MK-1(Standard Illuminant A, 800lx)

Repeatability (xy=Standard Illuminant A)

Illuminance: ±1%+1 digit of displayed value

CCT: 2MK-1 (500 to 100,000 lx)

CCT: 4MK-1 (100 to 500 lx)

CCT: 8MK-1 (30 to 100 lx)

Visible-region Relative Spectral Re- sponse Characteristics (f)

Ev: ±5% of displayed vlaue

CCT: ±12MK-1 (Standard Illuminant A, 800lx)

Ev: ±5% of displayed value

CCT: ±12MK-1 (Standard Illuminant A, 800lx)

Ambient Max.: 15 sec. (1 lx)

Ambient Min.: 100μs (200,000 lx)

Flash: 1 to 1/500s (plus 1/75, 1/80, 1/90, 1/100, 1/200, 1/400)

Text mode, Spectral graph mode, CRI mode, Lighting filter mode, Camera filter mode, Spectral com- parison mode, Multi Lighting Mode, White Balance Mode

Digital/Film mode, Data memory: 99 data, Preset Function, Auto power off, Auto Dimmer

English, Japanese, Chinese (Simplified)

73w x 183h x 27d mm (2.9w x 7.2h x 1.1d inches)

240g (C-700), 245g (C-700R)