Easily spread the payments with our range of finance solutions.
Choose the finance package that suits you best.
Apply from our checkout
Easy online application
Instant Decision
We process your order

Buy Now - Pay Nothing for 6 Months, means buy now and pay in full before 8/1/2021 (approx.) plus a £45.00 settlement fee and you will be charged absolutely no interest. You will be contacted by V12 Finance before the interest free period ends to explain your options. If you have not paid this sum in full by that date, interest of 19.9% APR representative will be charged from the date we told you your agreement was live. If you have made any partial repayments prior to this, interest will be charged only on the amount of credit that remains unpaid.
Price of Goods: £369.00
Summary
Pay 0% Deposit
Loan Amount £369.00
Total Payable on 8/1/2021 - £369.00 + £45.00 settlement fee
Cost of loan if paid by 8/1/2021 = £0.00
Finance is subject to status. Terms and conditions apply.
---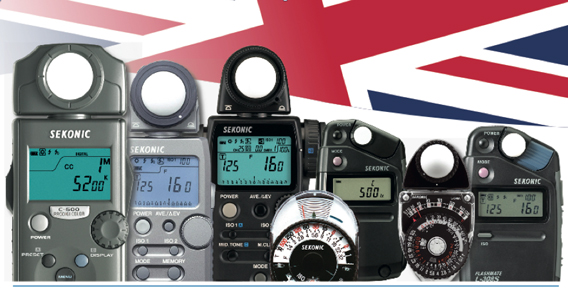 Sekonic L-478DR LiteMaster Pro
The Art of Telling a Story in a Single Frame
Requires Mastery of Light
The L-478-series takes the mystery out of mixing ambient light and flash. Touch to select the measurement mode that fits your shooting style. Measure the brightness of a single light or the exposure for all. Read flash with a cord or cordlessly. Touch to compare, analyze and display for the very best results.
Keeping pace with wireless advancements, the L-478DR comes complete with its exclusive PocketWizard® ControlTL® technology (L-478DR only). Combining light measurement and flash power control into a hand held light meter has resulted in a sophisticated and simple tool for photographers who choose to craft light, and not just record it.
For Still Photographers

- Full featured Ambient-Flash modes including new T-F mode. Measure, compare, and mix ambient and flash displayed on a color, touch screen for beautiful, controlled, results.

- DTS Exposure Profiling matches the meter to the performance of your camera (requires separate Sekonic or X-rite exposure targets and 5-degree finder for L-478). Precise exposure and lighting starts with precise, repeatable metering.

For Filmmakers

- Cine/HD Cine modes for today's HDSLR and Video Cine cameras. Effortlessly switch between HDSLR and Cine for exact exposure settings in exact increments for both.

- Infinite frame rate and shutter angle selection. Create special settings for special applications. Video cine cameras are becoming boundless. Metering should be too.

- Unique, light-source filtration compensation mode. Finally, precise control lighting using industry standard CTO/CTB/ND types at the touch of a finger.

- Illumination measurement and extended ISO range. Lighting design and exposure in a single tool. ISO and exposure settings to match today's digital cameras.

Wireless Triggering

- PocketWizard triggering and Flash Power Setting w/ControlTL radios. Control Nikon, Canon and select studio flashes with a touch of a finger.
Sekonic L-478DR LiteMaster Pro - Technical Specifications
| | |
| --- | --- |
| Type: | Digital exposure meter for ambient and flash light |
| Receptor Head: | Rotating Domed Head 90° to the right, 180° to the left, Retractable for Contrast Reading |
| Light Receiving Method: | Incident light and reflected light |
| Receptor Incident Light: | Convertible to flat diffuser (Lumisphere in down position) |
| Receptor Reflected Light: | 5° Viewfinder (Separate Accessory) |
| Light Receptor Element: | 2-Silicon photo diodes (incident and reflected) |

Measuring Range and Modes
Measuring Modes Ambient Light:

- HD Cine - Shutter priority metering, FPS (Frame Rate Priority) metering, Lux/FC
- Cine - FPS (Frame Rate Priority) metering, Shutter Angle setting, Lux/FC
- Simple brightness measurement (foot-lambert, cd/m2
- Simple illumination measurement (lux, foot-candle)
- Aperture priority metering
- EV metering
- Shutter priority metering
Measuring Modes Flash:
- Measurement using the included wireless flash radio triggering system (cumulative and non-cumulative)
- Without synchro cord (cumulative and non-cumulative)
- With synchro cord (cumulative and non-cumulative)
Measuring Range (ISO 100) Ambient Light:
- Incident light EV-2 to EV 22.9
- Reflected light EV3 to EV 19.9 (requires accessory sold separately)
Measuring Range (ISO 100) Flash:
- Incident Light f/1.0 to f/128.9
- Reflected Light f/2.8 to f/128.9 (requires accessory sold separately)
Measuring Range Illuminance:
0.63 to 2000000lux - 0.10 to 180000FC
Measuring Range Brightness:
1 to 980000 cd/m2 - 0.29 to 290000 foot lamberts

Display Range and Modes
| | |
| --- | --- |
| Display Range Film Speed: | ISO 3 to 409600 (in 1/3 steps) |
| Display Range Shutter Speeds Ambient: | 30 min to 1/64,000 sec. (in 1, 1/2, 1/3 steps) plus 1/200, 1/400 |
| Display Range Shutter Speeds Flash: | 30 min to 1/1000 sec. (in 1, 1/2, 1/3 steps) plus 1/75, 1/80, 1/90, 1/100, 1/200, 1/400 |
| Display Range Aperture: | f/0.5 to f/161.2 (in 1, 1/2, 1/3 steps) |