Sigma MC-21 L-Mount Adapter for Sigma SA
Using the Sigma MC-21 you can mount Sigma SA-mount lenses on Leica L-mount possessing mirrorless camera bodies. The Sigma mount converter allows users to maintain the performance of Sigma lenses including autofocus, auto-exposure, in-camera correction and image stabilisation technologies. A built-in LED display shows information regarding lens compatibility and the adapter comes equipped with lens data to support lens function. The interior of the adapter is designed to minimise reflections and maintain exceptional image quality.
Also comes with a removable tripod mount for stable mounting when using larger lenses.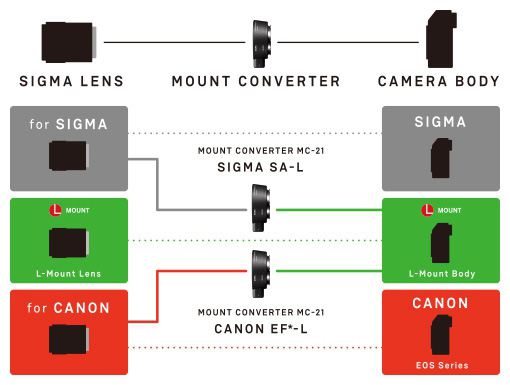 ---
The Sigma MC-21 L-Mount Adapter for Sigma SA is compatible with...
Cameras:
Leica SL
Leica CL
Leica TL
Leica TL2
Leica T
Panasonic S1R
Panasonic S1
Lenses:
14mm f/1.8 DG HSM Art
20mm f/1.4 DG HSM Art
24mm f/1.4 DG HSM Art
28mm f/1.4 DG HSM Art
35mm f/1.4 DG HSM Art
40mm f/1.4 DG HSM Art
50mm f/1.4 DG HSM Art
70mm f/2.8 DG Macro Art
85mm f/1.4 DG HSM Art
105mm f/1.4 DG HSM Art
135mm f/1.8 DG HSM Art
500mm f/4 DG OS HSM Sports
17-70mm f/2.8-4 DC Macro OS HSM Contemporary
18-35mm f/1.8 DC HSM Art
18-200mm f/3.5-6.3 DC Macro OS HSM Contemporary
18-300mm f/3.5-6.3 DC Macro OS HSM Contemporary
50-100mm f/1.8 DC HSM Art
30mm f/1.4 DC HSM Art
12-24mm f/4 DG HSM Art
14-24mm f/2.8 DG HSM Art
24-35mm f/2 DG HSM Art
24-70mm f/2.8 DG OS HSM Art
24-105mm f/4 DG OS HSM Art
60-600mm f/4.5-6.3 DG OS HSM Sports
70-200mm f/2.8 DG OS HSM Sports
100-400mm f/5-6.3 DG OS HSM Contemporary
120-300mm f/2.8 DG OS HSM Sports
150-600mm f/5-6.3 DG OS HSM Sports
150-600mm f/5-6.3 DG OS HSM Contemporary
19mm f/2.8 DN Art
30mm f/1.4 DC HSM Art