Save even more by creating your own bundle!
Browse the categories below to reveal specially reduced items to go with this product, then click and add them to create your own unique bundle with discounted price.

Easily spread the payments with our range of finance solutions.
Choose the finance package that suits you best.
Apply from our checkout
Easy online application
Instant Decision
We process your order

Buy Now - Pay Nothing for 6 Months, means buy now and pay in full before 4/1/2021 (approx.) plus a £45.00 settlement fee and you will be charged absolutely no interest. You will be contacted by V12 Finance before the interest free period ends to explain your options. If you have not paid this sum in full by that date, interest of 19.9% APR representative will be charged from the date we told you your agreement was live. If you have made any partial repayments prior to this, interest will be charged only on the amount of credit that remains unpaid.
Price of Goods: £649.97
Summary
Pay 0% Deposit
Loan Amount £649.97
Total Payable on 4/1/2021 - £649.97 + £45.00 settlement fee
Cost of loan if paid by 4/1/2021 = £0.00
Finance is subject to status. Terms and conditions apply.
Zeiss Touit F2.8 50mm E-Mount - Sony
---

A perfectionist with an eye for the details
The delicate structure of a petal, the tiny hairs on a cat's fur or the seductive lines at the corner of the eyes – whenever a shot is all about the minute details, the ZEISS Touit 2.8/50M will delight and inspire. It not only allows you to portray objects in their original size, but also provides for beautiful contrast between the pin sharp focus of the image and the softly sketched background thanks to its aperture of 2.8.
---
Features
Planar Design
The famous symmetric lens design invented by Dr. Paul Rudolph at ZEISS in 1896. The Planar lens is the most successful camera lens design – and, by the way, the most plagiarized – ever created. It provides the lens designer with numerous means to correct aberrations extraordinarily well. And its performance is very constant over a wide range of imaging ratios, enabling such a versatile lens variety as the Makro-Planar lens.
1:1 Macro Capability
The ZEISS Touit 2.8/50M lets you capture the smallest things and the tiniest details at their actual size. At its closest focusing distance, subjects sized 15x23 mm fill the frame with an impressive maximum reproduction ratio of 1:1. The imaging performance of the ZEISS Touit 2.8/50M is just as exceptional at such short distances as it is at medium and long distances. Minimum distortion, outstanding correction of chromatic aberrations, minimal image field curvature and excellent correction of coma and astigmatism allow true-to-life reproduction of any subject, particularly in combination with the high resolving power of modern sensors.
Full compatibility
The ZEISS Touit lenses are designed and constructed specifically for use on Sony NEX and FUJIFILM X Series cameras with APS-C sensors. The lenses are therefore fully-compatible and support all camera functions, including autofocus.
Excellent resolution and high contrast
Richly saturated and vivid colours are a must in the creation of lasting impressions. However, stray light within an optical system leads to a lightening of the image that is particularly noticeable in the shadows. This reduces image contrast, with the result that exposures lack contrast and appear faded. To avoid this, ZEISS combines various specially developed technologies to reduce the undesirable effects of stray light.
Floating Elements Design
Today's camera technologies and high-resolution sensors demand continuous improvement of lens performance. Thanks to the use of the latest floating element design principles, optical aberration effects in ZEISS lenses are reduced to a minimum throughout their entire focusing range. This is achieved by variation of the axial distance between individual lens elements or groups. This adjustment of the lens-to-lens distance is coupled to the distance setting to ensure correct compensation at all times. The mechanical construction of these lenses is extremely complex and they must be assembled with utmost precision – both of which are key competencies of ZEISS.
Ideal aperture characteristics
Photographers want to lead the viewer through their images. Planes with minimum depth of focus are often employed as creative elements. For instance, the background is kept intentionally out of focus to lead the viewer's eye to the actual subject of the image. The Touit lenses feature a nine-blade iris that closes to create an almost perfectly circular aperture. The effect of this is the creation of a particularly harmonious effect in the out of focus areas of the image ('Bokeh').
---
Technical specifications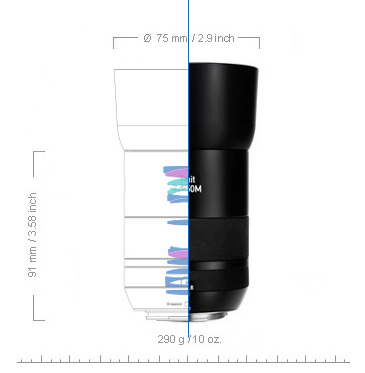 Focal length:

Aperture range:

Focusing range:

Number of elements/groups:

Angular field, diag./horiz./vert:

Coverage at close range:


23,5 x 15,6 mm (0.93 x 0.61″)

Filter thread:

Dimensions (with caps):


E: 104 mm (4.09″)
X: 108 mm (4.25″)

Diameter of focusing ring:

Weight:

Camera mounts: