Camera Financing -
Finance your purchase in just a few steps
Whether you're buying a camera, scope, new lens or studio equipment, we know this can be a considerable investment. That's why we offer you the ability to make your purchase on finance and spread the payments.
If you spend £250 or more, you can choose the finance package that's right for your budget, whether it's a personal loan that's Interest-Free, where you pay 0% interest over 6, 12, 24 or 36 months with no hidden costs or surprises, or a personal loan that's interest-bearing, where you can extend the life of your policy up to 48 months. The process only takes a few minutes and decisions are normally made shortly after submitting.
You'll find a finance calculator on every finance-qualifying product page, this will allow you to check what finance products are available and find a package that suits your budget best. Look out for 0% APR Interest-Free Finance across 100's of products.
It's as easy as: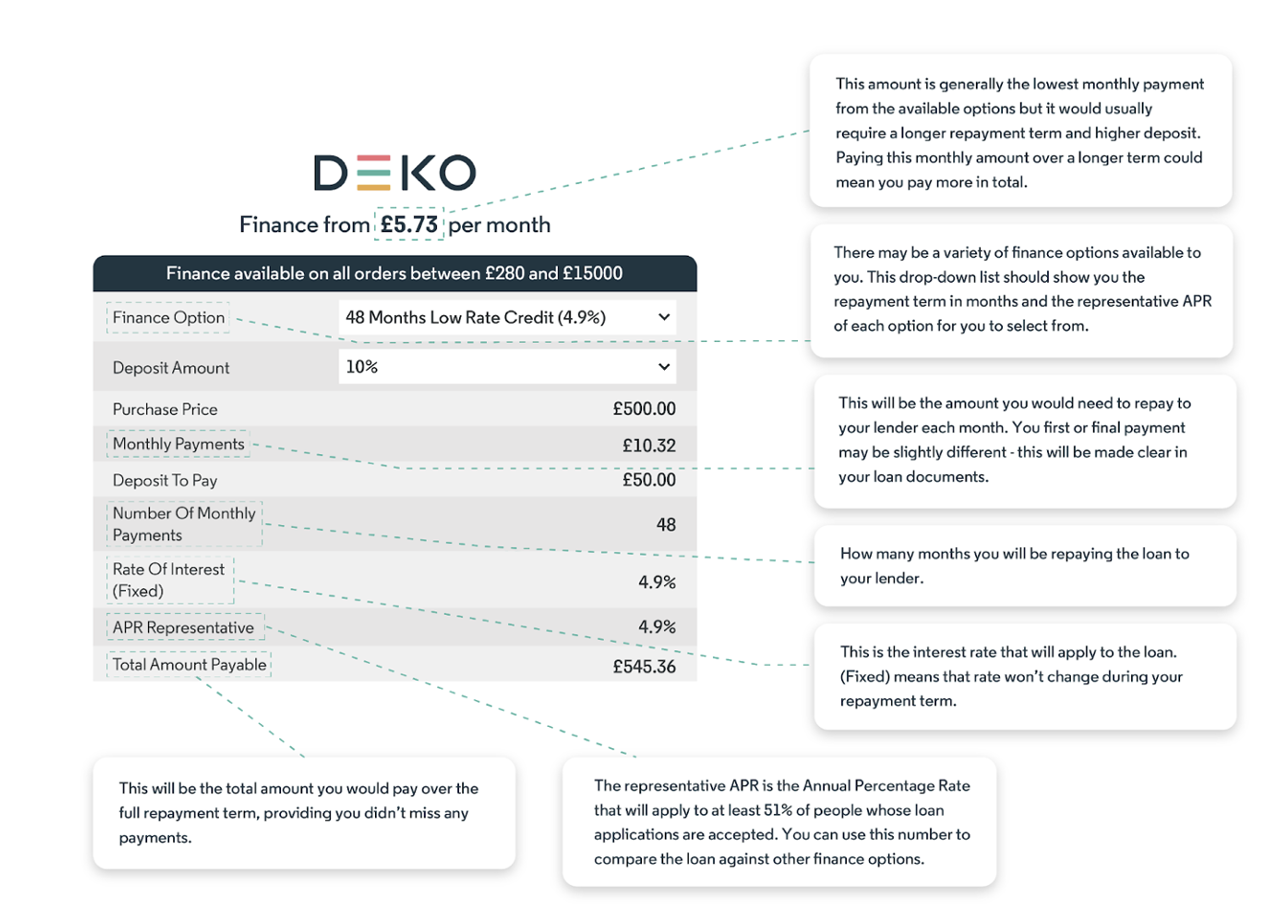 Representative Examples
Cash price £500.00, Deposit £50.00. The total amount of credit is £450.00 over 48 months with an annual interest rate of 4.9% (Fixed). Monthly repayments will be £10.32 with a total repayable of £545.36. 4.9% APR representative.
The representative example shows the finance information that we expect to apply to more than half of accepted applications for the specific amount and repayment term.
As we mentioned earlier, the representative example is not a quote or formal offer of finance - we display this to help you understand how much a loan will cost, and so you can compare it with other products.
Whilst these numbers are there to help you understand what a loan will cost you, it's important that you understand any other potential costs in the terms and conditions of the finance option you select. For instance, you may be charged missed or late payment fees if you don't keep up with your payments.
Frequently Asked Questions
Legal Information
Clifton Cameras Ltd is Registered in England and Wales. Company No. 5859660
Clifton Cameras is authorised and regulated by the Financial Conduct Authority, register number FRN728300 and act as a credit broker and not a lender. We do not charge you for credit broking services. Finance is introduced through the Deko platform from a carefully selected panel of lenders. Whichever lender Deko introduces you to, Deko will typically receive a commission from them (either a fixed fee or a fixed percentage of the amount you borrow). For your reassurance, all of the lenders Deko works with could pay commission at different rates, but the commission received does not influence the interest rate you will pay. You will be offered the best rate available from Deko's partner lenders, based on the lenders' decision policies.
Deko is a trading name of Pay4Later Ltd which act as a credit broker and not a lender. They are registered in England and Wales (company number 06447333) and authorised and regulated by the Financial Conduct Authority (register number 728646). For more information please go to www.dekopay.com/support or visit www.dekopay.com.