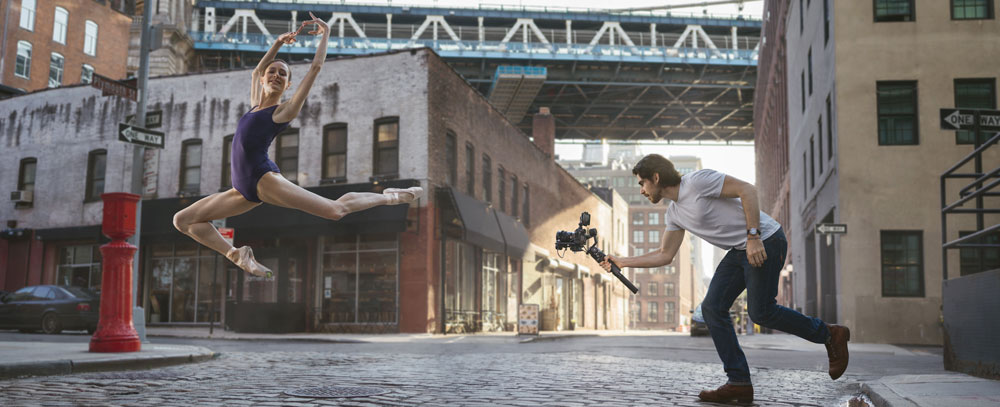 ---
Why buy the DJI Ronin-SC Handheld Gimbal?
---
The Ronin-SC is the new lightweight, go-anywhere handheld Gimbal from DJI. Lighter than the Ronin S it weighs in at just 1.1kg, it is compatible with the latest Mirrorless camera systems. These include all the top brands.
Ronin SC is packed full of features including the latest ActiveTrack 3.0 technology. This is a first for the Ronin series. It will smoothly, precisely control the gimbal which synchronizes the movement at all times. Sport mode improves the sensitivity across all axes but keeps the stabilisation during fast, sudden motions along with complete changes in direction.
The addition of Axis Locks, an integrated slider and ratcheted design mount plate means the Ronin-SC will speed up setup times allow you to get film much quicker.
---
DJI Ronin-SC Key Specifications
Dimensions: 22×20×7.5cm
Weight: 1.1kg
Maximum Battery Life: 11hrs
---
An abundance of accessories
DJI is well known for always developing and growing their collection of accessories across their range of gimbals, cameras and drones.
There are many exciting, useful accessories for the Ronin-SC allowing you to personalise your rig.
Ronin-SC Pro Combo
You can buy a pre-made pro kit for the Ronin-SC. Check out the Ronin-SC Pro Combo here.
Kit out your Ronin-SC to your needs. Sold separately.
---
What cameras are compatible with the DJI Ronin S-C Gimbal?
The Gimbal is compatible across all key brands. These are the following suggested compatible cameras:
Fujifilm: X-T2 | X-T3
Panasonic: GH5 | GH5S | G9
Canon: EOS R | M50
Nikon: Z6 | Z7
Sony: A7 Series | A9 | A6500 | A6400 | A6300 | RX100 V
---
What are the differences between DJI Ronin S and SC?
Key changes are the weight, as well as integrated sliders and ratcheted design. Check out our full comparison below.
| | | |
| --- | --- | --- |
| | Ronin-SC | |
| Gimbal Weight | Approx. 1.1kg | Approx. 1.84kg |
| Tested Payload | ≤ 2.0kg | ≤ 3.6kg |
| Max. Battery Life | 11 hours | 12 hours |
| Axis Locks | Yes | No |
| Quick-Release Plate | Integrated slider | No integrated slider |
| Camera Mounting Plate | Ratcheted design | Non-ratcheted design |
| Bluetooth | Bluetooth 5.0 | Bluetooth 4.0 |
---
Rugged, compact and light for travelling filmmakers
Built for travel, the Ronin-SC has been conceived with a lightweight compact design. Weighing approx 700g less than the Ronin-S, it is just shy of 1KG in weight. This is thanks to a rugged yet light magnesium and aluminium body with high strength composites.
Modular design makes it quick and easy to set up. It will pack away into small spaces making it effortless to carry around.
---
Highly compatible
Ronin-SC supports a wide range of cameras and lenses while meeting strict performance standards. It has been rigorously tested to support a payload of 2.0 kg while still achieving a smooth, cinematic shot. Intuitive and user-friendly controls for shutter and focus are also available for most camera brands.
---
Dynamic Stabilisation
Shoot with perfect stability, even in the most challenging situations. A special Sport Mode will add extra sensitivity across all axes. Even in Sport Mode, it will maintain the stabilization levels. This makes the SC perfect for fast follows and random sudden movements and directional changes from difficult subjects.
---
Innovative Roll Axis Arm
The advanced framework of the gimbal will elevate the payload of your camera above the roll axis. It will keep the camera display unobstructed, allowing you to focus on your subject with ease.
---
Unrestricted Pan Axis
Continuous movements from the pan axis will free up your camera. This allows you to be as free and creative as possible. Awesome features like infinite 360° roll mean you can line up some highly creative and dynamic shots.
---
Impeccable attention to detail
Using years of experience in designing gimbals and stabilisation tech, the attention to detail in DJI's design is phenomenal. From detailed decisions in button and front trigger button placement to a flared battery grip; the SC is easy to hold and control. This gives you all the freedom and comfort you need when capturing the action.
---
App Powered Gimbal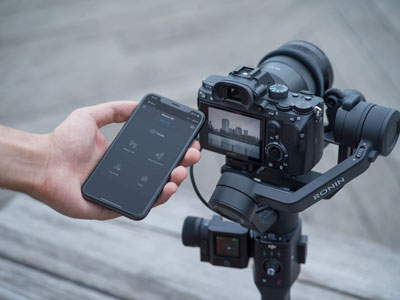 Automatic Presets
An advanced suite of preset controls makes it easy to create professional gimbal effects.
Panorama mode
Easy, accurate, automatic control will help you to capture flawless panoramic images.
Timelapse mode
Shoot stunning timelapse scenes. This tool will help you easily set up everything from a beautiful sweeping sunset to a blossoming flower.
Motionlapse mode
Add incredible motion to your timelapse videos. Sweep across a landscape in a fluid motion to create exciting establishing shots and more.
Motion Control mode
Program movement paths and replicate the exact frame you desire with ease.
---
What is DJI ActiveTrack 3.0?
DJI ActiveTrack allows you to seamlessly control the gimbal movement with your smartphone. Mount the device to the top of the Ronin-SC and realise accurate movements in realtime. This means you can focus on the shot and the task at hand. ActiveTrack 3.0 is the first version to be released for Ronin Gimbals. This promises a whole new experience for filmmakers across the globe.
Active Track 3.0 has been further developed with plenty of automation. It combines your Field of View data while tracking subjects to give a unique head and shoulder model. Accurate computer vision will detect everything in the field of view to sharpen the ability to analyse objects. This accelerates the processing power as the gimbal learns over time.
This AI is a standalone feature for DJI gimbals, found in no other brand at the time of launch.
What smartphones are compatible with Active Track 3.0?
Active Track 3.0 works with iOS Version v1.2.0, which requires iOS 9.0 or later and Android Version v1.1.8, which Requires Android 5.0 or later.
---
Introducing DJI Force Mobile
Force mobile is an app powered edition of the popular Force Pro camera movement control system. Using smartphones, you can easily tilt and rotate your mobile device to control the gimbal with ultra-low latency. This gives a fluid motion to expressive, instinctive shots.
---
Does this SC work with the DJI Ronin App?
Absolutely! Vast improvements have been made to the app to allow you to get the best from your SC. A new layout gives quick and simple access to a range of presets and three custom profiles. There are guides on camera balancing and tutorials for getting the most from the SC. A handy reference point in the field and brilliant for beginners.
---
Easy rigging, plus advanced safety features
Each arm has its own axis lock. This makes it quick to pack and stow away as well as balancing the individual pan tilt and roll axes.
A quick-release plate features a positioning block. This memorises your camera positions for a quick setup. The gimbal motors power down gradually, this makes for a hassle-free and reliable setup.

Easily spread the payments with our range of finance solutions.
Choose the finance package that suits you best.
Apply from our checkout
Easy online application
Instant Decision
We process your order

Simply choose your repayment period and choice of initial deposit. Look out for the promotional Interest Free offers.
Price of Goods: £325.00
Summary
Total amount repayable . APR representative. Annual Rate of Interest Fixed.
Finance is subject to status. Terms and conditions apply.