Why buy the Fujifilm Wireless Commander EF-W1?
Boundless creativity with the EF-W1 wireless commander from Fujifilm. The commander utilises radio-controlled wireless communications to remotely trigger diverse functions on the Fujifilm EF-60. This includes TTL mode, Manual mode and FP High-speed Sync mode. It can simultaneously control multiple remote flash units, using different settings, in up to four groups.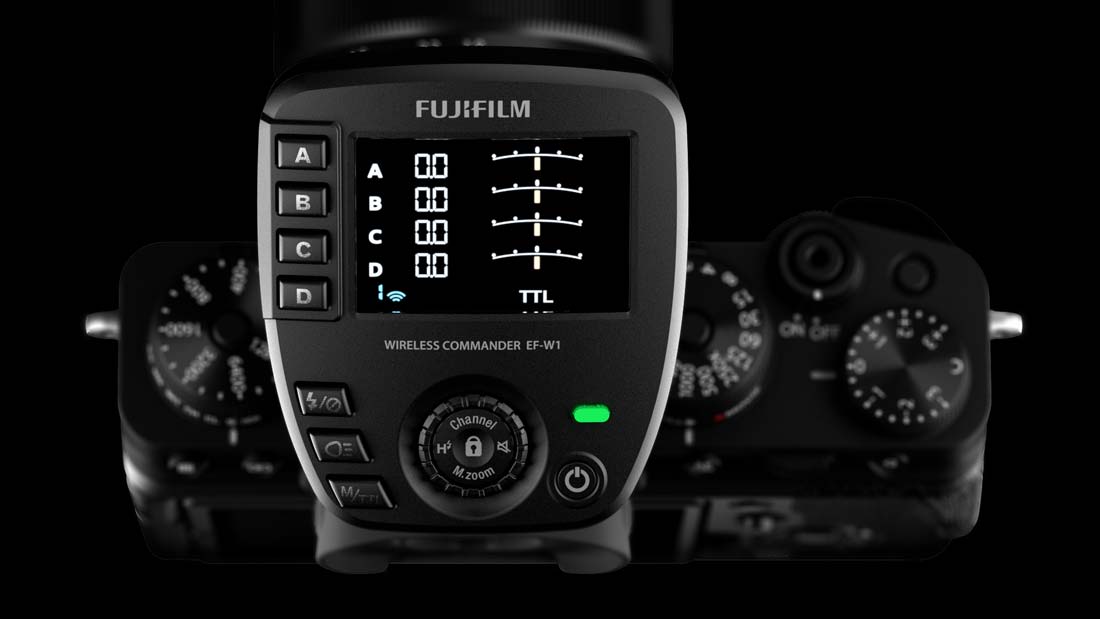 ---
High-function commander
The commander and remote flash units communicate using radio control. This means remote flashes can be placed in positions far away or out of direct sight from the commander. They can even be used in bright ambient light, giving greater freedom than conventional optical communications system. The EF-W1 uses NAS (Nissin Air System) for radio-controlled wireless communications. This means the commander makes the X Series and GFX System of digital cameras compatible not only with the EF-60 but also with a variety of NAS-based speedlights offered by Nissin Japan Ltd.
---
Refined output control at 1/3EV increments with the minimum output of 1/256
The EF-W1 allows you to control the output in 1/3EV increments in both TTL and Manual modes. When using Manual mode, the output level can be reduced as low as 1/256. This ability to fine-tune the flash output gives more control, allowing the photographer to better express their creativity.
---
Which cameras are compatible with the Fujifilm Wireless Commander EF-W1?
There is limited compatibility with some X Series and FinePix cameras equipped with a hot-shoe. Please visit https://fujifilm-x.com/support/compatibility/accessories/ for latest compatibility information.
GFX100, GFX 50S, GFX 50R
X-H1, X-Pro2, X-Pro3, X-T1, X-T2, X-T3, X-T4, X-T20, X-T30, X-E3, X100F, X100V
---