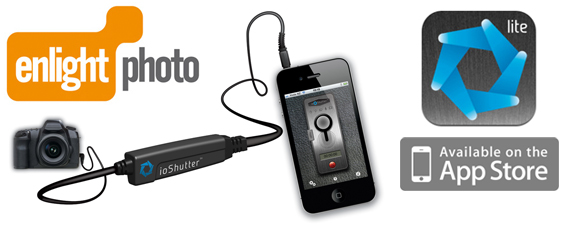 Enlight Photo ioShutter Release Cable Canon E3/MJ

ioShutter™ is the world's first fully-functional shutter release system for the iPhone, iPad and iPod touch.

ioShutter™ opens up an exciting world of remote shutter release photography with programmable and upgradable timers, time-lapse, bulb for long exposures, ClapToSnap™ sound trigger, ShakeToTake™ movement trigger and more!

ioShutter™ release cable works in conjunction with the ioShutter™ App and you will need both in order to control your camera.

The ioShutter™ App is available to download from the iTunes store now – there is as a free Lite version with basic and extended features and a Pro version with fully customisable features. Please note the ioShutter™ App does not work with your device's built-in camera.

You may like to explore the functionality of the App before you order so you'll be ready to start shooting as soon as your ioShutter™ cable arrives… So, once you've downloaded the App, open it and simply switch 'Reminders' to OFF in 'Settings', which will remove the "Plug in your cable" popup.




What can I use the ioShutter™ for?


night photography
studio photography
astro photography
making time-lapse films

ioShutter™ CONTROLLER COMPATIBILITY

iTouch g4 (not compatible with iPod touch g3, g2 or g1)
iPhone 3S, 4, 4S
iPad, iPad 2
ioShutter™

CAMERA COMPATIBILITY?


Canon G9, G10*, G11*, G12, 60D*, 1000D, 1100D, 600D, 100D, 550D, 500D, 450D*, 400D, 350D, 300D, EOS Digital Rebel series*, Kiss F, X5, X4, X3, X50, XS, Elan II/ IIE, Elan 7/7E, Rebel Ti, T1i, T2i
Pentax Super, K100D*, D110D, *ist Ds2, +ist D, +ist Ds, *ist, *ist DL
Samsung GX-20, GX-10*, GX-1L, GX-1S
Hasselblad H1, H2*, H3, H4*
Contax 645* (dependent on your back)