LEE Filters LEE85 Discover Kit
Introducing the Lee Filters LEE85 Discover Kit. Designed specifically for those who enjoy the portability of a compact system camera but want the creative power and control that filters have to offer.
The kit contains everything you will need to get started with landscape photography including the LEE85 Holder and the 0.6 Neutral Density Medium Grad, the most useful first filter for landscapes.
---
LEE85 Holder

The LEE 85 holder is lightweight, compact and has been completely redesigned to offer all the features a photographer needs.

The locking dial enables the holder to be quickly and easily attached and securely locked on the adapter ring. The locking dial also has 3 possible settings: neutral, half lock and full lock to offer full flexibility when rotating and adjusting your filters.

Just like the LEE100 System, the LEE85 filter guides come with one, two or three slot options. The versatile guide blocks can be easily swapped so that photographers can use up to three filters at the same time.

The LEE85 shares the same clever design features and benefits as the LEE100. These enable better performance and more ergonomic handling

0.6 Neutral Density Medium Grad

Included in the Discover Kit is the LEE85 Neutral Density 0.6 (2 stop) Medium Grad. The medium gradation is perfect to filter the sky with minimal impact on the land and offers a moderate gradation between the dark and clear areas of the filter. This allows the photographer to selectively adjust exposure across the frame without affecting colour balance.

The filters have harder than usual grad lines to compensate for smaller sensor sizes and come in a range of strengths denoting the light stopping power of the dark area of the filter - from 1 to 3 stops.

It also features a new grip tab, which increases the visible area and keeps fingerprints off of the filter zone.
---
LEE85 System Pouch
The LEE85 System Pouch holds a LEE85 Filter Holder, Polariser and Filters. Inside it features a handy concertina design with one slot per filter and comes with three strap options: over-the-shoulder strap, belt loop, or tripod strap.
LEE85 Adaptor Rings
Included in the kit is a set of 72mm, 67mm and 58mm Adapter Rings - all of which are wide-angle - as these are the most common sizes. There is a wide range of other adapter ring sizes ranging from 37mm up to 72mm which can be purchased separately.
---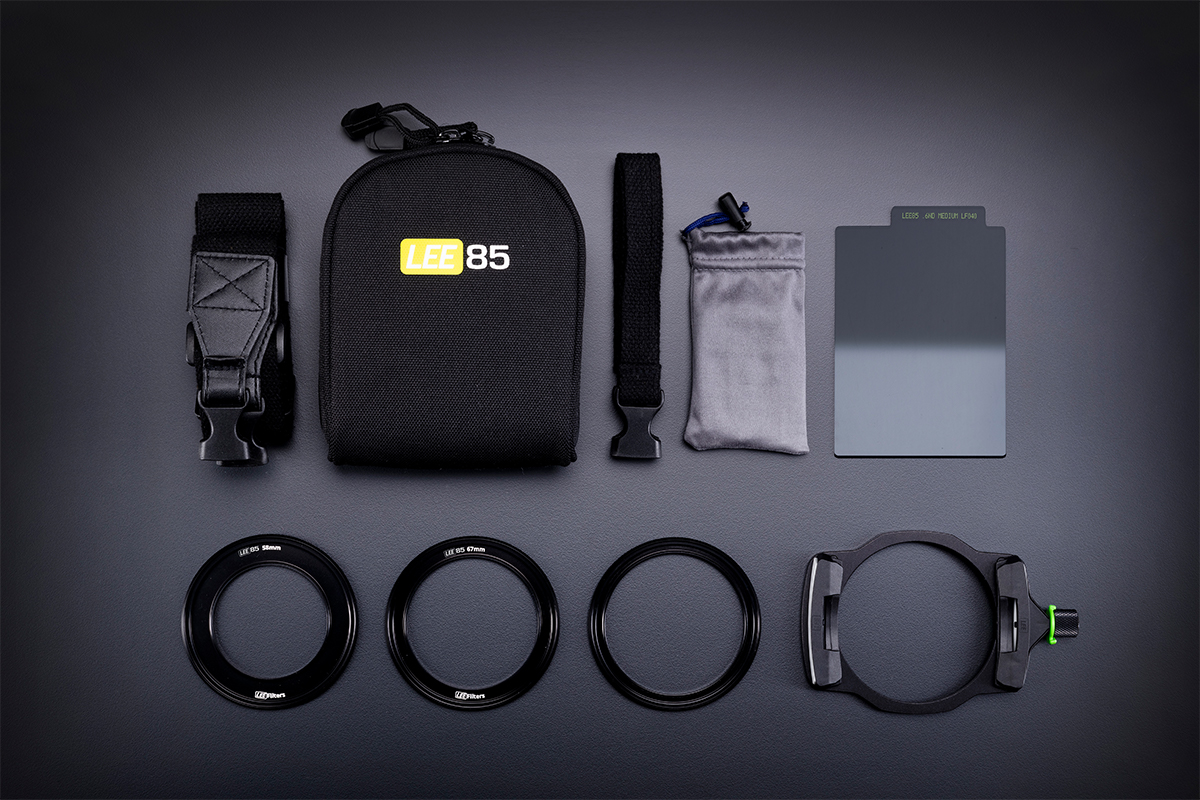 What's in the box?
LEE85 Holder with additional spares
LEE 0.6 Neutral Density Graduated Medium
LEE85 System Pouch with shoulder strap and belt loop
Lens adapter rings (72mm, 67mm, 58mm)
---