Vaonis Hestia
Find out more here!
---
The Vaonis Hestia is the first-ever smartphone-based telescope, making astronomy accessible to anyone. Ultra-light at only 500g and easy to use with the Gravity by Vaonis app. The cutting-edge technology lets you simply place your smartphone on Hestia's ocular for instant exploration.
A patented six-lens optical design featuring a 30 mm (1.2-inch) objective and prisms allow light to be collected and focussed into your smartphone's camera sensor getting sharp, detailed images that bring you closer to the stars.
---
---
Built for smartphones
Future-proof your stargazing and let your friends capture shots on their phones, with the system of removable magnets that accommodate any size of current or future smartphone. The Hastia also requires no power source besides your phone, adding to its travel-friendly and lightweight design.
With upcoming eclipses in North America in 2024 and Europe in 2026, as well as a whole universe to explore, there's no better time to make your first step into astronomy.
---
Enhanced vision
Image live stacking technology allows you to see star clusters, galaxies, or nebulae, normally invisible to the eye. This works by combining and aligning multiple short-exposure images into a single high-quality photo, giving enhanced brightness, colour and depth to your astronomy shots.
---
User-friendly app
Use the Hestia companion app (Gravity by Vaonis) as a day or night guide to help align the device with the celestial object of your choice and view the cosmos no matter the lighting conditions. With a number of educational descriptions, up-to-date data on things like solar activity, and an interactive sky map, the Gravity by Vaonis app is perfect for beginners and enthusiasts alike.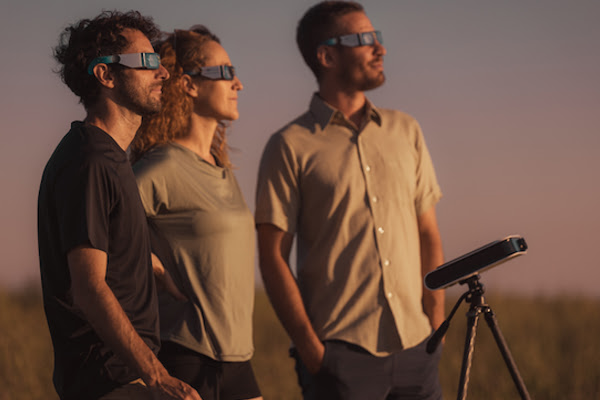 ---
Any questions?
If you have any further queries relating to the product or anything else; please don't hesitate to contact our friendly team of experts. Click here or use our live chat feature below.