Canon EOS R5 Development Announcement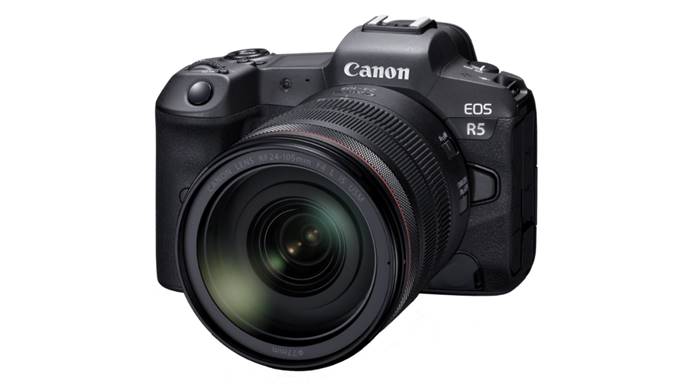 On 13th February 2020, Canon announced the development of the Canon EOS R5 - a full-frame mirrorless camera. Canon's decision to create this new marvel has been fuelled by customer feedback. The latest addition to the EOS R System sees the planning of a camera with rapid performance and 8K video. Plus great features like superb image stabilisation.
We'll be bringing you all the latest on the price and specifications. Stay tuned to find out when you can preorder the EOS R5 on its release date.
---
**NEW Announcement from Canon**
On Monday 20 April 2020, Canon proudly confirmed further specifications on the brand new EOS R5. This time, we have been introduced to the filming capabilities which we'll detail below, but it certainly looks like Canon are packing this new mirrorless system with an almighty punch. Canon have confirmed the ability to record 8K RAW (non-cropped) up to 29.97fps, which place the EOS R5 at the top of the pile when it comes to high-end production such as commercials, dramas and documentaries.
8K RAW – non-cropped, internal recording up to 29.97fps
Non-cropped, internal recording 8K video capture – up to 29.97fps in 4:2:2 10-bit in Canon Log (H.265) or 4:2:2 10-bit HDR PQ (H.265)
Non-cropped internal recording 4K video capture – up to 119.88fps in 4:2:2 10-bit in Canon Log (H.265) or 4:2:2 10-bit HDR PQ (H.265)
4:2:2 10-bit in Canon Log or 4:2:2 10-bit HDR PQ output via HDMI at 4K 59.94fps
Dual Pixel AF is available in all video modes at all resolutions and frame rates
5 axis optical IBIS/ enabling Lens IS and camera IBIS to be combined
Dual card slots – 1x CFexpress and 1x SD UHS-II
High-Speed Mirrorless Photography
Canon promises high performance from the EOS R5. Particularly with high-speed continuous shooting. We've been told the R5 will shoot at a lively 12 fps on the mechanical shutter. The electronic shutter takes frame rates one step further by capturing at 20 fps.
The rapid performance is paired with the EOS R range's renowned image quality. This should offer the ideal package for wedding and wildlife photographers and beyond.
---
Superior stabilisation
The R5 is set to lead the way in image stabilisation. An all-new in-body stabilisation system will work harmoniously with the lens stabilisation system. This is set to produce sharp stills and smooth 8K video.
---
Futureproof video
Canon aims to futureproof the R5 by offering users Cinematic Quality 8K video capture. The R5 will offer 4x the resolution of current industry-standard 4K video. It does this by allowing you to shoot 8K wide, cropping to 4K when required.
---
Connected workflow
The R5 is set to support your workflow as a photographer. Automated image transfer will be possible directly from the camera to the Canon Cloud platform. This means you can almost instantaneously view and share your work on other devices. There will be dual card slots as well for peace of mind.
---
Register your interest
Get the latest on the Canon EOS R5 release by registering your interest below.
You can also tick to subscribe to the Clifton Cameras newsletter for regular offers, blogs, events and new releases.