Easily spread the payments with our range of finance solutions.
Choose the finance package that suits you best.
Apply from our checkout
Easy online application
Instant Decision
We process your order

Buy Now - Pay Nothing for 6 Months, means buy now and pay in full before 2/10/2020 (approx.) plus a £29.00 settlement fee and you will be charged absolutely no interest. You will be contacted by V12 Finance before the interest free period ends to explain your options. If you have not paid this sum in full by that date, interest of 19.9% APR representative will be charged from the date we told you your agreement was live. If you have made any partial repayments prior to this, interest will be charged only on the amount of credit that remains unpaid.
Price of Goods: £479.00
Summary
Pay 0% Deposit
Loan Amount £479.00
Total Payable on 2/10/2020 - £479.00 + £29.00 settlement fee
Cost of loan if paid by 2/10/2020 = £0.00
Finance is subject to status. Terms and conditions apply.
Feiyutech AK2000 HyperLink Kit
This fantastic kit comprises of the Feiyutech AK2000 3-Axis gimbal, the AK series Follow Focus II and the Hyperlink Remote Control.
This handheld gimbal is capable of carrying up to 2.8KG, has a multi-function "Spiritual Window" LCD touch-screen for easy control, Wifi and Bluetooth functionality and a high capacity battery that provides up to 12 hours of battery life.
Combine this with the Follow Focus II, which provides precise control of focusing, and you have a perfect set-up for smooth, shake-free motion whatever your shooting.
With the addition of the wireless remote, you can control the movement and sensitivity of the gimbal at a distance of up to 15 metres.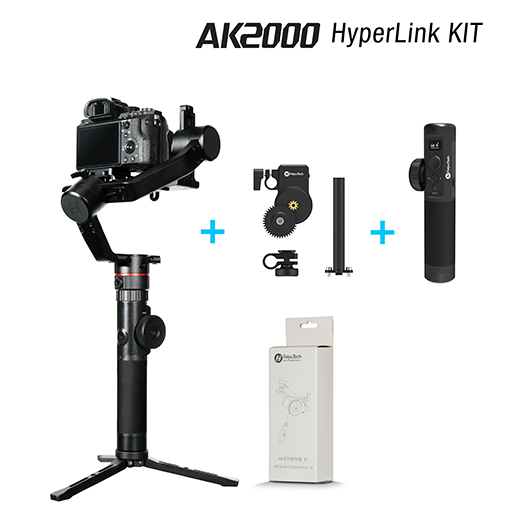 What is included in the Feiyutech AK2000 HyperLink Kit?
Feiyutech AK2000 3-Axis gimbal
AK series Follow Focus II
Hyperlink Remote Control
Feiyutech AK2000 3-Axis Gimbal
With a super-strength load-carrying capacity of 2.8KG and smart stability algorithms, the FeiyuTech AK2000 3-Axis Gimbal will give you comfort and confidence in the most intense of shooting situations and functions with most SLR and lens combinations.
This handheld gimbal has many superb features such as a real-time follow focus, a multi-functional Spiritual Window touch screen and a diverse Magic Ring giving the user full control over the gimbal and camera.
What are the main features of the Feiyu Tech AK2000 3-Axis Gimbal?
2.8KG Payload capacity
With a maximum load weight of 2.8KG, this gimbal will work beautifully with many SLR and Cinema Camcorders.
Spiritual Window
This nifty LCD touch panel will allow users to easily control many functions including follow focus, zoom, ISO, white balancing, scene-setting, auto-rotation, motor speeds and more.
Magic Ring
A multi-functional and precise control ring allows you to adjust zoom, follow focus and the tilt/roll/pan of the three-axis gimbal.
12 Hour Battery Life
A high capacity battery allows up to 12 hours of play.
Double connectivity
Wifi & Bluetooth functionality in the controls allows for a wide range of connection options.
1/4 thread connection
Easy to install accessories onto the pan motor of the gimbal with a convenient 1/4 thread hole.
Carbon fibre extension pole:
Comfortable and light, this makes the gimbal perfect for reaching the impossible.
Feiyutech AK series Follow Focus II
Used to provide precise focus control in conjunction with the FeiyuTech AK Series gimbals.
Compatible with both the AK2000 and AK4000.
FeiyuTech HyperLink Remote for AK Series Gimbals
This wireless remote is a great addition that gives you the ability to control the gimbal within 10-15 metres. The remote allows you to control the movement and sensitivity of the gimbal.
How do I use the Feiyutech Hyperlink Remote?
The LCD display found on the handle displays key information for the operation of the gimbal including shooting mode, Bluetooth connection, power level and follow focus distance bar.
The joystick/4-way rocker is used to pan and tilt the camera or as an option select control. It also comes with a function button, shutter button and setting button to access the menu.
What is Motion Sense Mode on the FeiyuTech Hyperlink remote?
The trigger button on the back of the remote allows the user to initiate and cancel 'Motion-Sense Mode'. When active the gimbal will follow the movement of the remote control in the user's hand. To pan and tilt the camera simply move the remote side to side to pan or up and down to tilt. When this mode is active joystick and button control will not work.
The 'Multifunction Knob' on the side of the remote can be used to make fine-tuned adjustments to various features selected by pressing down on the knob and changing the control object.
This remote has a USB Type-C port for charging and a 1/4 inch mount for using accessories including the mobile phone clamp that is included with the remote so that you may use your phone as a monitor.
What is included with the FeiyuTech Hyperlink Remote?
USB C to USB A cable
Mobile phone clamp
18650 Battery
Adaptor for fitting phone clamp or other accessories