8 Tips for Capturing Spring
While winter presents some great photographic opportunities, it's typified by dull, grey days. Naturally, the first signs of spring are a welcome sight for most photographers, with lush green growth and flowers injecting some colour into the landscape. Here are our 9 top tips for securing some great shots of spring:
1. Boost colour
Take a look at your camera's Picture Style, Picture Control or Film Simulation modes and you'll find that there's a setting to boost colour. In some instances, this setting will be called 'Vivid', but many cameras also have a 'Landscape' option that enhances blue and green tones.
If you're shooting raw files, you can bump up the colour saturation at the editing stage.
2. Use the Daylight White Balance setting
Although the Automatic White Balance setting may deliver a decent result, most cameras produce more attractive images outdoors when the Daylight White setting is selected.
3. Use the Adobe RGB colourspace
Most cameras offer two colourspace settings: sRGB and Adobe RGB. Adobe RGB includes a greater range of colours than sRGB, and the majority of the gain is in the green range — an important area for spring landscapes. Consequently, setting the Adobe RGB may enable you to capture more vibrant spring images, with greater tonal variation and better gradation in jpegs.
Raw files don't have a colourspace assigned to them until they are converted to another file format, so if you only shoot raw files, the colourspace isn't important. If you shoot raw and jpeg files simultaneously, or just jpeg files, stick with Adobe RGB.
4. Shoot a mass of colour
While individual flowers can be very attractive, it's often the mass of flowers that attracts us to a scene. Shooting from a low angle closes the gaps between flowers that are visible from higher-up, helping to accentuate the colour.
Rather than walking close to the flowers, consider shooting from further back and from a low angle, using a telephoto lens so that the background blooms become a blur of colour behind a sharp foreground flower.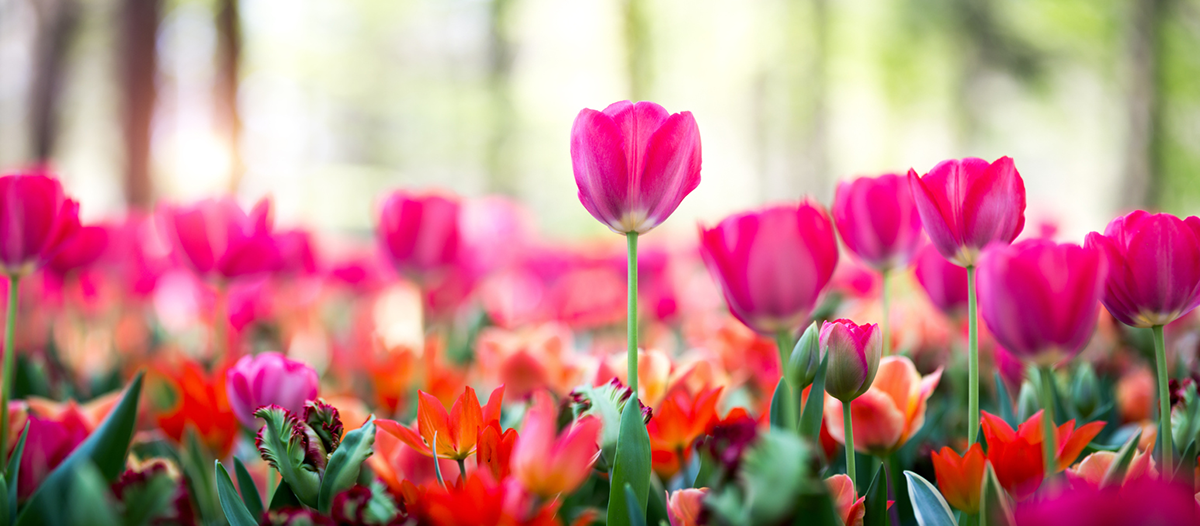 5. Use backlighting
A macro lens is a great choice of optic in spring, as it will let you get close to tiny flowers, catkins and buds so that they fill the frame. Spring flower petals and early leaves are very delicate, which means you can get great images when they are backlit, to bring out their colour and intricate structure.
6. Dull is good
While the low spring sun is great for providing backlighting, dull and overcast days are also good for shooting macro subjects. The soft diffuse light enables you to capture lots of detail, without harsh highlights and shadows spoiling the image.
Before you start shooting, check over the flower and make sure you have a good specimen — with no brown bits or damage. Take the time to look at the background and find an angle that will make the best of the bloom.
7. Shoot wide open
Small apertures are usually the order of the day for macro and landscape photography. But don't rule out shooting with a large aperture to isolate your subject against a blurred background.
8. Shoot early in the morning
If you can, go out to shoot early in the morning while the dew is still visible — it adds a little extra sparkle to images and makes flowers and buds look super-fresh.
By Matthew Ward
2 Mar 2017