Fuji GFX 50S
Fujifilm GFX 50S
Fuji's GFX 50S is one of the most exciting photographic announcements of 2016 and it's expected to go on sale in early 2017 – so before the year turns, let's take a look at what all the fuss is about.
Fujifilm has a rich history in photographic manufacturing that goes back 80 years – and its X-series of digital cameras, first introduced with the X100 in 2011, is widely respected. In a move that draws on the company's experience of making medium format film cameras as well as the X-Series models, the company has announced a digital medium format camera: the GFX 50S.
Inside the GFX 50S is a 43.8 x 32.9mm CMOS sensor with 51.4 million effective pixels. That means that although the GFX 50S has a bigger pixel count than the 24Mp Fuji X-T2 and X-Pro2, the pixels on the sensor are bigger and that's good news for image quality. The Fuji X-T2 and X-Pro2 both produce superb quality images, so the GFX 50S's image quality should be stellar.
Having a sensor with lots of pixels also means images can be cropped, or alternative aspect ratios of 3:2, 1:1, 4:5, 6:7 and even 6:17 can be used along with the native 4:3 ratio, without worry that image quality will suffer unduly.
Like Fuji's interchangeable lens X-Series cameras, the GFX 50S is mirrorless, which means it's smaller and lighter than most other digital medium format cameras. It also means that the built-in electronic viewfinder and the rear screen can show the image as it will be captured, taking into account the camera settings.
Unusually for a digital camera, but like some of the great medium format film cameras, the GFX 50S's viewfinder can be removed to make the system even lighter. What's more, with the addition of an optional adapter, the viewfinder can be moved in different directions to make it easier to see when you're shooting from a range of creative angles. Additional good news is that the screen can be tilted and is touch-sensitive.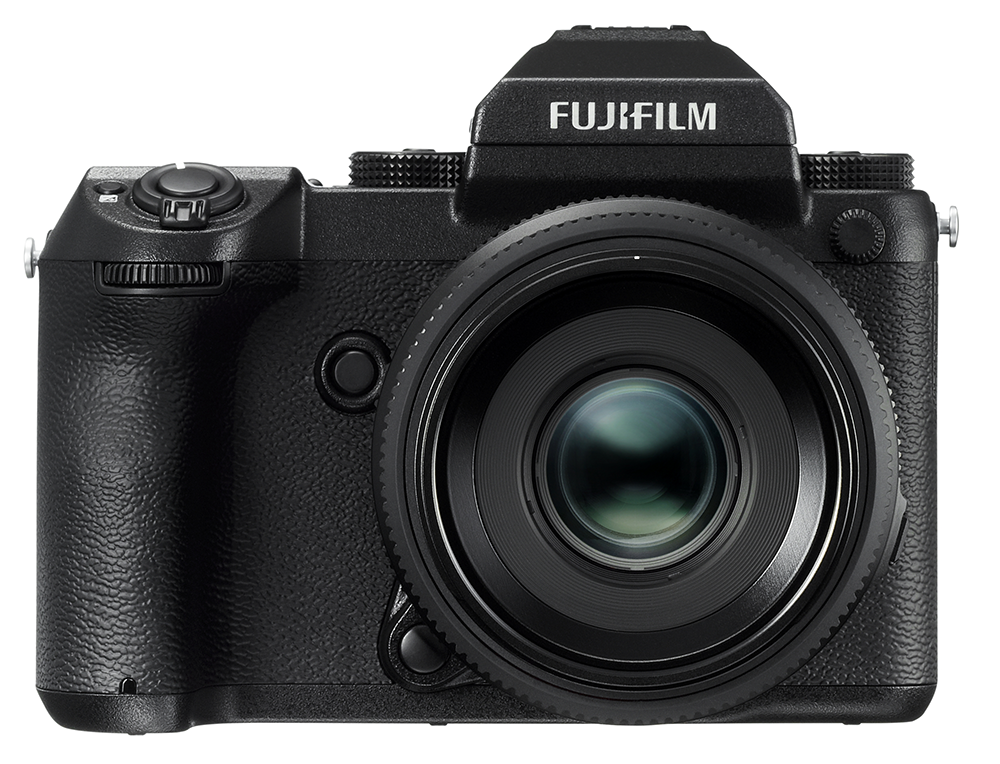 Looks familiar
There's still lots to be revealed about the Fujifilm GFX, but it looks and feels like a slightly larger X-T2 and has a similar menu structure and control layout. That means there's a shutter speed dial with settings running from 1-1/400second on the right of the top-plate and a sensitivity (ISO) dial on the left with settings running from ISO 100-12,800.
In addition, the new lenses have an aperture ring to set aperture quickly and easily. However, it's also possible to enable the aperture to be adjusted via a dial on the camera body.
As with the X-Series cameras, the sensitivity, shutter speed and aperture controls have 'A' for automatic settings so the GFX 50S can be set to manual, shutter priority, aperture priority and program mode.
New lenses
Introducing a new camera format means introducing new lenses. The GFX 50S has a mount that has been dubbed the Fuji G mount, and it has a back flange depth of just 26.7mm so the back focus distance is very small and the camera system is compact. This construction helps reduce vignetting and increases edge-to-edge sharpness.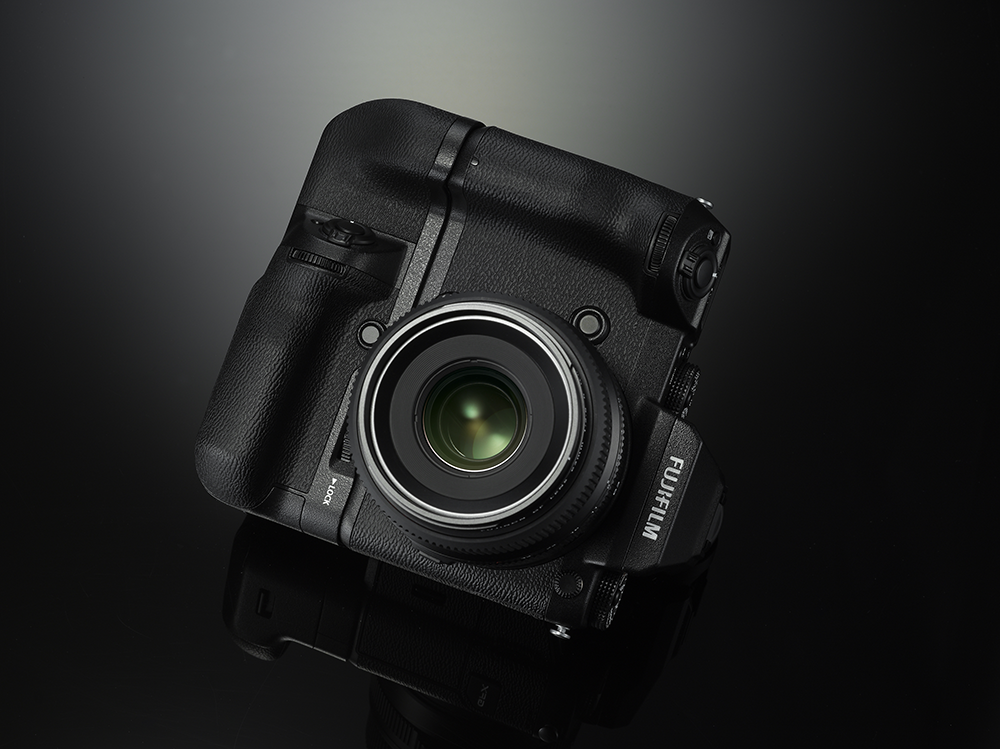 When it goes on sale in early 2017 there will be three lenses available for the GFX 50S: a standard prime (GF 63mm f/2.8 R WR), that is equivalent to 50mm on a 35mm format camera, a wide-angle standard zoom (GF 32-64mm f/4 R LM WR) that's equivalent to 25-51mm and a telephoto macro (GF 110mm f/2 R LM WR) equivalent to 95mm.
A further three lenses will be available by the end of 2017, a fast mid-telephoto lens (GF 110mm f/2 R LM WR) equivalent to 87mm in 35mm format, an ultra-wide lens (GF 23mm f/4 R LM WR) equivalent to 18mm and a wide-angle lens (GF 45mm f/2.8 R WR) equivalent to 35mm.
By Matthew Ward
9 Dec 2016