Introducing Sue Flood
Sue Flood Photographic Journal
Photographic tips and fantastic images from around the world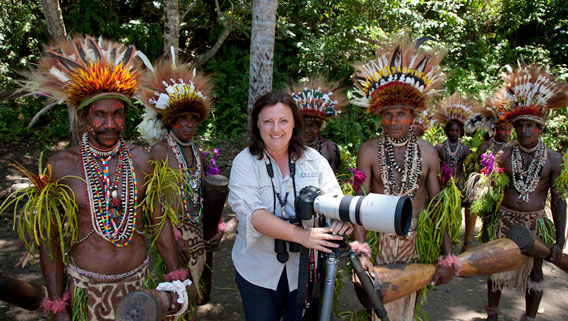 Sue Flood is a professional and award-winning wildlife and travel photographer. Sue has been working in the Polar regions since 1998, although her work increasingly takes her to warmer climes to thaw out.
Sue was born in North Wales and attended The Queen's School, Chester. A Durham University zoology graduate, she went on to become a wildlife film-maker, spending 11 years with the world-renowned BBC Natural History Unit in Bristol. Sue was an assistant producer on the award-winning BBC series The Blue Planet and also worked on Planet Earth and the Disneynature movie Earth. Films that Sue produced for the BBC include Polar Bears on Thin Ice, A Boy Among Polar Bears, Killer Whale and a short on blue whale science for The Life of Mammals. She left the BBC in 2005 to concentrate on her photography and was thrilled to be taken on by Getty Images.
Sue's adventures on more than 30 trips to the Arctic and Antarctic have taken her from camping at -40°C, working on Russian icebreakers on trips to the North Pole and living with Inuit hunters on the floe edge, to diving with leopard seals in the Antarctic. Sue has also travelled extensively to other parts of the world, from the Russian Far East, Vietnam, Japan to Africa and throughout the South Pacific. But it is the Polar regions that draw her back again and again for their stark and remote beauty, spectacular landscapes and superlative wildlife experiences, so it was natural that her first book and solo exhibition at the Getty Gallery, sponsored by Canon, featured some of her favourite images from Cold Places.
Sue is passionate about the use of still and moving images to engage people's interest in the natural world. She regularly lectures on her experiences of wildlife film-making and photography to expedition travel companies, corporate organisations, as well as schools and universities, with the aim of inspiring people to protect the planet.
As well as having produced documentaries for the BBC and others, Sue has also appeared on screen, most recently in the National Geographic series "Cameramen who dare", where the very close encounter she had whilst filming a humpback whale in Tonga was featured!
Sue also enjoys guiding for wildlife and travel photography trips and in 2013 will be guiding on trips to the Amazon, Zambia, Rwanda, Svalbard and Kenya.
| | |
| --- | --- |
| | |
Recognition of Sue's work includes the following: December 2012 – chosen for National Geographic and Canon advertising campaign, "Wildlife as Canon Sees It". 2012: Travel Photographer of the Year, recognition in nature category; International Photographer of the Year – honourable mentions in the Nature and travel categories; 2011: International Photographer of the Year – prize-winner for best nature book, and also Travel and Tourism award. 2010: International Photographer of the Year prize-winner; selection for Royal Photographic Society International Print Exhibition. 2009: International Photographer of the Year – Travel and Tourism winner for a portfolio of images from the Ross Sea, Antarctica; Travel Photographer of the Year – best single nature shot. 2008: the Art Wolfe (Best of Festival) Award in the International Conservation Photography Awards; Royal Photographic Society Silver Medal.
Her career highlight was to be invited to meet Her Majesty the Queen, at Buckingham Palace in 2011 as a result of her photography.
Sue lives in North Wales, though she is often to be found in some far-flung location. She is represented by Getty Images.
All images copyright Sue Flood