Jaguar F-Type Coupe Launch
December 2013 - Jaguar F-TYPE Coupé Launch.
There are so many elements to being an 'automotive photographer'; from on-racetrack action to in-studio statics, executive portraits of the board of directors to still lifes of car accessories, this job is nothing if varied. Take motor shows for example. One of my main clients, Jaguar Land Rover, has a big presence at most major motor shows, where more often than not they reveal new models for the first time. This year's Los Angeles Autoshow at the end of 2013 was a major one for the company, particularly Jaguar, who chose the show to reveal the beautiful F-TYPE Coupé.

For the reveal, Jaguar rented an enormous hangar in the Playa Vista area of Los Angeles to put on a pre-show launch party for several hundred VIP guests. The historic wooden hangar was where Howard Hughes' huge Spruce Goose aeroplane was built in the 1940s, and for the reveal event it had been dressed by London-based agency Imagination for a spectacular, high-speed dynamic launch - culminating in a 90mph run with the car driving underneath the audience platform.

My job, alongside fellow stills photographer David Shepherd, was to capture all areas of the event, both for a news release immediately after the event and also for posterity. This brief included everything from portraits of celebrities, to capturing the set up, pre-reveal party and dynamic launch. Once again, the excellent Canon EOS 1DX's* low-light capability was a life saver. Everything was shot at a minimum of 800 ISO, and mostly at ISO 1600/3200. In the past, these high ISO speeds would have meant huge amounts of grain and noise, but nowadays it's safe to shoot at high ISO without worrying about pictures that are barely usable.
*(Discontinued - See Canon EOS 1DX Mark III)

After the reveal event, we had the show itself to do; which included covering the 30 minute press conference, being available for portraits of key execs if required by media and producing a record of the show stand and the vehicles on it. As show stands are well lit, this was relatively straightforward at 800 ISO - although the crowds on the stand made it a little tricky to get full shots of the vehicles.

Of course, Jaguar Land Rover's products aren't just about sitting indoors and looking pretty, so there were also a number of dynamic activities away from the show in the Los Angeles area, which we also had to cover. There were a number of first drives for key international media in the new Range Rover LWB as well as the full JLR range, and I also had to cover a road trip feature with a journalist from the German publication Auto Zeitung. On top of that, we also had to do an indoor static shoot with the Jaguar C-X17 concept car together with the F-TYPE Coupé and a design and technology seminar that took place in another hangar at Santa Monica airport. It was a busy few days…!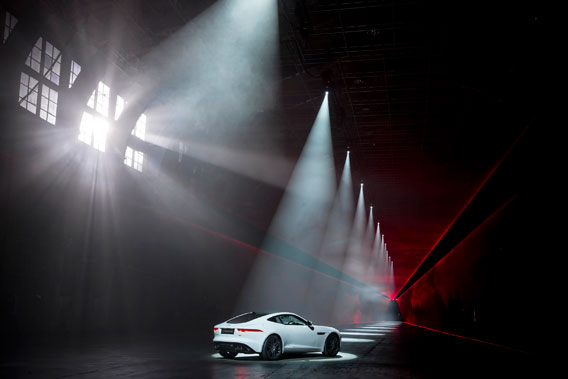 A lighting designer and a full complement of powerful HMI lights, lasers and smoke turned the empty warehouse into an atmospheric location to shoot the stunning Jaguar F-TYPE Coupé.
Canon EOS 1DX Body, Canon EF 24-70mm f2.8L II USM Lens. Gitzo Systematic GT5562GTS tripod.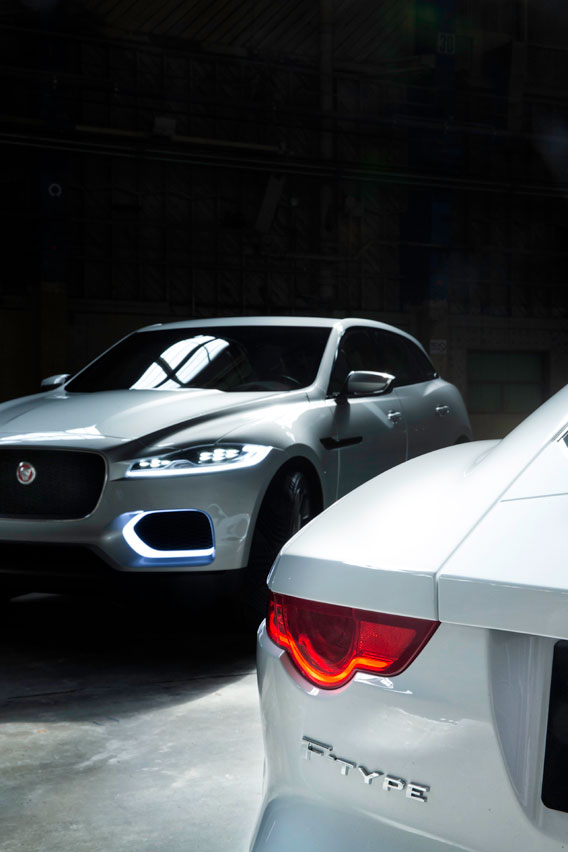 As well as the F-TYPE Coupé to shoot, we also had Jaguar's C-X17 concept to photograph. This shot was done using natural light in the hangar.
Canon EOS 1DX Body, Canon EF 24-70mm f4L IS USM Lens. Handheld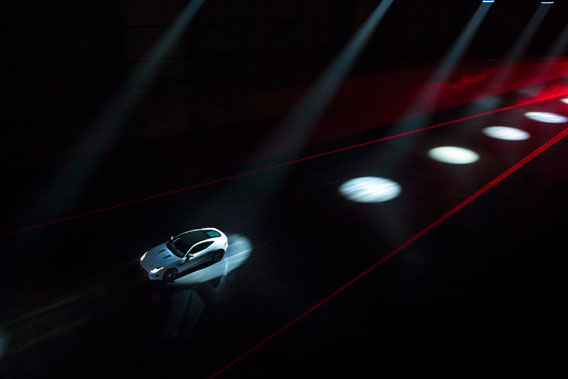 The climax of the F-TYPE reveal was a dynamic 90 mph run down the length of the hangar, with the car driving underneath the audience who were up on a raised auditorium. Prior to the reveal, we did some shots of the dress rehearsal in order to get some different angles. This view was shot from a walkway at the side of the hangar, and is a lucky pan shot where the car is sharp and the background (or what you can see of the background in the dark, at least!) is blurred. The low-light capability of the EOS 1Dx proves its worth again!
Canon EOS 1DX Body, Canon EF 24-70mm f4L IS USM Lens. 1000 ISO.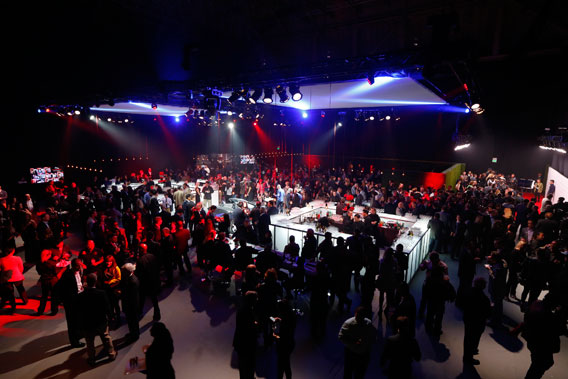 Before the reveal, Jaguar's invited guests enjoyed some pre-event drinks. Once again, great lighting provides a great record shot, and thanks to the 1Dx's high ISO capability, I was able to shoot handheld.
Canon EOS 1DX Body, Canon EF 16-35mm f/2.8 L II USM Lens (succeeded by the Canon EF 16-35mm f2.8L III USM Lens). 1600 ISO.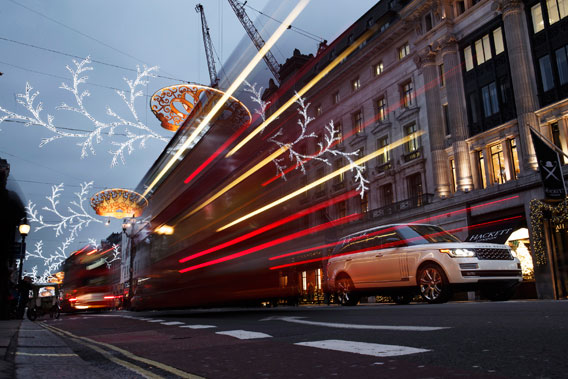 As well as the LA Show, I also had to do a set of shots of the new Range Rover LWB in London for a magazine feature about high-end Christmas shopping. Here the vehicle is parked on Regent Street and photographed with a slow shutter speed, allowing a passing bus to add some extra interest.
Canon EOS 1DX Body, Canon EF 24-70mm f4L IS USM Lens.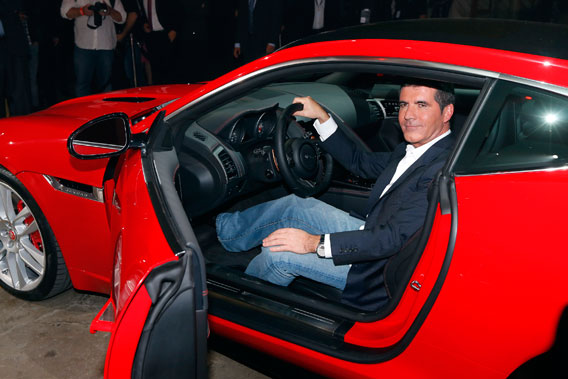 A number of celebrities turned up at the Jaguar launch in LA, including Simon Cowell. A quick grab shot with the Speedlite 600EX-RT on-camera flash got the shot that Jaguar wanted.
Canon EOS 1DX Body, Canon EF 24-70mm f4L IS USM Lens. Canon Speedlite 600EX-RT Flashgun (discontinued - see Canon Speedlite 600EX-RT II.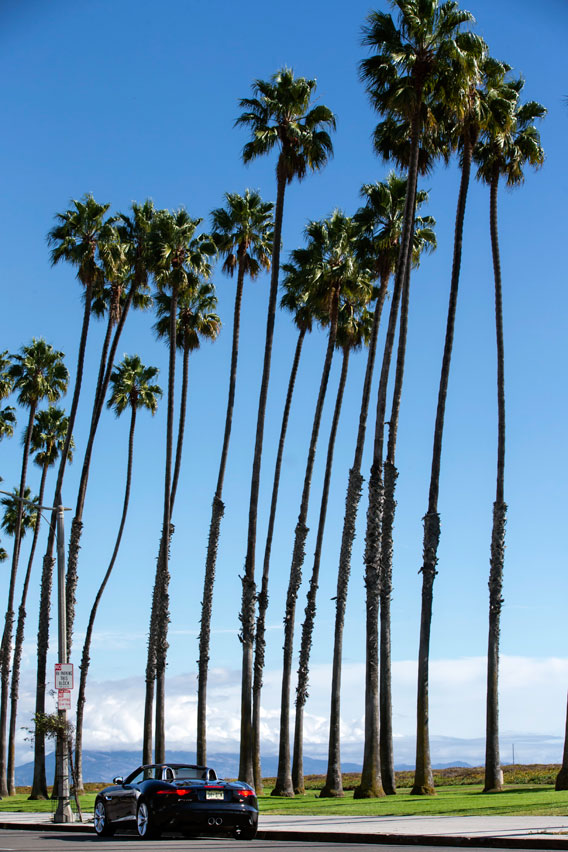 After the show, I had to do a set of photos with an F-TYPE convertible for a German magazine, who were doing a story about a day's drive out on the West Coast. The palms at Santa Barbara gave us a nice background that is typically Californian.
Canon EOS 1DX Body, Canon EF-70-200mm F2.8L IS II USM Lens (succeded by the Canon EF 70-200mm f2.8L IS III USM Lens).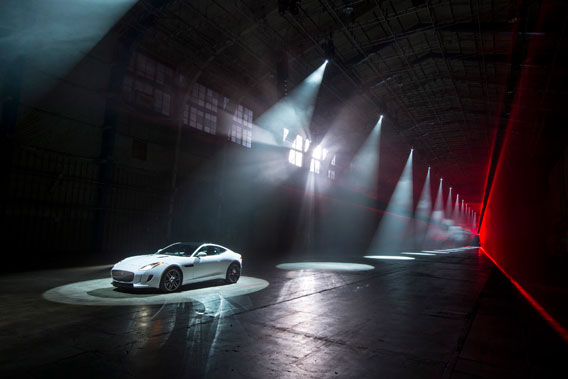 Reverse angle of the rear shot taken in the hangar, shot the day before the reveal. Within seconds of the F-TYPE Coupé being revealed at the location in Los Angeles, this shot and others were beamed around the world to announce the new car's arrival.
Canon EOS 1DX Body, Canon EF 24-70mm f2.8L II USM Lens. Gitzo Systematic GT5562GTS tripod.
By Nick Dimbleby
10 Dec 2013