Legend of the Lens | Annie Leibovitz
Note: This series of posts celebrating the work of contemporary photographers was conceived of and written prior to the realisation that we would be very limited in the images we would be able to include to support the writing. We apologise if this negatively impacts your reading experience.
---
Born Ann-Lou Leibovitz in October 1949, Annie Leibovitz started out studying painting but discovered an interest in photography and studied it in night classes. In 1970 she began working for Rolling Stone magazine and in 1972 she became the magazine's chief photographer. By the time Leibovitz left Rolling Stone Magazine to join Vanity Fair in 1983, she had shot 142 covers.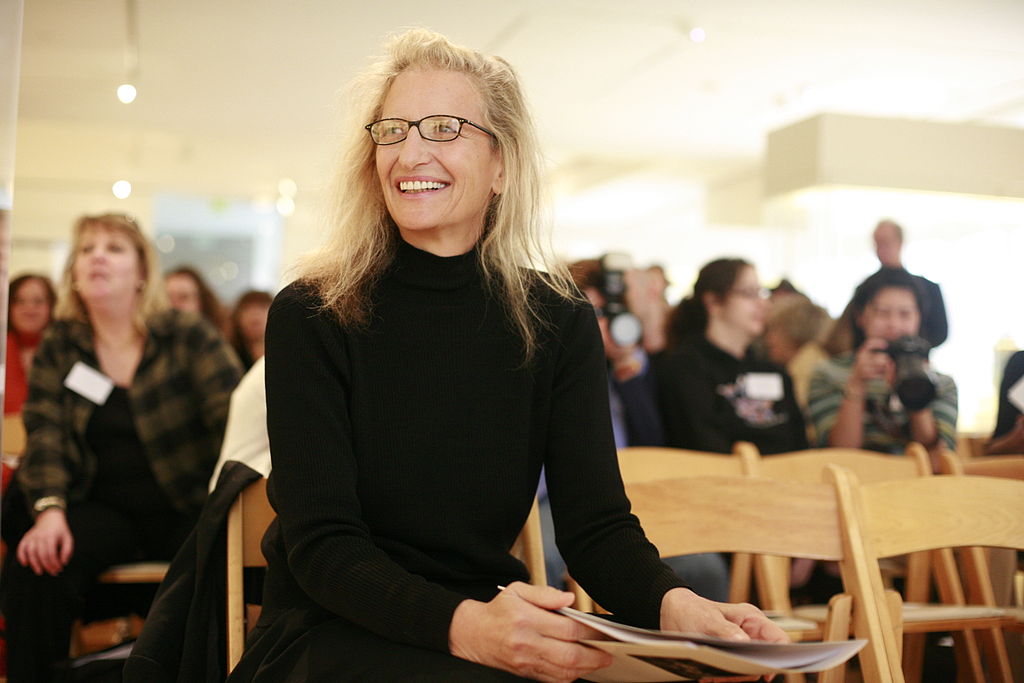 Photo: Robert Scoble License CC BY 2.0
During her time at Rolling Stone, Leibovitz joined The Rolling Stones on their 1975 American Tour, capturing behind the scenes images and portraits of the band. Unfortunately for Leibovitz the band's excess rubbed-off and she came away with a drug habit that took years to overcome.
Leibovitz also famously photographed John Lennon curled-up naked on a bed next to the fully-clothed Yoko Ono, just hours before he was shot dead in New York.
Although she doesn't consider herself a technical photographer, during her time at Vanity Fair Leibovitz became known for her staged, dramatically lit portraits of celebrities, photographing everyone from film stars to presidents. One of her most infamous images is a shot of a naked pregnant Demi Moore. More recently, she also shot a series of intimate portraits of the Queen and the Royal Family.
In 1996 Leibovitz was the official photographer of the Atlanta Olympic Games with her monochrome images of athletes such as Michael Johnson and Carl Lewis appearing in the book 'Olympic Portraits'.
Although Leibovitz also worked for Vogue magazine and shot the images for some high-profile advertising campaigns including one for American Express, in 2008 it was reported that she was suffering serious financial problems. These are thought to date back to 2002 and some costly building works as well as legal wrangles. Thankfully, Leibovitz avoided bankruptcy and the sale of her Manhattan West Village town house in 2014 seems to have put the matter in the past.
Masterclass
Towards the end of 2017, MasterClass introduced 'Annie Leibovitz Teaches Photography'. This course consists of 14 video lessons and a class workbook, plus the ability to upload videos for feedback. There's also the promise that Annie will answer 'select student questions'.
A one-year 'all access pass' for the course costs £140 while individual lessons can be downloaded for £70.
Books
Leibovitz published her first book 'Annie Leibovitz: Photographs' in 1983. Her subsequent books include Photographs: Annie Leibovitz, 1970-1990 published in 1991, Olympic Portraits (1996), Women (1999), American Music (2003), Annie Leibovitz A Photographer's Life 1990-2005 (2006) and Annie Leibovitz: Portraits 2005-2016 (2017).
In 2014 she also published a 476-page limited edition book of her life's work. The Collectors Edition, featured one of four different dust jackets and was set to retail for $2,500 while the Art Edition (which has all four dust jackets) was priced at $5,000.