Legend of the Lens | Pieter Hugo
Note: This series of posts celebrating the work of contemporary photographers was conceived of and written prior to the realisation that we would be very limited in the images we would be able to include to support the writing. We apologise if this negatively impacts your reading experience.
---
Early years
Born into a bohemian family in Johannesburg during the 1970s, Hugo grew up in Cape Town and had already embraced photography by the time he became a teenager. Self-taught, he has drawn inspiration from his own sense - as a white man - of being regarded as an outsider in his homeland. Significantly, the first image he ever printed was of a homeless person.
For a time, Hugo worked as a photojournalist but became disillusioned by the nature of his assignments. Later he spent two years at Fabrica (www.fabrica.it), a communications research centre in Treviso, Italy. Fabrica is part of the Benetton Group and serves to promote the concept that communication in all its applications (including photography) should drive conscious social change. Hugo subsequently travelled extensively in Africa to countries such as Botswana, Ghana, Liberia, Nigeria and Rwanda, capturing compelling images with the power to unsettle the viewer.
His first major work, 'Looking Aside' (2006), won first prize in the Portraits section of the World Press Photo competition. Hugo's subjects were, as the title suggested, people whose appearance often caused others to look aside. All were photographed in the studio against a well-lit but plain background, enticing the viewer to stare at the starkly presented faces in a voyeuristic fashion.
International breakthrough
Perhaps Hugo's best known work is 'The Hyena and other Men' (2007). For this he photographed an itinerant troupe of minstrels in Nigeria as they travelled from town to town accompanied by captive hyenas, baboons and rock pythons entertaining crowds and selling traditional medicines. Hugo focused on the co-dependent but at times uneasy relationship between the minstrels and their captive animals rather than the crowds, eschewing wide-angle and close-up shots. The results were stunning and attracted a great deal of international attention. Indeed Hugo, reflecting on the impact of this work, has remarked that the 'Hyena and other Men' series has now "almost become a cultural meme"
Rwanda: documenting genocide and reconciliation
Hugo produced many graphic and deeply affecting images from his trips to Rwanda, where in 1994 large numbers of Tutsi had been murdered by Hutu extremists. 'Rwanda 2004:Vestiges of a Genocide' (2011) skilfully documents some of the sites of mass execution and burial. Hugo was later commissioned by Creative Court to produce photographs for its 'Rwanda 20 years: Patriots of Forgiveness Project', exhibited at the Hague in 2014. The images brilliantly record progress towards reconciliation, Hugo delivering a remarkable series of tableaus featuring survivors standing or sitting alongside their former persecutors.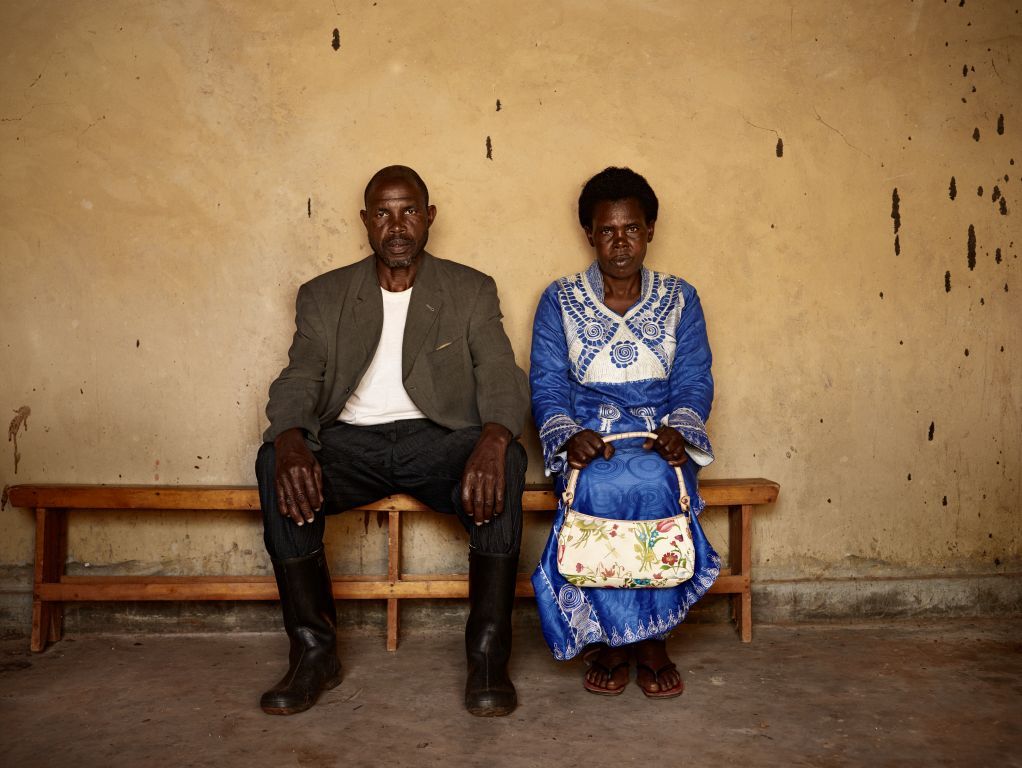 Pieter Hugo - Rwanda 20 Years: Potraits of Reconciliation License: CC BY-SA 4.0
Continuing artistic success
Other major Hugo works include 'Permanent Error' (2011), focusing on the people and landscape of the Agbogbloshie waste dump in Ghana, and 'Messina/Mussina' (2007) - a study of South Africa's northernmost town, a place that attracts truckers, migrant labourers, refugees, smugglers and tourists. The Messina community is in a constant state of flux and Hugo found that many of the people he photographed had left the area a year later. Nollywood (2009) focused on the highly-productive low budget Nigerian film industry: Hugo's surreal images featured actors and assistants recreating the supernatural characters often depicted in Nigerian movies but posing in normal everyday surroundings.
Recent work
One of Hugo's more recent works is '1994' (2015), a collection of portraits of children (posed in natural outdoor settings), all of whom were born after 1994 - the year of the Rwandan genocide and the end of Apartheid in South Africa. And Hugo has successfully ventured beyond Africa to other continents. For example, his work 'Flat Noodle Soup Talk' (2016) features portraits and still life images taken in Beijing as consumerism takes hold and the collectivism of the past gives way to a more individualistic, but potentially more isolating, culture.
Hugo's mid-career retrospective exhibition, 'Between the Devil and the Deep Blue Sea', is at the Museum für Kunst und Kulturgeschichte (MMK) in Dortmund, Germany until May 2018.
Website:www.pieterhugo.com