Meet the Pentax 645Z
Although the Pentax 645Z is a Medium format Camera (digital single-lens reflex) camera it's a little bigger than most because inside it boasts a larger than the average sensor. In fact, at 43.8 x 32.8mm, its 51Mp (million pixels) sensor is around 1.6x times the size of the chips inside full-frame small format cameras like the 50Mp Canon 5DS and 36Mp Nikon D810.
That means that the photoreceptors – aka pixels – on its Sony CMOS sensor are much larger than those on the sensor in the Canon EOS 5DS, which enables the receptors to gather more light. As a result noise levels are controlled well, even at the top sensitivity setting of ISO 204,800. Meanwhile, the 51 million pixels and the lack of an optical low-pass filter ensure that images have a huge amount of detail.
This large sensor size also brings the ability to really restrict depth of field if you want to, allowing you to separate your subject from its surroundings and create stunning portraits.
Familiar handling
One of the main attractions of using the Pentax 645Z is that it's similar to Pentax's other DSLRs, having a sensible control layout and familiar menu design. There's even an exposure mode dial that allows you to switch between your favourite options including Aperture priority, Shutter priority and Manual, along with Pentax's helpful Sensitivity priority and Shutter & Aperture Priority modes.
There's also a 27-point autofocus system that gets subjects sharp in a jiffy and it's possible to shoot at 3fps (frames per second) for up to 10 raw files or 30 top-quality JPEGs – shooting medium format doesn't have to mean going slow.
What's more, the beefy grip gives you a nice secure hold so you don't have to limit yourself to shooting from a tripod. And as the camera is weatherproof you can use it outdoors in a rainstorm if you need to – provided you're using one of Pentax's compatible weather-resistant lenses.
Form a view
In addition to the large, bright viewfinder, there's an LCD screen that can be tilted up or down to make viewing the image easier. It's handy for shooting portrait, still-life or landscape subjects in Live View mode, but it comes into its own when you're shooting Full-HD video. We also love the fact that the information screen flips round when in portrait mode to make it even easier to read.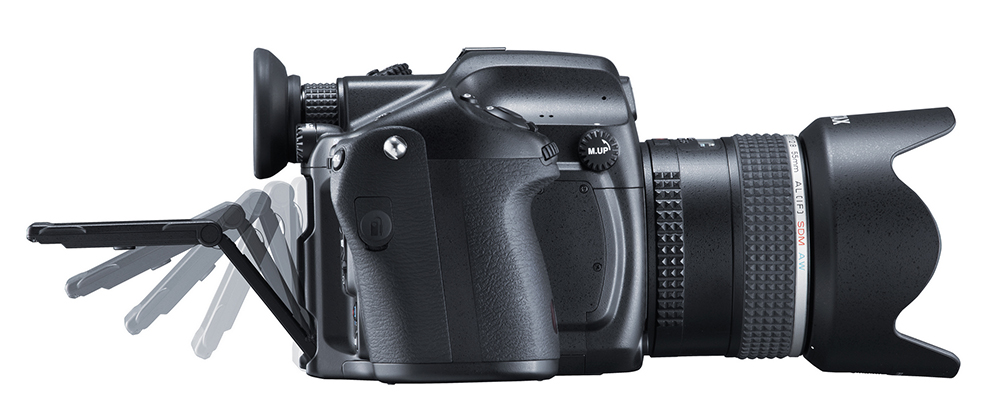 It's a winner
The combination of high image quality and ease of use helped secure the Pentax 645Z the TIPA Best Medium Format Award for 2016, and it's definitely a great choice for anyone thinking about upgrading to medium format photography. Further good news is that it costs a fraction of most other medium format cameras…
By Matthew Ward
14 Sep 2016